Google Maps is one of the most popular and also the most reliable navigation apps on the market. Even though a stable internet connection in order to get the best out of Google Maps, this isn't much of a deterrent. What they don't often tell you is that you can actually make use of Google Maps offline to go around this obstacle.
Google Maps offline mode is helpful whether you are navigating your way through the concrete jungle or a remote countryside and you don't have a data bundle, or if you have sketchy internet.
Advertisement - Continue reading below
Using this feature though requires some preparation beforehand. Most importantly, you need to be connected to the internet in order to download maps of areas of interest onto your smartphone so that you can access them offline.
On the downside, Google Maps offline doesn't give you the All Access pass you get when you're online. Public transport, walking directions, ride-hailing services, and cycling directions are all not available offline. You obviously also don't get traffic data, duh, but even so, you still get turn by turn navigation which gets you from point A to B.
How to use Google Maps offline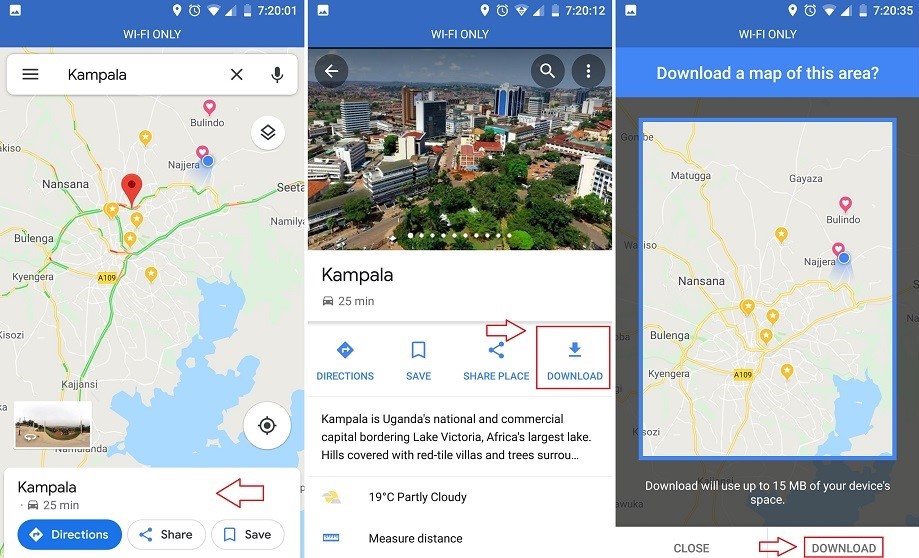 Open Google Maps
Search for an area of interest which you'd like to save offline.
Tap on information strip at the bottom of your map to access additional options.
Tap Download.
Zoom out to select more area around where you'd like to download.
Tap to start downloading your offline map.
From our calculations using Google Maps's own 'Measure distance' metrics, it so appears that you can save a maximum land area of about 250 x 200 miles. This is just about the exact size of Rwanda and Burundi. Also, the size of the offline Google Maps depends on your locality and level of infrastructure. Downloading Rwanda and Burundi altogether take up only 30MB but a similar area in France will take up 720MB.
Once you have saved your offline maps, you can be able to navigate and look up locations within the selected area without the need for an internet connection.
Your offline maps expire in 30 days, after which you will be required to update them to be able to use it next time. T0 save yourself time and energy, you can set Google Maps to automatically download and update your offline maps.
Advertisement - Continue reading below
---
Related
---
Save offline maps on an SD card
If it so happens that your offline maps are eating up your phone storage, there's an option to move them to SD card. The entire process doesn't take a long time to tweak, as you can see below:
Insert an SD card in your smartphone/tablet
Open Google Maps
Open hamburger menu. Select Offline Maps
On the top right, tap Settings
Under storage preferences, select Device and after SD Card.
Wi-Fi Only mode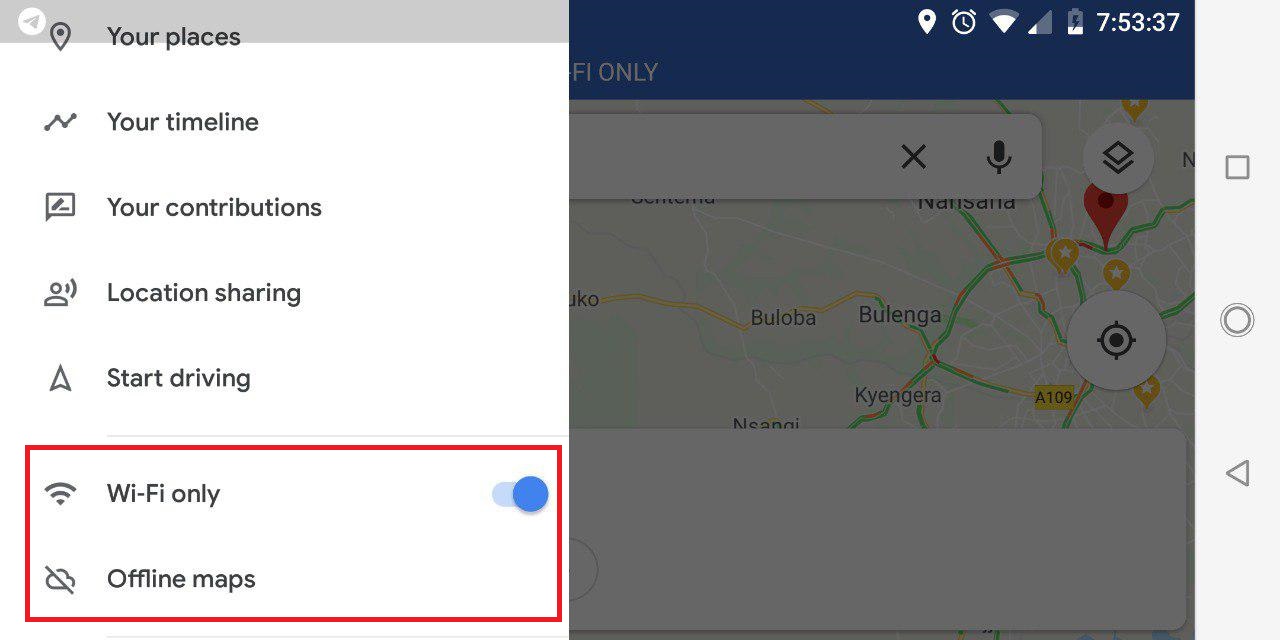 Much as this entire exercise aims to wean you off using the internet, Google Maps has another feature called "Wi-Fi only" mode. With this feature turned on, Google Maps will only use the data from the offline maps in the process saving your mobile date and improving your battery life.
Just make sure you already have your offline maps already downloaded before you toggle this on otherwise you won't get much out of Google Maps.
Go to Google Maps > Menu > Wi-Fi only in order to turn it on/off.
Featured image: www.androidcentral.com
Advertisement - Continue reading below