The newest Google Maps update has finally rolled out the feature that shows ride hailing services alongside destination routes. Google Maps first tested this feature in select Asian and European cities back in August. The app shows proximity to ride hailing services and gives a rough estimate of the cost for a ride.
In Uganda, so far only Uber has been added. In other countries Google Maps serves up rides from Grab, MyTaxi, Go-Ride/Go-Car, Getts among others. Users also get the option of hailing motorcycle rides as well as the taxi option. Once you click on the ride hailing icon, you are redirected to the actual app to request your ride.
Advertisement - Continue reading below
Google Maps usually has three tabs for directions by private means, public transport and through walking. But if you are within Kampala, you will notice a fourth tab with an icon for ride hailing. As far as we can tell, this new tab only appears when you are within the vicinity of Kampala and it's suburbs. To test this out, we adjusted our location to see the boundaries of the feature. Seeta and Namanve isn't supported even as Bweyogerere is. Entebbe on the other hand has the ride hailing option.
---
Related stories:
---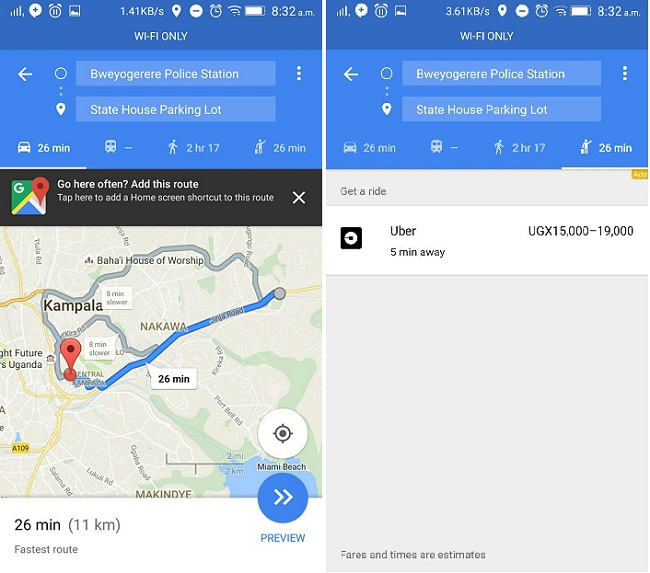 The fares and proximity is estimated and isn't always what you will find in the Uber app. But even then, the estimation isn't so far off the mark. Uganda has other ride hailing services although some do not have apps. Friendship taxi depends on a toll-free line one calls to request a ride so naturally, nobody expects to see that on Google Maps.
Recent Google Maps updates have brought offline use, not dependent on internet. This is supported by offline map storage. You can also save Google Maps data on SD card for those running low on memory.
Featured Image: www.techinsider.io
Advertisement - Continue reading below