I am a big fan of the Mobile Money service and I use it quite often.  Since 2009 when MTN launched its service in Uganda, Mobile money has changed the lives of many people and businesses. It is roughly 5 years since the first Mobile money service started in Uganda and during this time we have seen four entrants competing in this space (Orange Money run by Orange Uganda, Warid Pesa from Warid Telecom, M-Sente from Uganda Telecom and Airtel Money run by Airtel ).
While a lot of development has been made around the service, not much has changed in its service delivery. In this article and a few that will follow, we (you and I, the consumer), are going to list some of the improvements, modifications and innovations that can be made to this service and hope that the right people are reading.
Advertisement - Continue reading below
ATM Mobile Money Cash Out
I would like to walk into the nearest ATM and withdraw money from my mobile money wallet. ATMs have the benefit of being more secure, available 24 hours 7 days a week and chances are high that they will always have the money you want to withdraw. There is no standard way of implementing this service, and each service provider can provide a different customer experience.
Airtel with its Airtel Money has already implemented this feature but for some reason, its rollout hasn't been as successful as I had anticipated. Airtel partnered with InterSwitch Limited to implement its Airtel Money ATM Cash-Out. InterSwitch is an electronic payment company that interlinks banks on its switch network such that those banks such as dfcu, Orient, UBA etc can share their ATM's much like what Visa does.
InterSwitch has about 11 banks on its network, but note that you can't withdraw your Airtel Money from its entire member bank ATM network right now. For now, you can only withdraw from InterSwitch Smart-Point ATMs which are relatively few in number. Word from a reliable source at InterSwitch exclusively tells me that by around June this year one or two banks on their switch will be able to provide this service through their ATMs.
Airtel Money ATM Cash Out procedure
Step1: Request ATM withdrawal code. It is sent as an SMS with a 6 digit PIN
Step2: At the ATM, choose Airtel Cash out and enter phone number
Step3: Enter 6 digit code followed by the amount to be withdrawn
Step4: Enter Airtel money pin and press OK.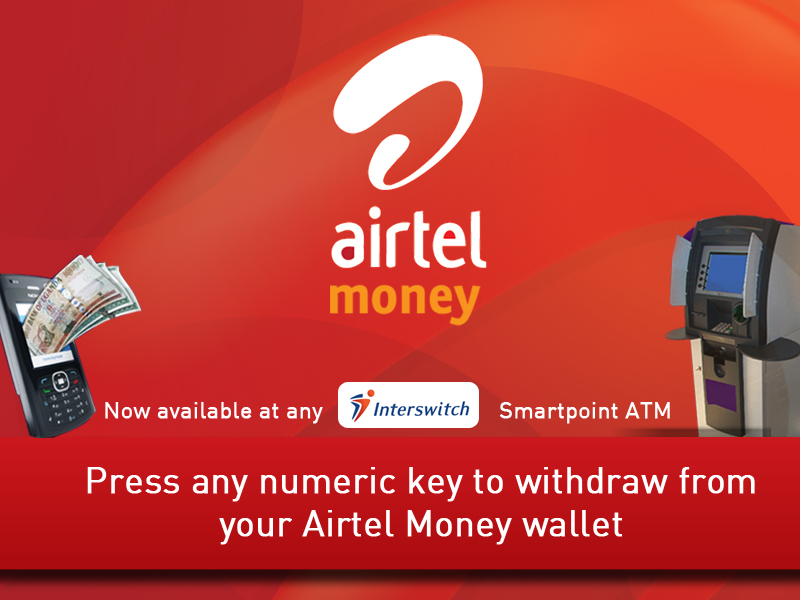 What is needed for a successful ATM Cash Out operation
Advertisement - Continue reading below
The answer lies in the number of ATM's that can be used for this purpose. Since banks own the largest number of ATMs, telecoms have to pull strings with the banks to have a successful roll out. For a start, telecoms have to do some of the following:
Partner  with banks with the largest number of ATM's in the country
Use InterSwitch and its network of banks, or Visa and its network of banks.
Both the above.
A lot of good services have failed due to poor usability or awareness, therefore the implementation of the whole process also matters greatly.
From the above, I think some of the reasons as to why the Airtel ATM Cash-out service is struggling are obvious. But since it is a new service (launched in January 2012) there is a lot of hope for its growth while the other telecoms yet to launch should be better prepared.
This is the first among a series of short articles I am going to write listing some of the features, improvements and modifications that the consumer expects from mobile money. In case you want something to appear in this series please drop me an email or put it in the comments.