Whenever you come across a battle between mobile networks and Wi-Fi, fast internet connection is always around the corner. This isn't far-fetched because everyone wants super quick internet access. In this regard, the recent showdown between mobile networks and Wi-Fi gives the former the bragging rights.
Quick internet connection entails fast downloading, unquestionably. Well, an analysis was conducted by OpenSignal to determine the downloading speeds on mobile networks and Wi-Fi, thus its internet connection rate.
Advertisement - Continue reading below
ALSO READ: Top 10 questions about 5G, the next mobile data standard
The networking company, OpenSignal gathered that mobile networks had the edge over Wi-Fi in 33 countries across Africa, Europe, Latin America, Australia and the Middle East. Kenya, South Africa, Egypt were among the nations that favoured mobile networks.
In line with the download speeds, mobile networks deliver 9.9Mbps more than Wi-Fi in Kenya. 13.2Mbps & 12.2Mbps were the speed margins for mobile networks over Wi-Fi in Egypt and South Africa respectively.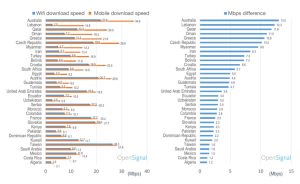 Advertisement - Continue reading below
YOU MIGHT LIKE: Vodacom tests first 5G deployment with superfast mobile speeds
Given that, if you're in Kenya, you can rely on your mobile network's download speed rather than jumping on the Wi-Fi close by for faster downloads.
Notwithstanding, Wi-Fi dominated mobile networks in countries like the US, Japan, Russia and Ukraine. The amount of development of broadbands in these countries contributes to this Wi-Fi shine.
CHECK OUT: GSM, CDMA, HSPA and LTE: Understanding mobile network technologies
Advertisement - Continue reading below
Also, we've seen mobile network technologies move from 2G, 3G and 4G LTE, the latest big boy. However, this new report further intensifies the impact 5G (the next network technology generation) will have in the mobile space.
As a result, it could put a strain on Wi-Fi's future, according to OpenSignal's VP Analysis, Ian Fogg.
Here's what he said:
"5G will accelerate the advantage of mobile technology because of the pace of
mobile innovation and the dependency of Wifi network experiences on the quality of
fixed network broadband deployments which are slow and expensive to upgrade
with fibre to the premise (FTTP)."
Image: OpenSignal