We have known the Google assistant as our virtual personal assistant in doing many things. With Google assistant, we are able to set alarms and reminders, check out new places, search the web among others.
Google has announced that it is rolling out a new feature on the Assistant. You will now be able to know whether your flight will delay or not. It will just be as simple as "Hey Google, what's the status of the flight from Entebbe airport to Jomo Kenyatta international airport.
Advertisement - Continue reading below
See Also: You will soon send money with Google assistant
The Google assistant will then give you an update on the flight and in case of a delay, it will give you reasons for example bad weather.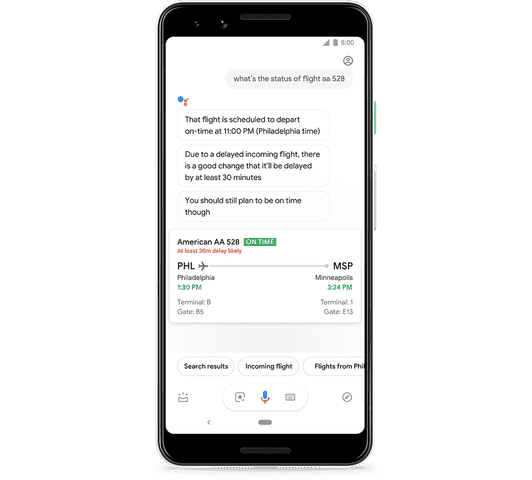 ---
Related Article: The ultimate guide to Google Assistant
---
Google uses a combination of machine learning and historical flight status to make a prediction. It will then tell you that prediction if it is 85% in conversion rate. And to make it easier to stay up-to-date on changes to your flight time, over the next few weeks the Assistant will begin proactively notifying you on your phone if it predicts a flight delay and tell you the reason if known.
Other services normally offer notifications in case of delay of a flight. For example, some booking companies have mobile apps where they send you notifications. On the other hand, the Google assistant will entirely depend on predictions.
Advertisement - Continue reading below
In the same announcement, Google is also expanding its travel tool that shows historic flight price trends, top cities with hotel deals, and popular things to do when searching about a city. The latter will now include "popular experiences." like sporting events and hiking paths. This "Things to do" feature has also recently been redesigned with new filter options and a map interface.