Candidates Assemble! As all you candidates gear up to sit your final exams in Primary, O'Levels and A'Levels, it pays to know and when and the what. The good news is the final UNEB timetables 2019 are out now. What's left if for you to do the how (to pass).
Winter is coming. Grab a pen, a pencil, your study material and take a friend. Read your notes until they stick or ask a friend to take you through it. Your teachers are at your disposal. What are a few sleepless nights in winter compared to total victory?
Advertisement - Continue reading below
The Uganda Nationa Examination Board has released the final timetables for PLE, UCE and UACE. These exams will commence this October to early December 2019. Without further ado, let's take you through them.
UNEB PLE Timetable November 2019
DAY AND DATE
PERIOD
TIME
SUBJECT
DURATION
Friday
1st November
Morning
9.00 a.m.
Briefing of candidates
by Headteachers
2 hours
Monday
4th November
Morning
9.00 a.m.
Mathematics
2h 30 min
Afternoon
2.00 p.m.
Social Studies & Religious Education
2h 15 min
Tuesday
5th November
Morning
9.00 a.m.
Integrated Science
2h 15 min
Afternoon
2.00 p.m.
English
2h 15 min
PLE GENERAL INSTRUCTIONS
The time allowed for the Question Paper: The time allowed for each paper is shown on the Timetable and NO EXTRA TIME IS TO BE ALLOWED. In case of any discrepancy, the time shown on the timetable must be taken as correct. Time for reading through questions is included in the total time shown.
Please Note:
1. Calculators are not allowed
2. Mobile phones are not allowed in and around examination rooms. CANDIDATES WITH SPECIAL NEEDS These candidates will be allowed 45 extra minutes for each paper.
For the full PDF with details, please download PLE Timetable 2019 Final
UNEB UCE Timetable November 2019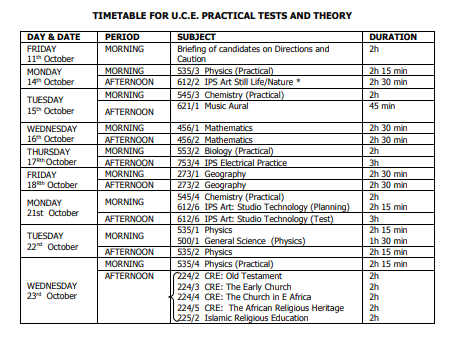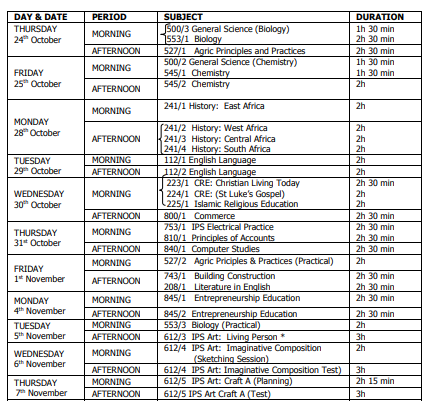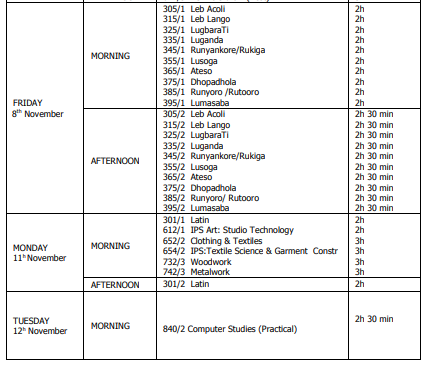 NOTE: * 612/2 & 3 to be issued at 12.00 noon. In 840/2 Computer Studies, the 2 hours 30 minutes include the time for printing out the candidate's work. No further printing may be done after the stipulated time.
DIRECTIONS TO UCE/UACE CANDIDATES
1. Ease yourself before entering the examination room. No candidate will be allowed to leave the examination room before the end of the examination time.
2. Be at the examination hall at least 30 minutes before the start of the examination ready to be identified and checked. Any candidate who comes more than 15 minutes late from the start of an examination will not be allowed to sit the examination.
3. Present yourself at the entrance to the examination hall for checking by the chief invigilator/invigilators. They have been instructed to check you thoroughly, including your pockets, shoes and body.
4. Do not indulge in any form of examination malpractice. Secondly, do not smuggle unauthorized materials e.g. notes, textbooks, etc. into the examination rooms; do not write on your body clothes, mathematical sets or calculators.
5. At the start of each examination, make sure you (or student representatives) examine the examination question paper envelope(s) to find out whether it/they is/are intact or already opened. If the envelope(s) is/are opened outside the examination room, then report immediately to the Executive Secretary UNEB, P O Box 7066 Kampala, E-mail:[email protected]
6. Follow the examination paper rubric and the instructions on the front page of the answer booklet. Do not use pencils to write answers except when drawing diagrams and graphs. Answers written in pencil will NOT BE MARKED. Do not answer more questions than asked for in the rubric. The examiners will not mark the extra questions.
7. Write your correct names, numbers and signature on your answer booklets for all the papers you take. These must be the same as on the entry form you filled at registration. Candidates with differing names in any of their papers will not get results.
8. Sit only the examination papers you have registered for. No results will be issued for papers you have not registered for.
9. Sit the examination only at the centre/school where you have been registered to take it. 10. Do not go out before or immediately at the end of each examination. Witness the checking and sealing of the scripts first.
11. Leave used or unused answer booklet(s) inside the examination room.
12. No separate paper will be provided for rough work.
13. Mobile phones are not allowed in or around the examination room.
14. Sharing of calculators, mathematical tables, rulers, pens, etc. is not permitted during the examination.
For the full UNEB Timetables 2019 PDF with additional information, please download UCE_TIMETABLE_2019_FINAL.pdf
Advertisement - Continue reading below
UNEB UACE Timetable November 2019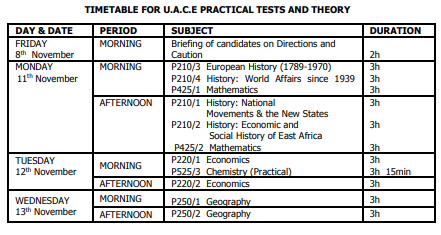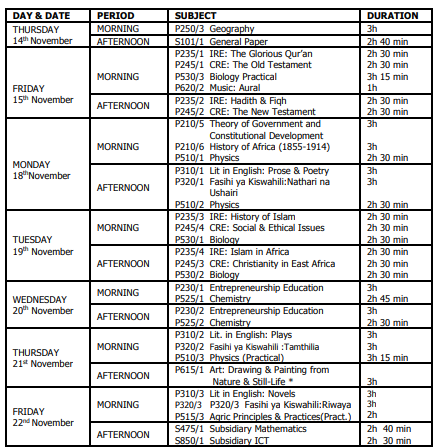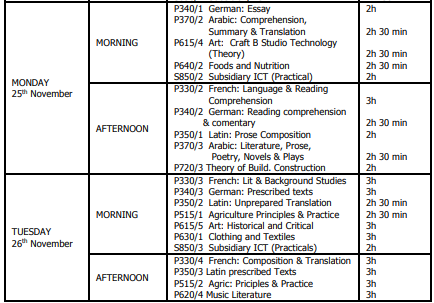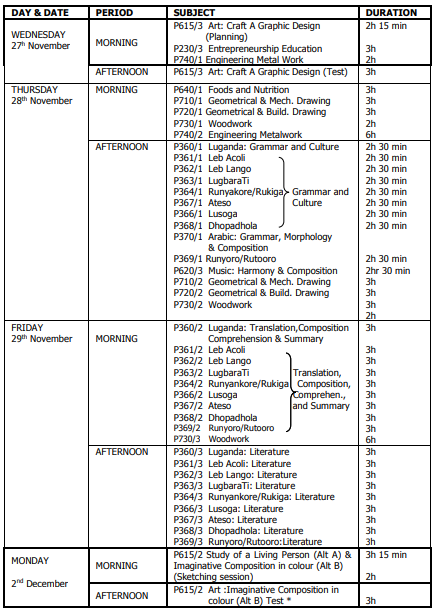 NOTE *P615/1, 2 papers to be released at 12.00 noon.
The directions for UNEB Timetables 2019 for UACE candidates are the same per verbatim with those for UCE candidates. For this reason, please refer to the directions above.
For the full PDF with additional information, please download UACE_TIMETABLE_2019_FINAL.pdf
Read more:
Featured Photo by Adeolu Eletu on Unsplash