Smartphone shipment has been on a decline for some while now consecutively quarter after quarter and seems the trend will continue for the first quarter of this year. According to reports from IDC, Counterpoint and Canalys, the smartphone shipment in the previous year was quite low in comparison to that of the year before it. In recent times, consumers are not exactly willing to upgrade their smartphone to the latest ones. You can't exactly blame them, there has been a steep increase in the price of premium smartphones these days. Leading to a rise in acquisition of smartphones with value for money mid-range offering like the Honor series from Huawei and Mi and Redmi series from Xiaomi and the other major Chinese players.
Take a look at the statistics
At the end of 2018, the overall shipment of smartphones was down by 4.1% to 1.404 billion from 1.465 billion in 2017 (IDC). Surprisingly, the last time the number of sales was this down globally was in 2013 taking the smartphone industry back five years. Even in Africa, smartphone shipment came down with a surge in feature smartphone instead which can be attributed to economic difficulties plaguing this region. The decline in the last quarter (4Q18)/ alone worldwide was 4.9% which makes it the 5th consecutive quarter and this year the first quarter is like to continue the trend.
Advertisement - Continue reading below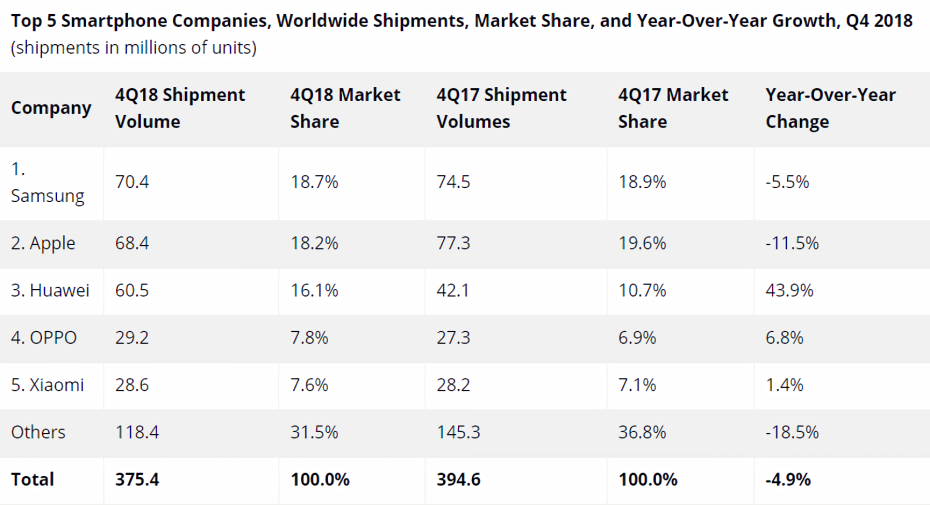 Two Giants, namely Apple and Samsung, experienced a decline in sales at -3.2 and -8.0% respectively. Samsung sold 292.3 million smartphones last year down from 317.7 million in 2017. In China, smartphone sales represent about 30% of the total world purchase and it experienced over 10% reduction in sales ricocheting into the worldwide sales stat.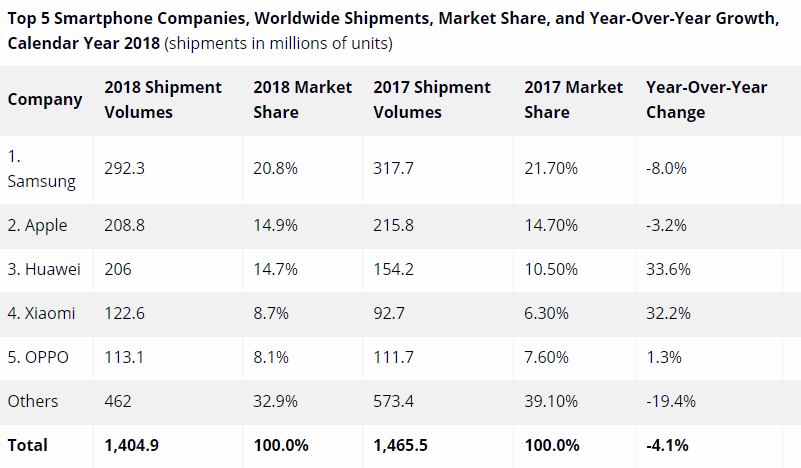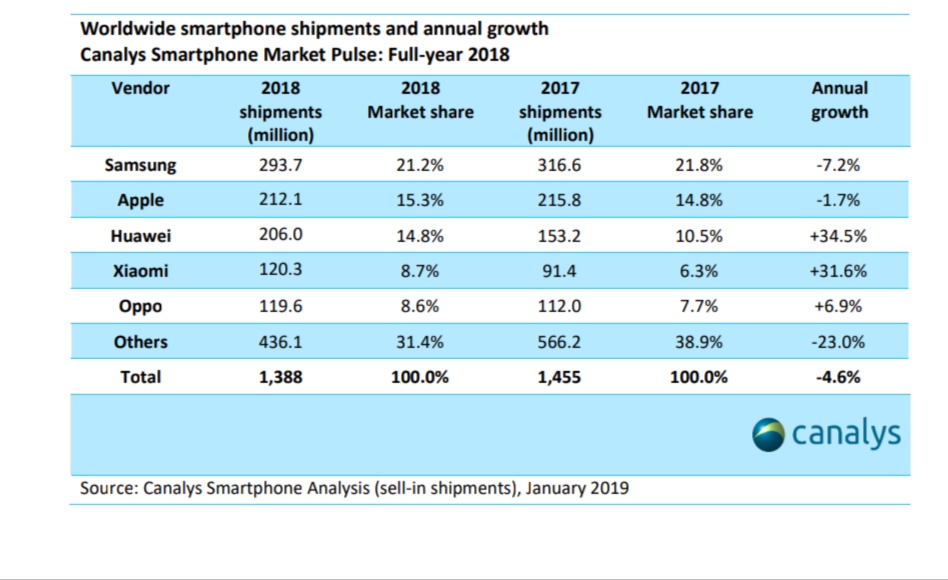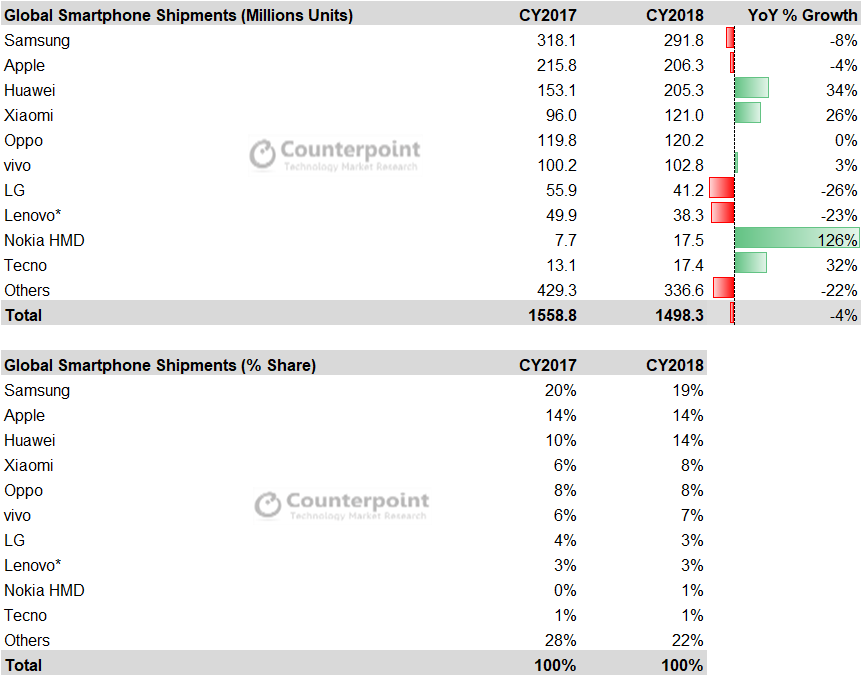 Factors involved…
This year is expected to follow the same pattern with sales already slowing down this past weeks. According to reports from Canalys, the Chinese smartphone market is not back to what it used to be yet. Not without trying, smartphone brands introduced features like in-display fingerprint scanner, full view screens, AI, multiple camera and even multiple screen. None of this seems to have much of an impact on the consumers.
However, the new form factor like foldable smartphones and 5G should be an incentives for people to upgrade to a newer smartphone with this features. Nonetheless, this features amongst others like new display type and chipset to name a few will drives up the price of this smartphones. This will cause the average selling price (ASP) of smartphones to rise and in a way mitigate the growth that should result from it. Anyway, things are expected to be a bit parallel this year according to reports from IDC.
The Positives…
Despite the low sale in general, the top four Chinese OEMs experienced year on year growth. Especially by Huawei joined in second place by Xiaomi which grew sale in their home country as well as other markets. Sales grew by 33.6% at 206 million from 154.2 million in 2017 for Huawei. Xiaomi had a 32.2% increase from 92.7 million to 122.6 million in 2018. Oppo also joins the gainers at the end of the year with 113.1 million smartphones compared to 111.7 million in 2017. Xiaomi moved to fourth place while Apple managed to hold off Huawei to third place while the former comes second.
Read More: Death of the flagship smartphone is coming
Even though major markets like China and the US had a not too great year, other places like India, Vietnam, Korea, Russia and Indonesia had a good year. Particularly in India, where there was a remarkable 10% growth to 145.2 million smartphone shipment according to Counterpoint's report. The top players in the smartphone industry are waxing stronger taking up more market share with a 6% increase from 63% in 2017 to 69% in 2018 for the top 5. In addition, when Vivo is added to the top 5, the collective share rises to 75%. In other words, only a quarter of the market is available for the upcoming smartphone brands.
Advertisement - Continue reading below
A suggested solution to the decline will be for smartphone brands to add significant improvement in features with realistic implications. Practical upgrades and reasonable pricing should do the trick. With marketers proffering convincing reasons to upgrade, shipment of smartphone would rise moderately over the coming years.