Did you unintentionally delete a photo on your phone? Or perhaps an entire folder or collection of photos? It could be horrifying if the pictures holds a lot of memories (every picture does) and are quite important. It could even get more horrifying knowing that there are no built-in mechanism in place to directly retrieve deleted photos at the tap of a button.
If you ever find yourself in such a scenario, you need not worry, there are ways around it. You can get back deleted photos from your Android or iOS smartphone via the following route.
Advertisement - Continue reading below
Using Third-Party Apps
One interesting thing about the smartphone ecosystem is that there is literally an app for everything, particularly on the Google PlayStore for devices running the Android OS. For retrieving pictures you deleted by mistake, there are apps that designed for such purposes. And while some are free, you'd have to pay a token to use others.
One of such apps is DiskDigger Photo Recovery, which is available for free. Here's how to use DiskDigger to retrieve deleted photos.
Install DiskDigger (1.5MB) on your Android smartphone or tablet from the Google Play Store
Once installed, launch the app and grant it all necessary permission it requests for.
On the app's homepage, click on Start Basic Photo Scan
After scanning your device, deleted pictures will be displayed in a grid format.
Check the boxes at the top-right corner of the image (thumbnail) to select the photo(s) you'd love to recover.
Afterwards, click on Recover Images at the top of the display.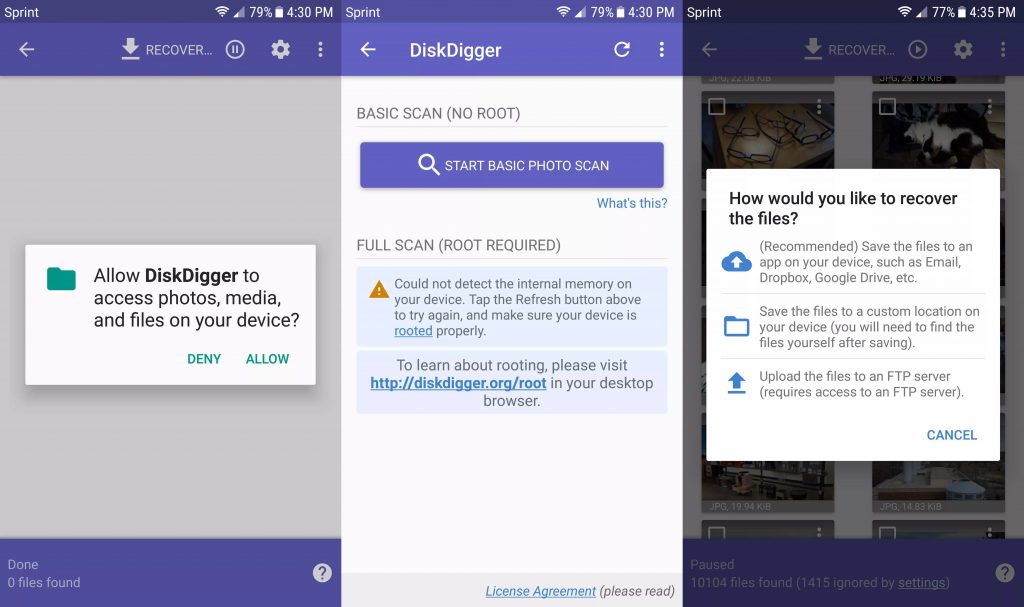 DiskDigger will ask you to choose where you want to save the photo(s) that you're about to retrieve. You can choose to save to an app, a preferred location on your device, or upload to a File Transfer Protocol (FTP) server. Choose whichever works best for you.
CAVEAT: Immediately you delete a photo, try as much as possible not to use your device for anything else till you retrieve the photo(s). Using your phone or creating new files or folders could slim your chances of successfully recovering an image. You need to act as fast as possible.
Another photo recovery app worth trying out is Dumpster. It is also available on the Google PlayStore for free.
Advertisement - Continue reading below
For iPhone and iPad
Unlike Android, Apple understands that everyone makes mistakes. And as such, it added a feature into iOS which would allow users easily recover photos of their camping trip they deleted by accident. The feature is known as Recently Deleted and it was incorporated into iOS 8 and newer versions of the OS.
To retrieve photos using the feature,
Launch the Photos App
Click on Albums
Scroll down and navigate to Recently Deleted album.
Open the album and you'd see photos you recently deleted on your smartphone.
Select photos you want to retrieve and tap on the Recover button at the bottom-right corner of the page.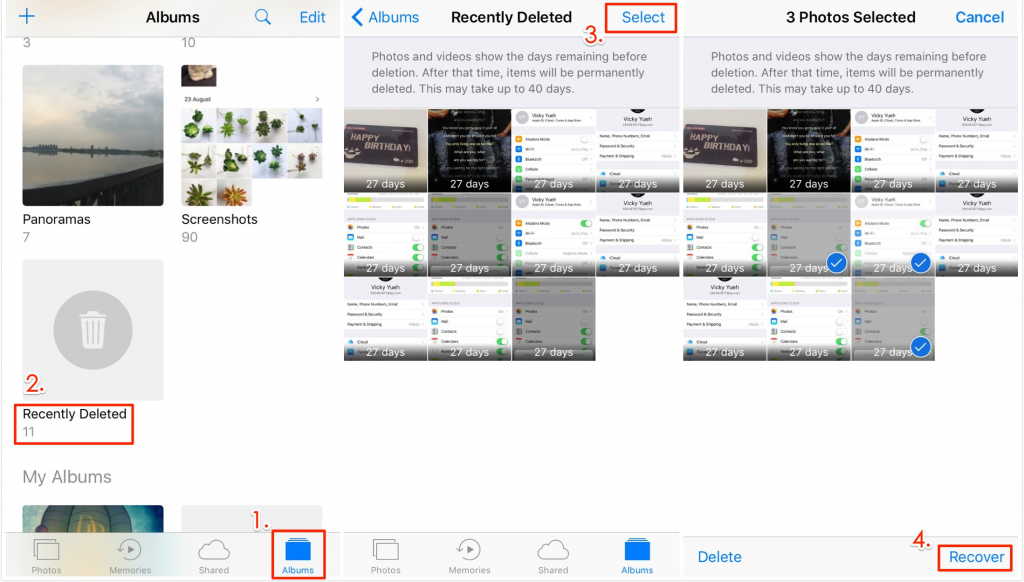 Addendum:
Deleted photos from your phone's camera roll will temporarily be housed in the Recently Deleted album for a maximum of 30 days. This means you have a 30 days retrieval period beyond which photos can no longer be recovered as they would have been automatically deleted from the album.
The Recently Deleted Album can only hold a small number of photos. If you delete a large number of pictures from your Camera Roll or your restored your iPhone, you cannot retrieve images using the Recently Deleted method.
Using Cloud Storage Services
Google Photos, Microsoft's OneDrive, Dropbox, Apple iCloud, Carbonite etc. are some great example of cloud storage applications that allows easy recovery of deleted photos and files from your smartphone. These cloud storage apps automatically back up your files to the 'cloud' and deleting them from your phone won't delete them from the cloud's backup. And in the case of photo loss (deleting pictures) by accident, you can log in to your cloud storage app and easily restore them back to your device at the click of a button.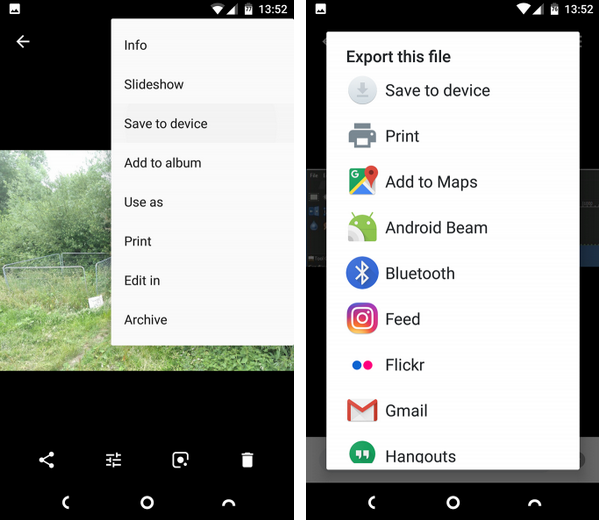 To retrieve images in Google Photos for instance, launch the app, open the photo you want to retrieve and click on 'Save to Device' to restore it back on your phone. To get started, you can check out this article on price and feature comparison between top backup & cloud sync services.
Lastly, you could simply visit several social media platforms (Facebook, Twitter, Instagram etc.) where you previously uploaded the photos and save them back to your phone. Have you ever had to retrieve a photo you accidentally deleted? How did you go about it? Did you use any of the methods above?
Advertisement - Continue reading below