Thanks to Fast Charge technology equipped on smartphones of recent years, we don't have to grow grey hairs waiting for our phones to get charged. Innovations keep coming up in this department, and the most current of them is the Xiaomi Super Charge Turbo.
Xiaomi Super Charge Turbo is primed to usurp the bosses of the Fast Charge competition. And going by the teaser video unveiled by the company's CEO Lin Bin, the new technology is miles ahead of the pack.

Advertisement - Continue reading below
Xiaomi's Super Charge Turbo churns out 100W of power that's twice better than Oppo's VOOC Fast Charge slated at 50W. It's even higher than the Huawei Super Charge 55W charged the foldable Huawei Mate X from 0% to 85% in 30 minutes.
READ MORE: 5 Reasons Why Your Smartphone Charges Slowly (and How To Fix it)
Meanwhile, Xiaomi's Super Charge Turbo needed only 17 minutes to charge a smartphone from 0% to 100% as seen in the video. Also, it was carefully compared to Oppo's Super VOOC that charged a phone up to 65% in the same timeframe.
To burst your bubbles, Xiaomi's fast charge was tested on a smartphone with 4,000mAh battery capacity while Super VOOC was implemented on an Oppo phone with 3,700mAh battery. Impressive.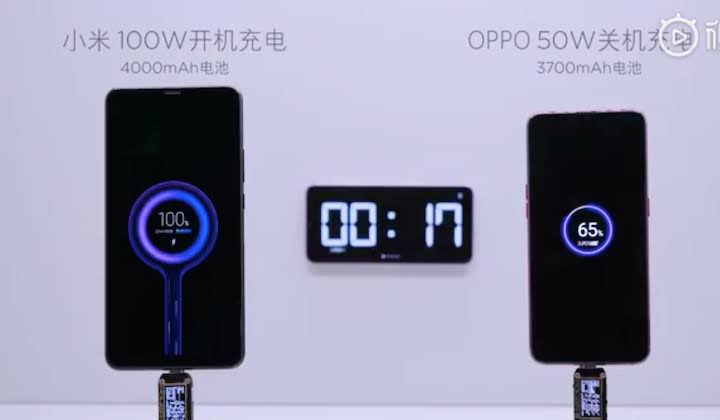 Yes, it beats the current statistics, but the underlying question is how soon it will go live with Xiaomi smartphones. That's because Xiaomi chargers currently disseminate 27W power. More so, even the premium Xiaomi Mi 9 is equipped with 18W out of the box.
Nonetheless, what's certain is that official details of Xiaomi's new technology will be announced today. We'll bring the updates to you as they come.

Advertisement - Continue reading below