The easiest and fastest way to find a friend (or anyone) on Instagram by typing their Instagram username into the search bar and subsequently follow them, view their pictures, videos or stories. But what if you do not know the person's username or perhaps the person mentioned it to you but you can't seem to remember? Rather than trying to remember a username or trying all sorts of probable username combination, you can simply find the person using his/her phone number.
Instagram allow users find anyone on the social network as long the person you want to add is registered on Instagram with the same phone number you have on your phone-book. The steps below highlight how you can find a person on IG using a phone number.
Advertisement - Continue reading below
Ensure you have the person's number saved on your phone.
Launch your Instagram App
Tap the Profile icon at the bottom of the screen to go to your profile
Tap the Hamburger menu icon at the top-right corner of your profile
Tap "Discover People" and tap "Contacts" on the Find People page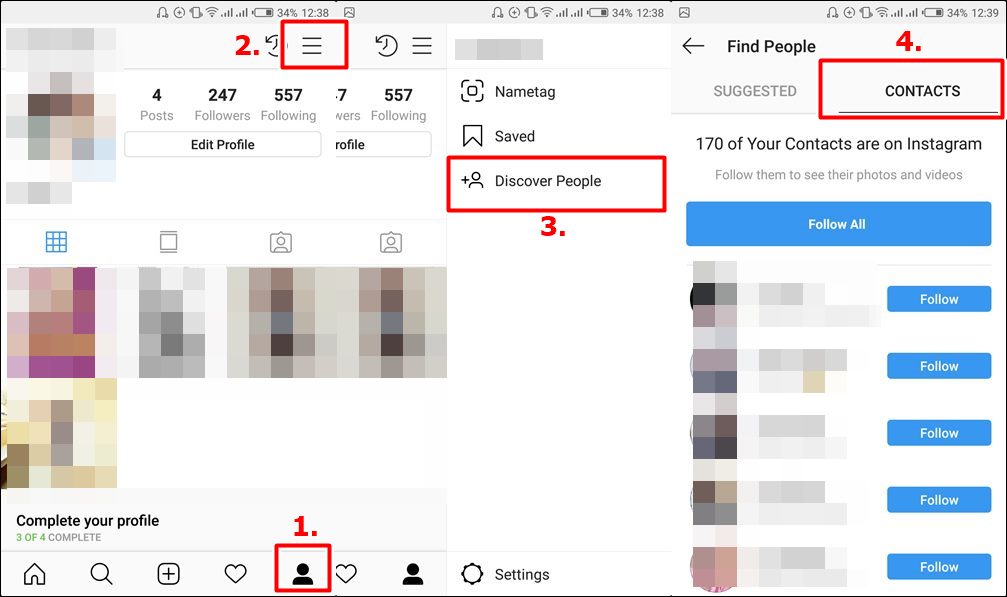 On the page, Instagram shows you the total number of contacts on your phone-book that are registered on Instagram. You can then proceed to scroll through the list to see find the whoever it is you want to follow, view their profile, photos or videos.
NOTE:
You can only find users whose number you have saved on your device.
If the user didn't link their mobile number to their profile/account, they will not appear on the list in the Find/Discover People section.