Dark Mode has been one of the major talking points for the upcoming Android software. The whole rave led us to work on an article that reveals what makes the Dark Mode a big deal. That aside, Android maker, Google (uncoincidentally) has given Chrome browser the enablement to go dark!
This came as part of an update to the popular Android browser in the version dubbed as 74.0.3729.112. Although it's part of an update, the new feature doesn't get to work instantly. There are still a few magic tricks to play with in this tech kingdom before you can access it. Mind you, you don't need to be a Merlin to perform these teeny-tiny tricks.
Advertisement - Continue reading below
Straight away, let me walk you through the guidelines:
Update your Chrome to the latest version on the Google Play Store.
Go to this flags link in your Chrome's address bar.
Change the "Default" option to "Enabled" under the Android Chrome UI dark mode section.
Then you'll tap on "Relaunch Chrome" button appearing at the page's bottom.
Once the app restarts, the Dark Mode can be toggled in the browser's settings for activation. Yikes! Dark Mode initiated.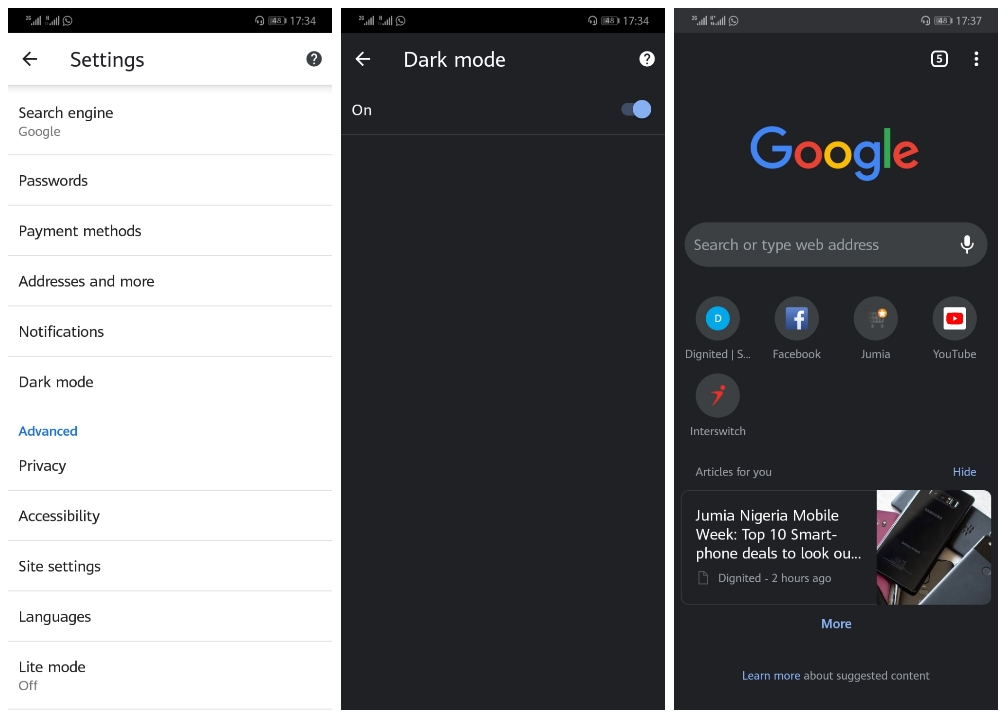 You need to note that it might take a while before the Dark Mode menu appears in the Settings. When I tried mine, it took a few hours before it surfaced. Yours could be different. Tell us in the comments section if you're successful with the activation. We'll also love to know if you're elated about this new eye care feature.