Audio is a big part of the smartphone experience especially when it has to do with music. Asides from blasting music from your phone speakers, the 3.5mm headphone jack was the universal interface for getting audio to your ears through headsets or earpiece before the advent of both Bluetooth and USB-C. As far as smartphones are concerned 3.5mm remains the most common port to connect your earpiece to your phone before Bluetooth came into the picture and then USB-C. However, the headphone jack still remains the holy grail when it comes to listening to music and his by far a more universal option than the others.
Read More: Audio formats MP3, AAC, WAV and FlAC explained
Advertisement - Continue reading below
Besides being the earliest audio channel still used these days, the headphone jack has been improved over time to meet a reputable standard even for audiophiles if the earpiece/headset is good enough. The good thing is that the headphone jack can only output analog audio which makes it quite compatible with whatever device. In addition, it is also well suited for high definition sound depending on if your device can support this.
Among the trio, USB-C is the newest of the bunch and it still needs more refining to make it quite as good as the 3.5mm headphone jack Perhaps because it was not initially made for audio transmission, unlike the headphone jack. Moreso, USB-C audio is only a thing because some OEMs decided to cut the headphone jack off from their smartphones. Still, it still sometimes serves as an alternative port because some people use a USB-C to 3.5mm dongle rather than a USB-C headset.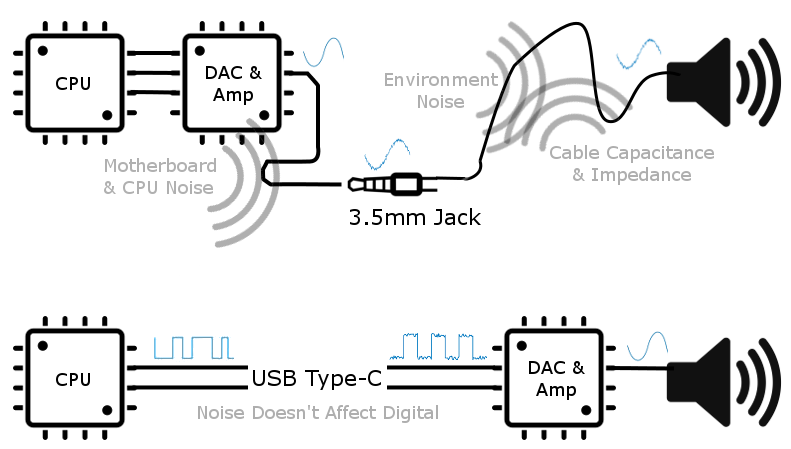 Even at that, the USB-C to audio jack dongle or USB-C headphones is usually not compatible with every phone which means the one for a Huawei phone might not work for a Samsung phone. This is because each maker has a different way of converting digital audio to analog audio which might not end up working with the analog USB-C dongle. In terms of quality, the USB-C does well to offer desirable quality being a wired connection and does not really need compression before transmitting audio. Regarding other features like microphone connection and other peripheral uses, usage is still easier with the headphone jack.
Also See: DisplayPort vs HDMI: A comparison between the two audio/video interfaces
Going wireless certainly has its perks but there is also the part where audio quality is sometimes sacrificed. The upside is that you can listen to music without having to do deal with wires getting in the way of what you're doing. However, when it comes to high definition sound or a true audiophile, Bluetooth audio just can't cut it. This is because of the lossy compression that the audio has to undergo before being transmitted wirelessly. However, MP3 and AAC can both be conveyed via Bluetooth using the A2DP feature considering are already lossy compressed formats while higher quality audio with much higher bitrate will need to be compressed. Despite, the availability of codecs like aptX and LDAC that makes it possible to have 16-bit/44.1kHz bitrate of CD audio with compression for wireless transmission. Nevertheless, the sound comes out still has noise at high volume varying on the product being used but still, present nonetheless.
Advertisement - Continue reading below