When it comes to Smart TV platforms, Android TV and Roku are high-profile occasional bedfellows with Hisense TV in different areas codes. On further scrutiny, it makes perfect sense to segment the regions based on particular client requirements instead of one size fits all. That's not to say that Hisense doesn't have the chops to wear its own make-up; matter of fact, a good portion of their devices are indeed powered by Hisense's in-house VIDAA U.
To be honest, VIDAA isn't America's sweetheart like Roku TV and it might not even have the Android TV's universal appeal. But even so, it does have a certain charm in certain demographics. And if virtually every major player in the TV market pedals their own in-house TV platform, why not Hisense? After all, Hisense's VIDAA is big in Australia and in Africa, right?
Advertisement - Continue reading below
I will have to admit, coming into this, my cotton brain was more accustomed to LG's WebOS, Roku, Samsung's Tizen, and Android TV platforms. Each of these has been polished until they shine and they are feature-rich in ways VIDAA OS doesn't even bother to be. In a way, my initial first impression was underwhelming, but VIDAA does grow on you.
10-second boot time
When you switch on your Hisense TV, the first thing you'll notice is just how fast VIDAA boots up. A cold boot takes about 10 seconds while a warm boot (when the TV wasn't switched off at the mains) will take a minimum of 3 seconds. As a heavy MiBox Android TV box user, I appreciate how fast this boot-up is. Switching on the MiBox is a painful lesson in patience.
By default, VIDAA loads your go-to TV input/source. That could be a set-top box, an Android TV, Xbox, Play Station, and whatever else you hook up via HDMI. Or even cable TV. Initially, it can be annoying, I will give you that. We are used to being welcomed by the home screen after all. But before you get antsy, Hisense does have a home screen as well.
---
Related:
---
Home Screen & Interface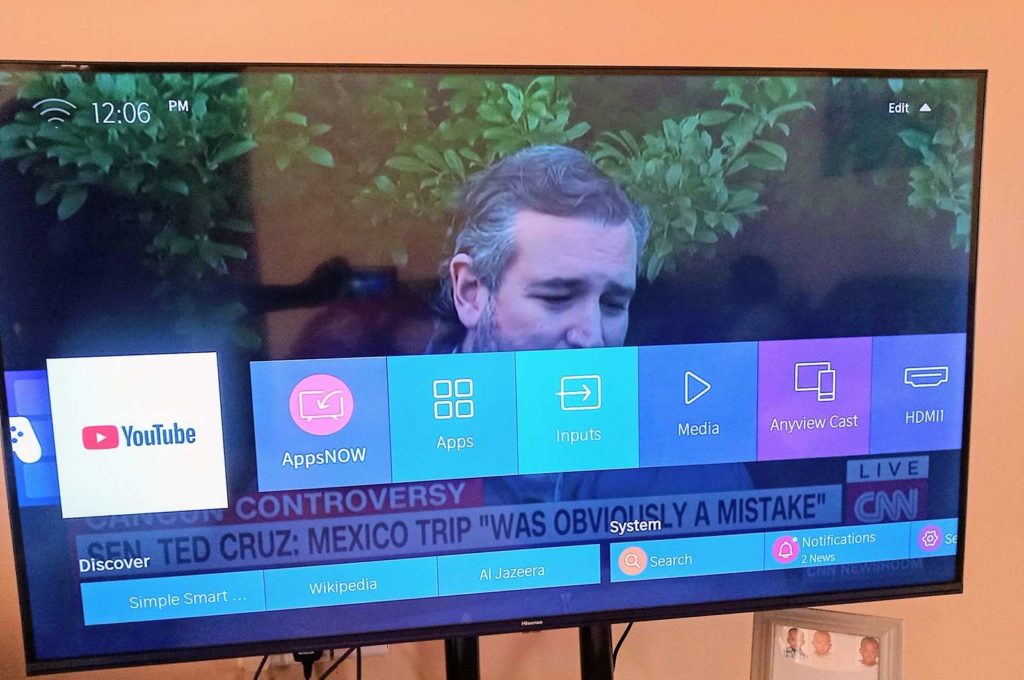 The key feature of VIDAA OS is the customizable navigation bar on top of the screen. This bar can be summoned without first exiting the current setup and it switches seamlessly between apps that remain active in the background.
VIDAA's navigation bar is home to Smart TV apps and features such as Input, All apps, Anyview Cast, Games, Media, YouTube, Netflix e.t.c. The order of the apps is fully customizable so you can add and switch up the apps and features as you see fit.
Advertisement - Continue reading below
On the home screen, Hisense adds a second Netflix bar, or at least it does on my Hisense R7 series. This one works to entice you with trending Netflix TV shows and movies. A third smaller Discover and System navigation bar resides at the bottom. Here you will find system notifications and settings, and apps like Al Jazeera and Wikipedia, e.t.c. I mostly use it to go to settings when I forget there's already a dedicated button to take me there on the remote.
Navigation of features and settings is basically by rote. If you have a remote in your hand and a TV in front of you, VIDAA shouldn't feel any different from the usual fare. The feather in their cap is that you can leave your apps open in the background for quickly switching between apps. For instance, you can switch between Netflix, a movie on a flash drive, and/or cable TV without closing either.
Casting to TV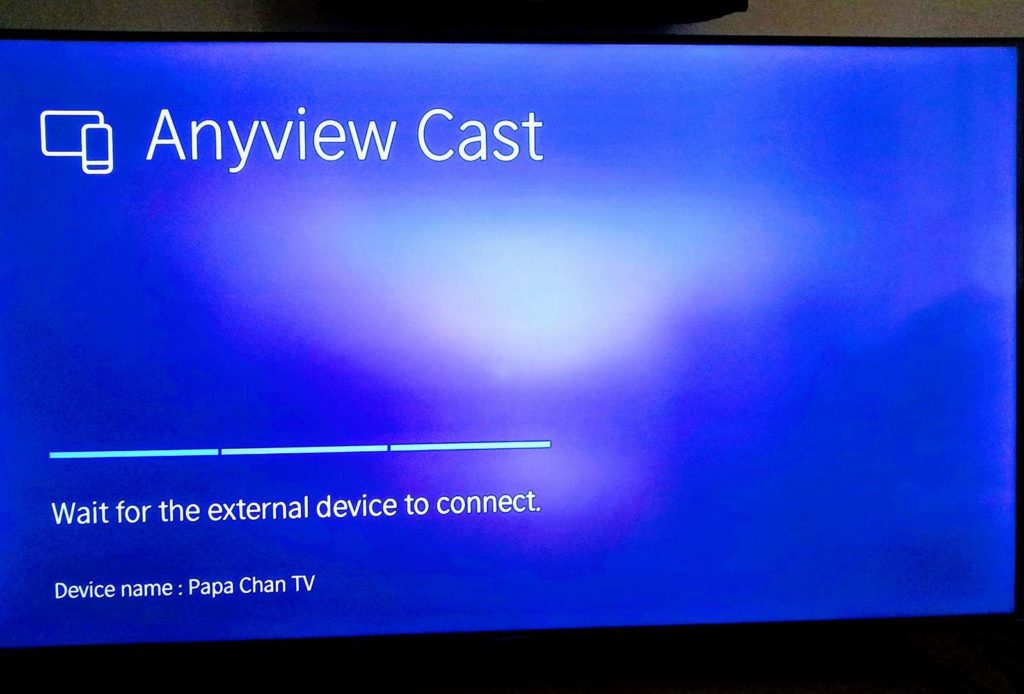 I have been digging VIDAA OS and how it's a barebones platform for someone who doesn't tinker too much with their TV. However, when you go down that rabbit hole do you start spotting a few differences from the norm. A major annoyance with VIDAA is that casting your laptop or smartphone screen is another test of patience. The implementation of the Miracast technology is less than stellar. The usual fare is a connection that just works out of the box thanks to WiFi Direct. Not so for VIDAA.
To cast your screen to the TV, you have to first open the Anyview Cast app, and only then can the TV be visible. I would have to say that that's quite counter-intuitive for a platform that's all about ease of use. Most Smart TV platforms I have used run Miracast and in the background round the clock. The TV display in turns becomes an extension of your smartphone or laptop screen.
The only exception to the rule is Chromecast. As long as you hook up the TV to the same WiFi, you should be able to cast Google Photos, YouTube, VLC, and whatever else is Chromecast enabled.
App store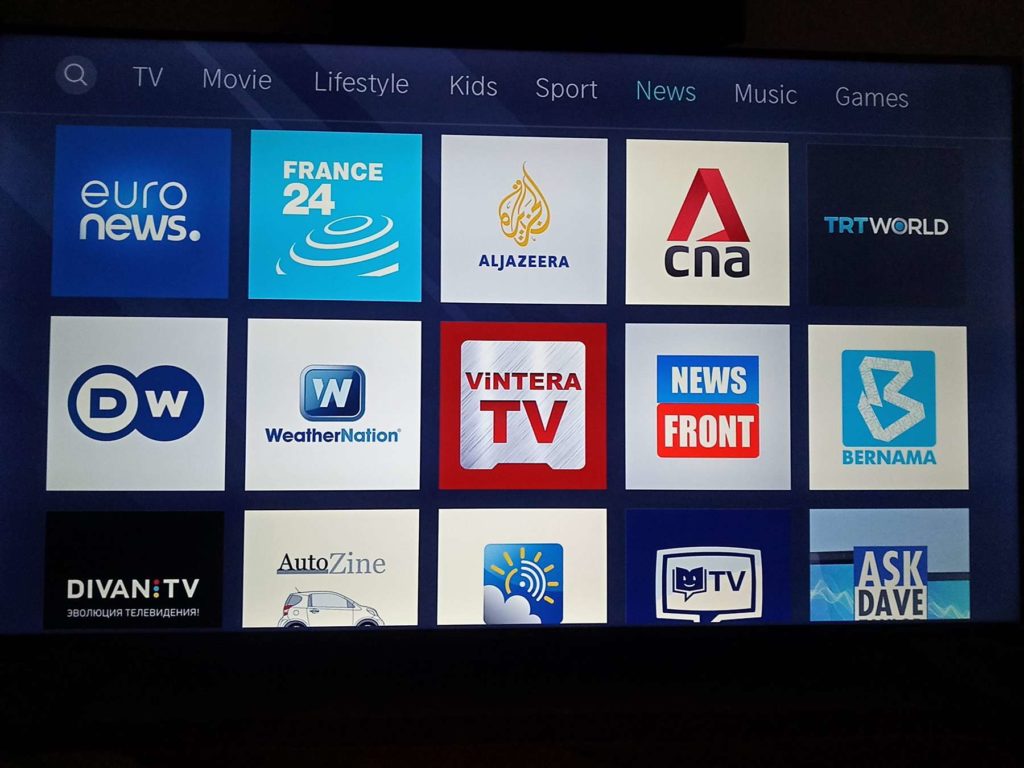 Android TV boasts a repository of 5000+ apps and games to choose from. It sounds exciting initially until you peruse through. At most, you will download 10 apps that tickle your fancy and ignore the rest. On my Android TV, the apps I use the most comprise Netflix, YouTube, DStv, and VLC. Occasionally, I use a VPN but that's rare. I'd wager the situation is no different on VIDAA OS.
The more important question is whether your main apps are supported on this platform. If you're a fan of Disney+, Apple TV, Amazon Prime and other international streaming apps, VIDAA does not disappoint, especially since the latest update. They also support Netflix and DStv, so all bases are fully covered.
VIDAA won't knock your socks off with thousands of apps at your disposal. Been there, done that with Roku TV and Android TV. Most of the apps are garbage you will never need in your life. If your needs are simple like mine, you will be fine.
Advertisement - Continue reading below
In brief
In a bid to one-up the competition, sometimes we take it too far. We don't know when to stop. I have come across Smart TV platforms that are more computer than TV. The options are just baffling. TVs are there to be watched for the most part and not tinkered with.
In more ways than one, VIDAA OS satisfies the brief with its simplistic, no-frills, intuitive design. It's fast and responsive and I can coast through apps without the OS closing them in the background. Also, the app store has won the battle of enticing some more big-name apps to prop it up. Netflix is big, but these days players like Apple TV and Disney+ have as much clout, so it pays to have them as well to consolidate the user's viewing experience.
However, there's areas that left me so disappointed such as the poor design choices when it came to Casting. Coming from DLNA and Chromecast, I am used to a Smart TV I can cast to without tinkering with its settings whenever I want to.