If you are a creative (musical artist, animator, video director, vlogger, YouTuber) or you generally produce audio or visual (or both) contents for people to consume, streaming platforms remains one of the best mediums to host, promote, and market your work. Among the many advantages of these platforms (to creatives and artists), streaming revenues is one of the most important.
If you are a creative and you intend to have your contents hosted on streaming platforms but you don't have any idea how much top streaming platforms pay, read on as the information you seek is on this page. If, on the other hand, you are just a curious content consumer that wishes to know how much these streaming platforms pays an artist each time you watch and play his/her videos and music, the paragraph below has the answer you seek.
Advertisement - Continue reading below
Now we take a look at how much is paid by these streaming platforms — YouTube, Deezer, Napster, Spotify, TIDAL, Google Play Music, Apple Music, Amazon, and Pandora Premium — to artists per stream and per 1 million streams.
| | | |
| --- | --- | --- |
| Streaming Platforms | Pay per 1 stream | Pay per 1 million streams |
| Napster | $0.019 | $19,000 |
| TIDAL | $0.0125 | $12,500 |
| Apple Music | $0.00735 | $7,350 |
| Google Play Music | $0.00676 | $6,760 |
| Deezer | $0.0064 | $6,400 |
| Spotify | $0.00437 | $4,370 |
| Amazon | $0.00402 | $4,020 |
| Pandora | $0.00133 | $1,330 |
| YouTube | $0.00069 | $690 |
The information above (as obtained from Digital Music News) is what these streaming platforms currently pays creative in 2019. These figures were put together using information from artists that use the platforms and from third-party websites.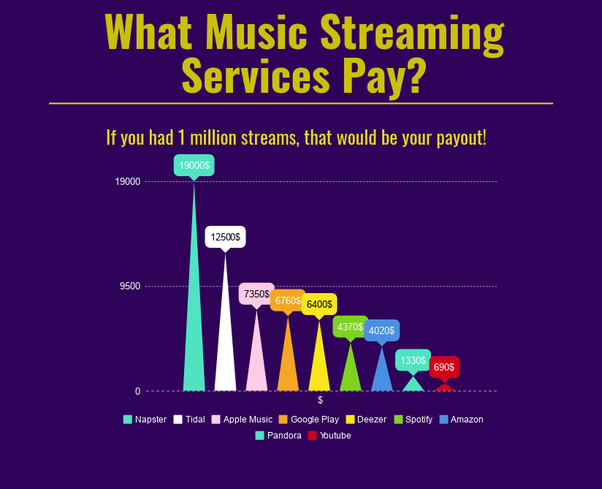 That said, it is also important to note that these might not be the exact revenue you'd make from your contents on the platforms as streaming rates do fluctuate depending on a couple of factors. As such, you should treat these figures as "accurate estimates".
Now back to the table, when it comes to streaming payouts and revenue, Napster seems to be the king. YouTube, on the other hand, doesn't happen to be as artist-friendly as its counterparts. Perhaps because it is the only video-streaming platform on the list.
Are you an artist or a creative? Which of these platforms do you use and love the most? How much do you get paid per stream?
Advertisement - Continue reading below
Featured image: RouteNote.com