Asides from using them as memes to make on social media and when texting, GIFs can also be used as tools to give visual instructions, enhance visual illustrations, as cinemagraphs to place focus on an aspect of an image or film, and many other use cases.
GIF is an acronym for "Graphics Interchange Format", and just like other picture and videos formats (like JPGs, JPEGs, PNG, MP4, etc), they are also commonly used in texts and conversations. They are particularly useful when you want to something more than a picture, but not a video. Or perhaps, you want to point out a portion of a video without sending the whole video. GIFs allow you do that using lossless data compression to reduce file size with no loss in quality.
Advertisement - Continue reading below
If you've never made a GIF before, that's cool. Learn how you can make one on WhatsApp by converting video files to GIF files.
Creating GIFs on WhatsApp
1.. Launch the WhatsApp app on your device
2. Open the chat/group chat you want to send a GIF to
3. Tap the paperclip icon to select a video file from your gallery or file manager. You can also tap the camera icon to shoot a new video
4. Once you've selected a video file or shot a new video, the video editor comes up.
5. In the video editor, drag the video duration bar at the top of the screen to trim the length to 6 seconds or less. This is because WhatsApp can only convert clips of with a maximum length of six seconds long to GIF files.
Advertisement - Continue reading below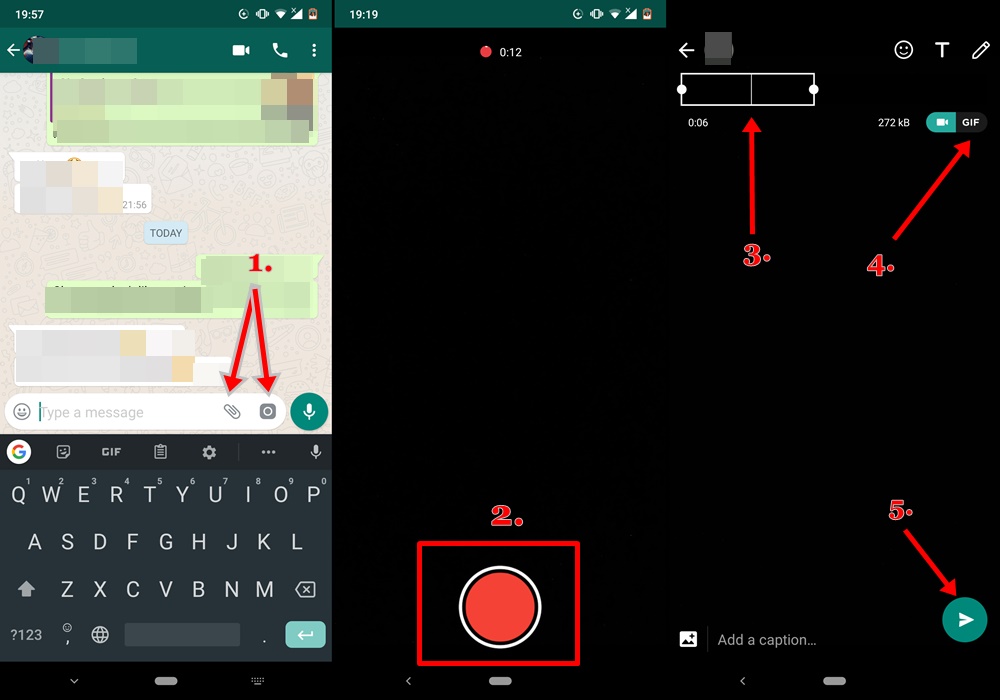 6. Next thing is to tap the "GIF" icon at the top-right corner of the video editor to convert the video clip into a gif file.
7. You can now tap the green button at the button-riggt corner of the editor to send the newly-created GIF to the recipient.
And that's it! You have successfully created a GIF file from an existing (or new) video. It's super easy: select video file/shoot video, trim video length to 6 seconds, tap the GIF button, send GIF.
If WhatsApp isn't your go-to instant messaging app, other popular apps like Telegram also support the in-app creation of GIF files. You can check out this tutorial on how to create a GIF file on Telegram as well as Facebook.