The world of smartphones as we know it is evolving as well as the technology behind some of its features. A new set of smartphone filling up different categories fueled by the need to stand out from the ocean of smartphones are coming alive from time to time. So far this year we've had two flip camera smartphone that has been released and the most recent of the lot is the Samsung Galaxy A80 which is on sale both online and offline in stores near you, Flip camera smartphones go way back, although more refined lately, it still has the same basic technique. The sudden readoption of the flip camera system stems from the new style of maximizing the front space for display. This is a welcomed development but it requires that changes be made to the build of the smartphone at times to bring the 'maximum display' to fruition.
Read More: Samsung set to unveil the Galaxy Note 10 on August 7th
Advertisement - Continue reading below
Even if the flip camera is the main attraction here, still, the glass build adds a premium allure to the mid-range smartphone. The smartphone is a tad bit thick at 9.6mm and also weighs 220g even with the 3, 700mAh battery inside. Furthermore, the smartphone adopts the Samsung way of arranging buttons on the smartphone with the power button to the right and volume rocker to the left. It does not support any storage addition neither does it have an audio jack, however, there is a space for a dual nano SIM card.
The absence of a selfie camera taking up space at the front of the smartphone gives room for a 6.7-inch SuperAMOLED FullHD+ display which looks quite stunning with well-reduced bezels at the top and bottom that you hardly notice. The only set of cameras you can find on the smartphone are at the back of the smartphone by default. But then, the camera module can turn 180 degrees to the front and be used to take selfies. There is a 48MP main camera, 8MP ultra-wide camera, and a ToF camera for depth mapping on the smartphone. When you want to take a selfie, the upper part of the rear of the smartphone slides up a little and the camera module flip to the front like you have below.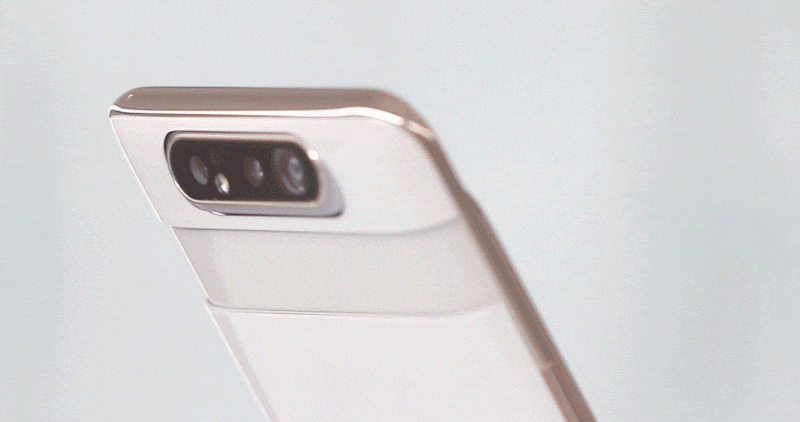 Other features include the new Qualcomm Snapdragon 730 processor, in-display fingerprint scanner, 8GB RAM and 128GB internal storage space. Also, you will be enjoying a 25W fast charge as well as Android 9 Pie with Samsung One UI in play. The smartphone costs about $780 which is around NGN 280, 000, KSh 80, 340 and almost UGX 3million.