Asus has been in the Gaming smartphone bandwagon for a while now with the second generation of the republic of gamers (ROG) smartphone launched recently. This new smartphone builds on its predecessor design and features while having some decent add ons and upgrades for a better gaming experience. The ASUS ROG Phone II has a bigger screen, better processor and a larger display, amongst other improvements. As far as flagship smartphones go, Asus's latest gaming monster is the most powerful Android phone at the moment.
Key Specs and Features
6.59-inch, AMOLED capacitive touchscreen with 1080 x 2340 pixels resolution and 120GHz refresh rate
Octa-core Qualcomm Snapdragon 855+ processor with 12GB RAM
256GB UFS 3.1 internal storage with no support for expansion
48MP primary camera + 13MP ultrawide rear camera and 24MP front camera
6, 000mAh non-removable Li-Po battery
In-display Fingerprint scanner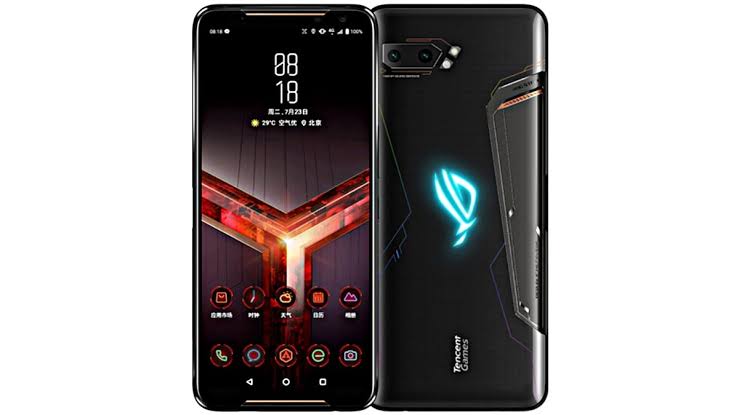 In appearance, the ASUS ROG Phone II is just about a bigger ROG Phone I, maintaining the knife-edge design with a minimal orange stripe as well as the glowing ROG logo on the back but with the absence of fingerprint scanner that has now been moved under the screen and the addition of an extra camera and LED flash on the rear. Also, there are three USB-C ports, one at the bottom and two at the left side which comes in handy in landscape mode and connecting accessories. Like its predecessor, the smartphone also supports a number of accessories which can be used with the smartphone for added functions or benefits. Moreso, you will get an old fashioned audio jack at the bottom of the smartphone which is rapidly disappearing from high-end smartphones these days.
Advertisement - Continue reading below
Taking after the first generation ROG Phone, what we have here is not a sleek device, the 9.5mm thickness and 240g weight speak to how feature-packed this smartphone is. The smartphone holds the record for the first AMOLED display to ever have a 120GHz refresh rate whether on a smartphone or any other device. Under this screen is a fingerprint sensor that works quite fast unlocking your smartphone in a fraction of a second.
The 6.59-inch Full HD+ display also comes with a 240GHz touch-sensing. That means it scans for input 240 times in a second which makes the screen very responsive and fast thereby making gaming even smoother. In addition, the display has a 108% DCI-P3 color gamut coverage, 10, 000:1 contrast ratio and HDR 10 support. As if that is not enough, the screen has one stereo speaker at the top and another at the bottom that can produce multi-channel sounds precisely and high definition sound.
Read More: Asus launches world's first 10 Gigabit tri-band 802.11ax WiFi router
Despite being a gaming centered smartphone, the ASUS ROG Phone II sports a 48MP primary camera combined with a 13MP ultrawide camera alongside two LED flash at the back of the smartphone. Furthermore, the smartphone is capable of recording at 30/60fps on 4K resolution, and up to 240fps at 2k resolution, 480fps at 720p resolution. To the front, there is a 24MP selfie camera which performs quite well up to flagship midrange capability. To cope with intensive gaming, the smartphone features a behemoth 6, 000mAh with 30W fast charging.
SEE: Huawei's new Hongmeng OS is nothing like EMUI according to early reports
The new Qualcomm Snapdragon 855 Plus comes with an increased 4% CPU performance and a more higher 15% GPU boost which will improve gaming considerably. The max clock rate of the CPU is now at 2.96GHz and the GPU clocks at 675MHz which translates to more power to execute tasks and munch graphics. In order to make the smartphone work smoothly, there is a layered cooling system and for more of that Asus offers an AeroActive Cooler II accessory. That's not all, the smartphone features an LPDDR4x 8GB or 12GB RAM with either 128GB or 512GB UFS 3.0 internal storage that gives 15% faster load time than the UFS 2.1 present in some other flagships like the Samsung Galaxy S10.
Advertisement - Continue reading below
Besides the smartphone, Asus offers accessories like:
ROG Kunai Gamepad
This is a pair of controllers that you can use together or put it on the sides of the smartphone to turn it into a PSP or Nintendo Switch of some sort. In order to use the gamepad with the phone, you will need one for the cases or you could use it with Twinkie Dock.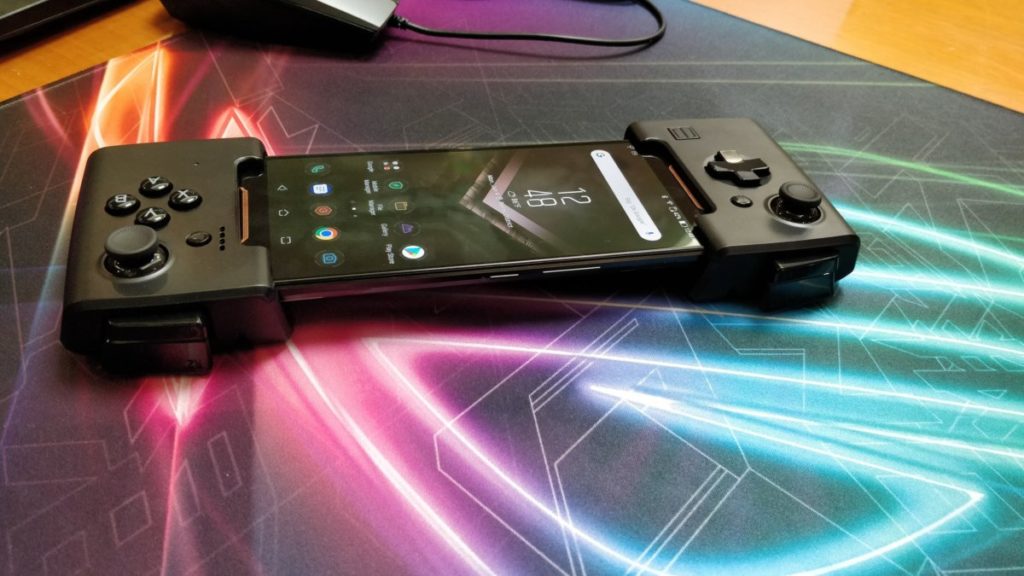 TwinView Dock II
it's little briefcase that opens up with a display inside at the upper part and a space for your smartphone at the base and a 5, 000mAh battery to power the extra display. You can also use the Kunai Gamepad with the TwinVieW Dock if you so wish.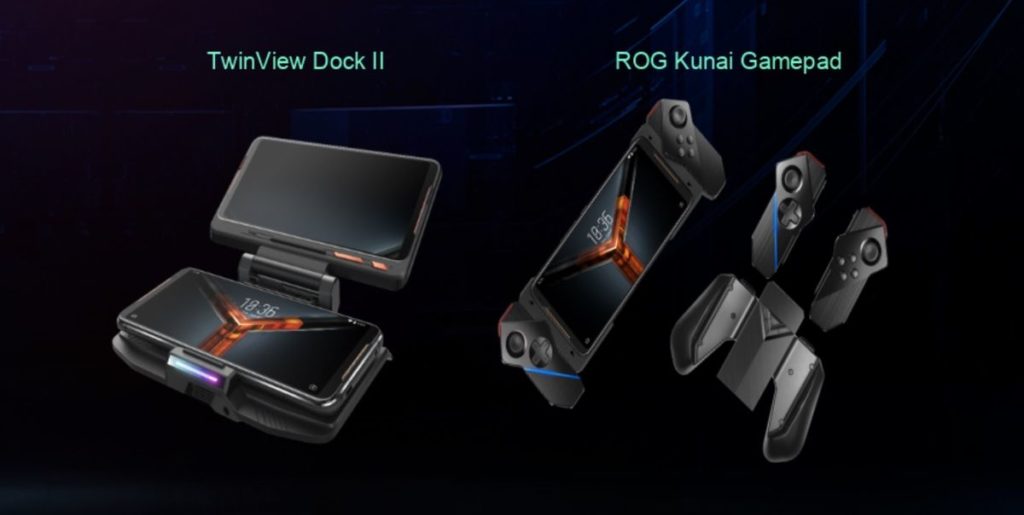 AeroActive Cooler II
In addition to the built-in cooling system, there is an AeroActive Cooler accessory that you can plug into the smartphone through the side connector to power it for reducing the temperature of the smartphone during intensive gaming. It also comes with a headphone jack to plug into when in Landscape mode.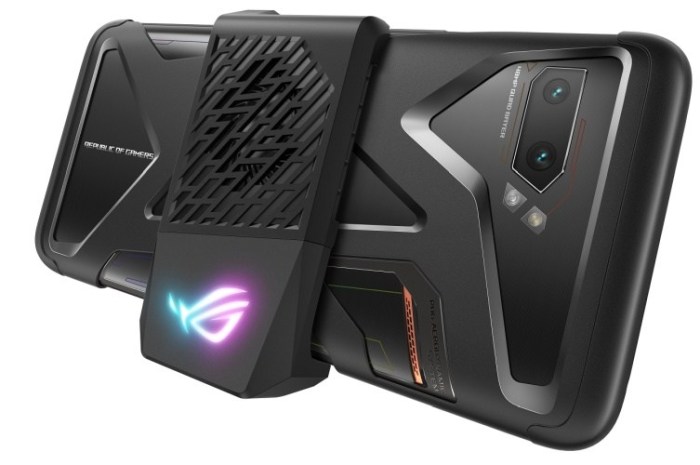 There are a bunch of cases up to three for now for added protection and a possibility for even more cases in the future.
The 12GB variant cost $870 while the 8GB Tencent version sells at $510 and will start rolling out from the 31st of this month.