It was a remarkable day in Africa's start-up scene when Jumia was listed in the New York Stock Exchange four months ago as it was dubbed the first African start-up to do so. At one point, Jumia's shares were even selling for three times the IPO price at almost $47 in line with predictions from expert investors beforehand. However, the good time didn't last as things began to go downhill soon after.
The downward trend of Jumia's shares first started when Citron Research published a report accusing Jumia of data misrepresentation in its S1 filing that led up to its IPO listing on the NYSE. The report which was published on May 10 contains accuses Jumia of misleading investors, labeling the stock as overpriced. Also, a minimum of two other law firms has issued a press release declaring Jumia to be under investigation and a possible class-action suit.
Advertisement - Continue reading below
Read More: Jumia unveils delivery subscription service in Nigeria, Jumia Prime
However, there has been no statement from the United States Securities and Exchange Commission (SEC) to support these claims. Nonetheless, Jumia's has continued to struggle since then with a consistent fall in share price for the most part of July. Looking at the stock price data plot below, the price drop continues into the early days of this month.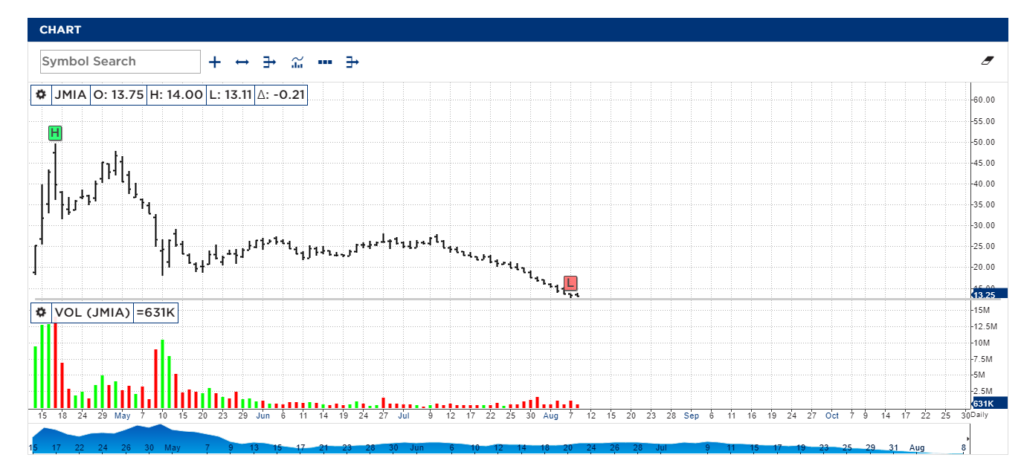 On Wednesday, August 7, Jumia's shares reached an all-time low of $12.60 and closed at $13.46 which is still below its IPO offering of $14.50 per share. According to its first quarterly earnings report, the company's operating loss had a year on year increase with a $51m operating loss recorded for the first quarter of 2019. Its second-quarter earnings report is scheduled to drop on August 21 and we might just get more information on the matter.
Jumia is currently active in 14 countries in Africa making it the biggest e-commerce company in Africa. It recently launched a partnership with Vivo Energy to set-up pickup stations in more than 2, 000 filling stations across Africa in order to grow its offline presence. This is one of the various moves the company is taking to expand its customer base in order to increase revenue.