In the wake of last year's Cambridge Analytica scandal that exposed some loopholes that allowed Facebook collect and sell users data, the European Union (EU) put out a General Data Protection Regulation (GDPR) privacy regulation that prompts certain platforms to give users access to the data it collects from them.
That was why WhatsApp rolled out a feature in the instant messaging app that allows users see the data it obtains from them. The feature is known as "Request Account info" and is embedded within the Settings menu of the app. With "Request Account Info," you can download and export a copy of all the data WhatsApp collects from you. Such data include personal information about your contacts, phone number, your phone details (device name, model, and IMEI), profile picture, group names, account settings, and more.
Advertisement - Continue reading below
Check out how you can use the Request Account Info feature on WhatsApp to see all the information WhatsApp knows about you. Before that, it is pertinent to state that the exported account info you'll be sent by WhatsApp does not contain your personal messages.
Request Account Info on WhatsApp
1. Go to Settings >> Account in your WhatsApp
2. Tap "Request Account Info"
3. A "Request sent" update will appear on the screen. Additionally, the estimated arrival date of your account report will also be displayed on the screen.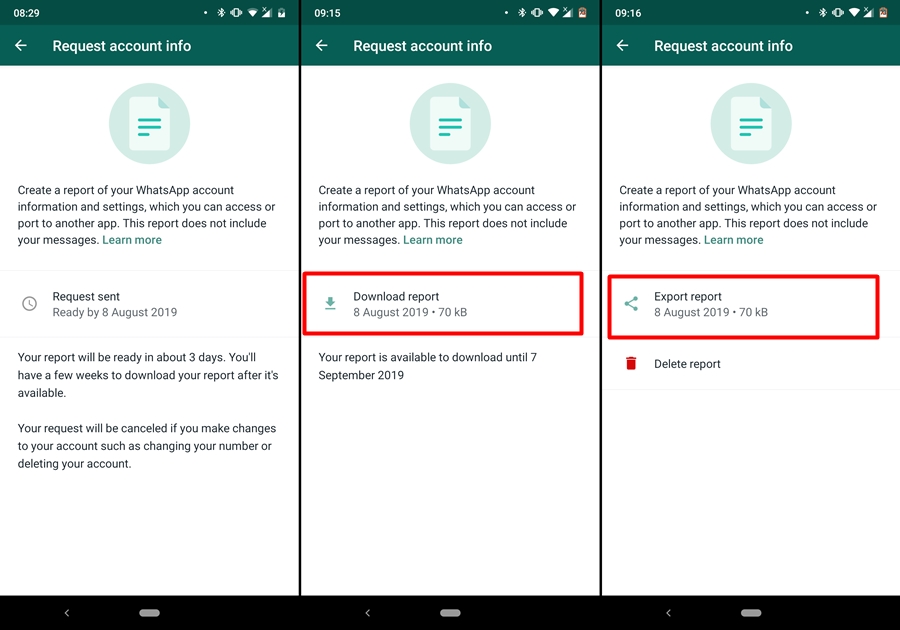 Typically, requested account information takes is prepared and sent to users in approximately 3 days.
Exporting your account information
On the third day of making the account info request, the report should now be available for download/export.
Launch your WhatsApp app and navigate to Settings >> Account >> Request Account Info
Tap "Download report"
After downloading the report (a ZIP file), tap "Export report" — the report cannot be viewed within WhatsApp
You can then proceed to share the account report file to your email, Google Drive, via Bluetooth, or any other platform in the Share tray.
You'll be prompted by WhatsApp to share your Account report to/with trusted sources and individuals only because it contains very sensitive and personal information.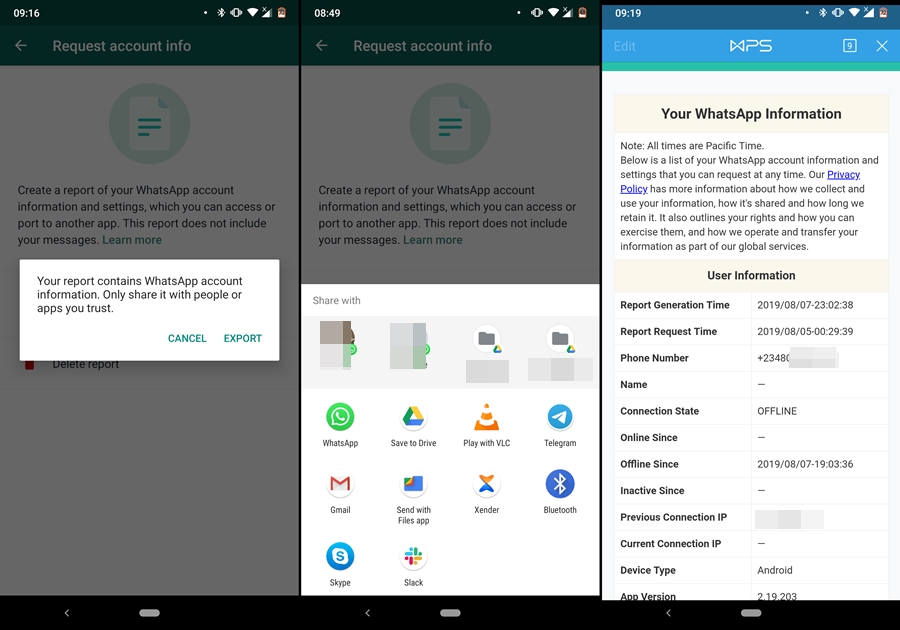 When you unzip the account report, it contains two files: an HTML file (that can easily be read by your reader app) and a JSON file (that can be ported to another app).
Advertisement - Continue reading below
Side notes:
As soon as your account info is ready, you have a 1-month window period to download it before it gets deleted from WhatsApp server.
The account report can only be exported and read on a third-party app, not within WhatsApp.
You can delete the downloaded report from your device.
Deleting the account info report from your device will NOT delete your account data from WhatsApp's server.
Lastly, to reiterate, be careful who you share your account information report with. The report contains very sensitive personal data about you, your friends, family, and everyone on your contact. You wouldn't want such information in the hands of the wrong person.