With the arrival of Ayoba, WhatsApp, Telegram, SMS, and the likes just got a new rival, Ayoba which joins the market with unique features. The name Ayoba is got from a South African Slang to mean 'Super cool.' MTN Uganda partnered with SIMFY AFRICA at the launch of the app. This means that you can use the app to text an MTN user who doesn't use Ayoba and they can reply to your text for free. In this article, we'll guide you on how to use Ayoba.
Download and Set-Up
Ayoba, for now, is available only on Android devices but is coming soon on iOS devices too. Head over to the Google Play Store, search for 'Ayoba' and install the app.
Once the app has been installed, open it. Ayoba comes with tons of local languages so you will be prompted to select the language of your choice. Once that is done, press continue.
Select the country plus phone number and verify it through the code sent to you.
You will be asked to enter your name — the one you would like your friends to see as a display name. You can skip this step if you want.
Give Ayoba permission to access your contacts and the set-up is done.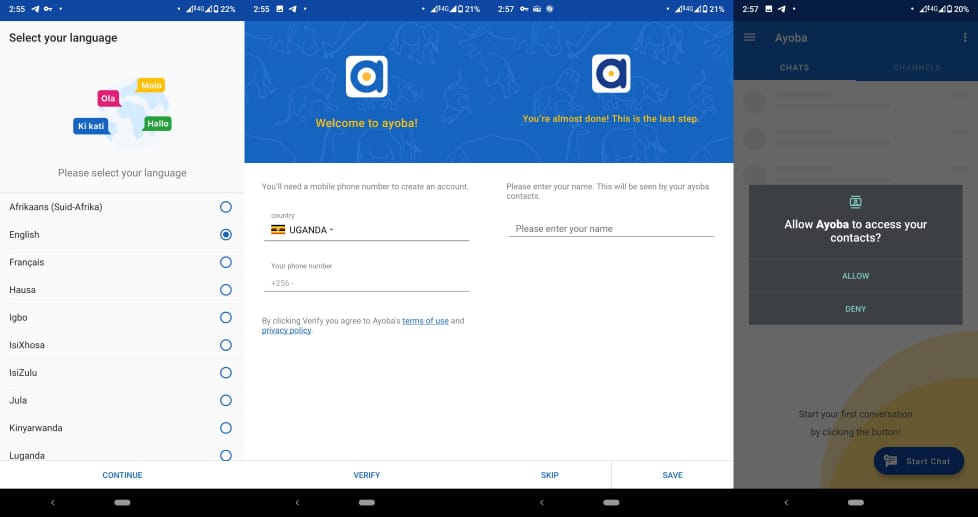 ---
Related Article: MTN launches a free messaging app called Ayoba
Advertisement - Continue reading below
---
Chats
In the Chats tab, you will find all your current conversation both from your contacts and the groups where you are a member.
Click Start chat. From here, you can choose to create a new group or add new contacts. You will also be able to see a list of all your contacts.
You can text any contact for free, however, only MTN Uganda customers who do not have the app can reply for free.
When you open a chat, you can choose the option to call although the call option uses your Airtime to go through.
Tap on the name of the person to view their statuses, media you have shared, and any mobile money transfers (coming soon).
MTN Uganda hopes to integrate MTN Momo into the app so you will see the option of transfers although it doesn't work yet.
Tap the paper clip icon to send media or on the microphone icon to send voice notes.
Note: Messages can't be sent with data off.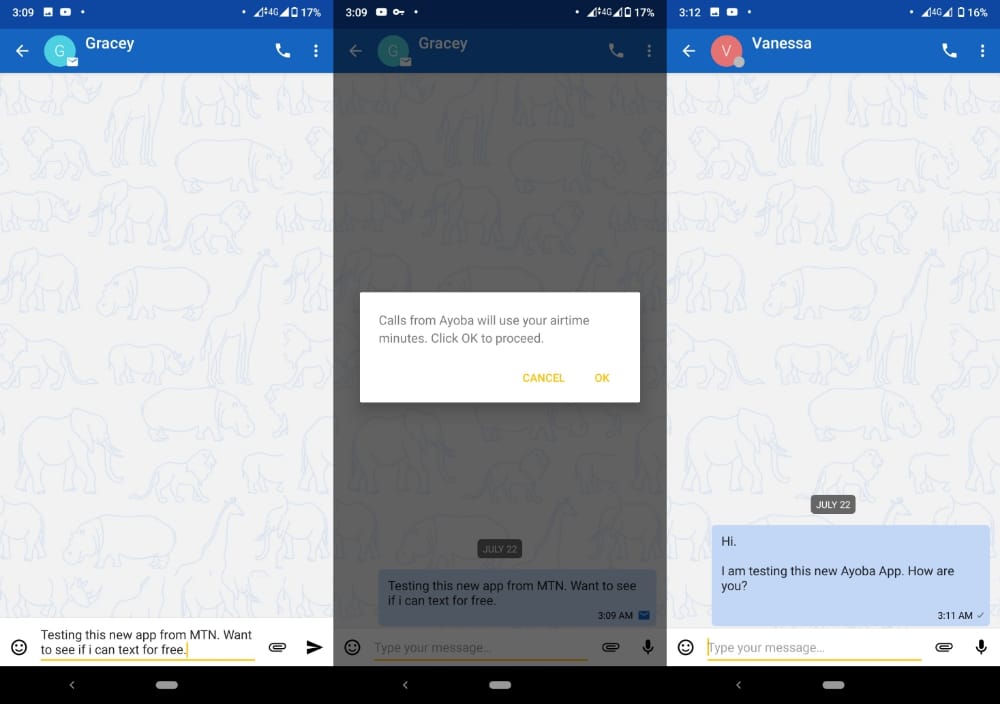 Channels
The channels on Ayoba act just like the channels on Telegram. You select a channel of your choice and subscribe to it. There is no option for you to type or contribute to a conversation on a channel. You can however do that in the groups which you create.
By default (i.e. upon successful signup), you are a member of the Ayoba news channel. You can search for other channels and subscribe to them by tapping the subscribe button. Open the channel and tap the three dots at the top-right corner to unsubscribe.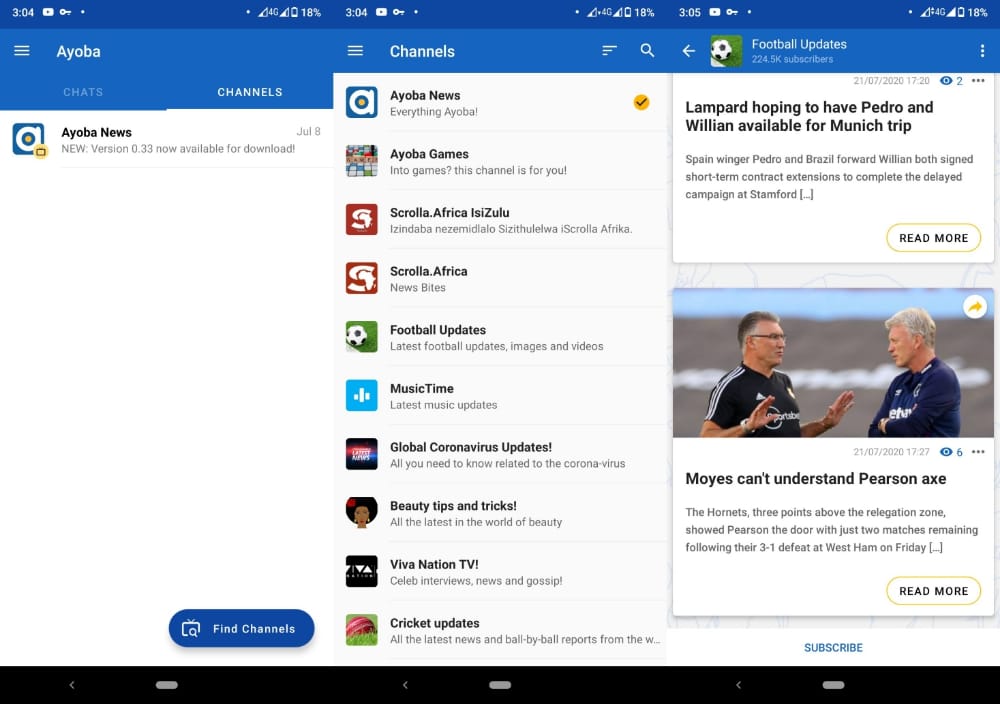 Games
To access games, tap the menu bar on the top left corner and select games. There are a couple of games most of which are new. Click on each and explore.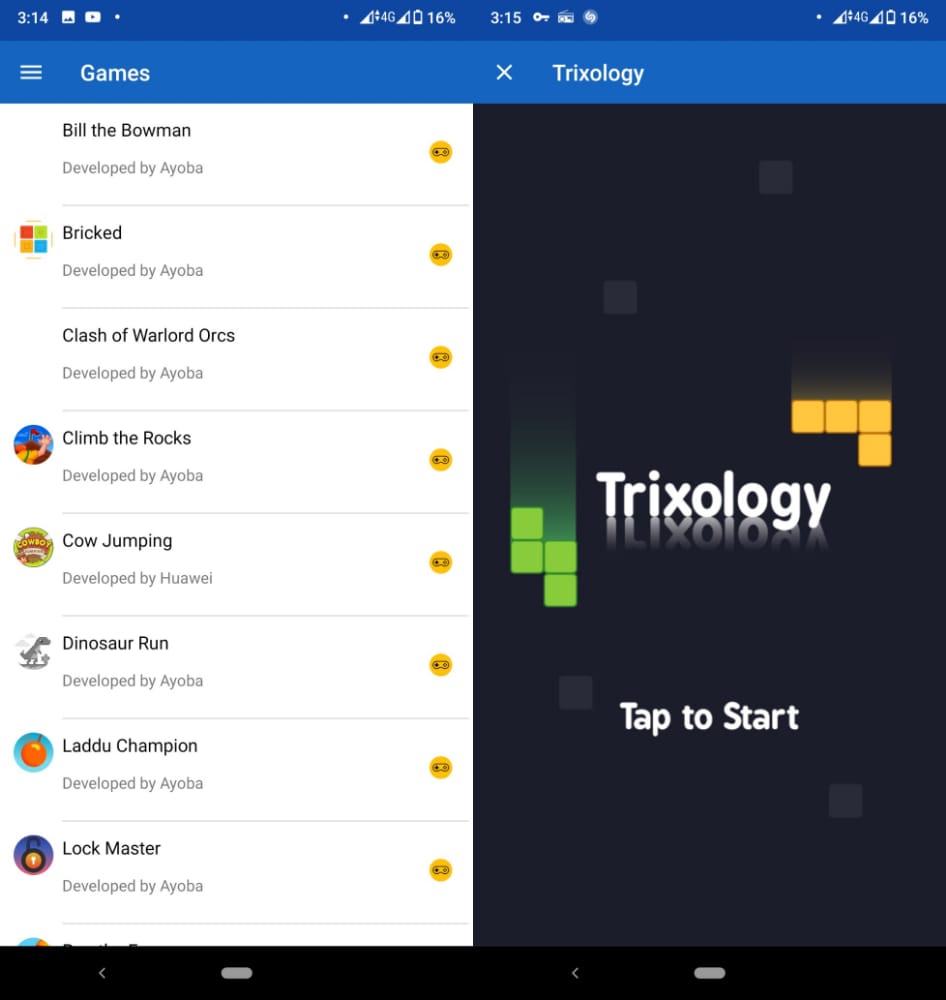 Settings
On this menu, you can tweak a few settings around to customize your experience with the Ayoba app. Click on the menu on the top left corner and go to Settings.
Select if you can sync contacts, or show blocked users or receive messages from Ayoba administrators.
Choose how you would like Ayoba to appear in terms of font size, wallpaper, and so on.
Select what type of media you would like plus whether to have auto-download enabled or not.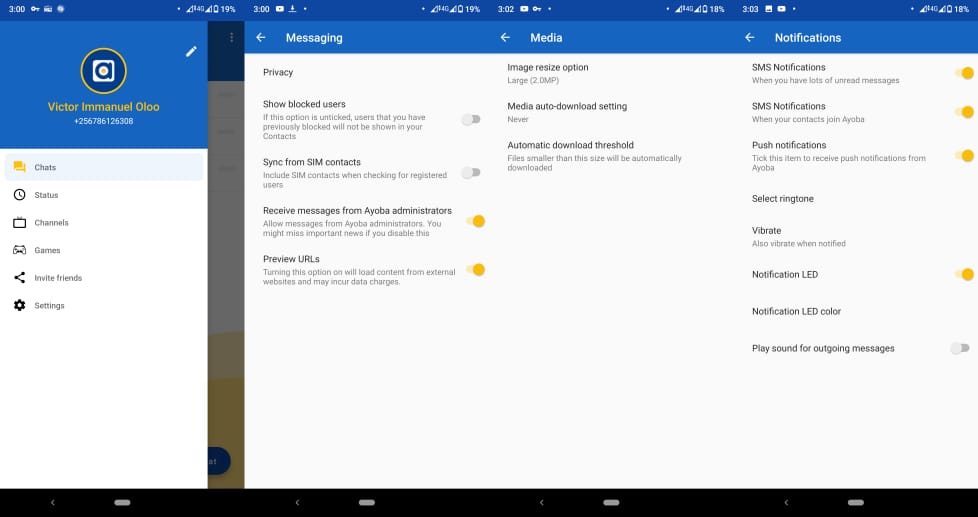 Ayoba, for now, doesn't have a web version and that is one of the major differences between the app and WhatsApp/Telegram. Also, its ability to send SMS to anyone for free is unmatched when it comes to Telegram and WhatsApp. Fingers crossed for when sending money from the app will become functional and we wait to see how it will compare with WhatsApp Pay. For now, what are your thoughts on the Ayoba app? Put them in our comments section below.
Advertisement - Continue reading below