At the moment, StarTimes and GOtv are the cheapest Digital Terrestrial TV services we have in Nigeria. And both are also becoming very popular simply because the much preferred DSTV is too expensive for an average Nigeria – and this price continues to increase.
StarTimes launched 2010 and faced DSTV heads on. They were able to compete favorably because their packages are affordable. It doesn't cost a lot to buy the decoder, there is no dish to call a technician to fix, and no need to bother about signal interruption when there is a change in weather (rain or heavy wind). The increasing popularity of StarTimes in Nigeria prompted Multichoice (DSTV'S parent company) to respond in 2012 with GoTV – a cheaper and very easy to set up Pay tv.
Advertisement - Continue reading below
Are you looking to switch to a cheaper pay tv? Do you get confused about which Pay Tv provider to choose from? We'll be breaking it down in this post – Decoder prices, Subscription, bouquet, and channels.
GOtv vs StarTimes: Decoder and Price
StarTimes
All StarTimes decoders are packed with a remote, indoor antenna and a free one-month unique StarTimes bouquet.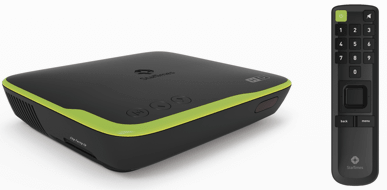 SD Decoder: This is StarTimes cheapest decoder, it costs ₦4,500. ₦5,900 for the Decoder + Antenna.
The HD Decoder costs 7,500 Naira. It costs ₦8,900 for Decoder + Antenna. The StarTimes DTH S2 Decoder goes for ₦7,900.
The complete set Decoder with 2-month free subscription costs just ₦14,900 and can be purchased offline or online (on Jumia Nigeria).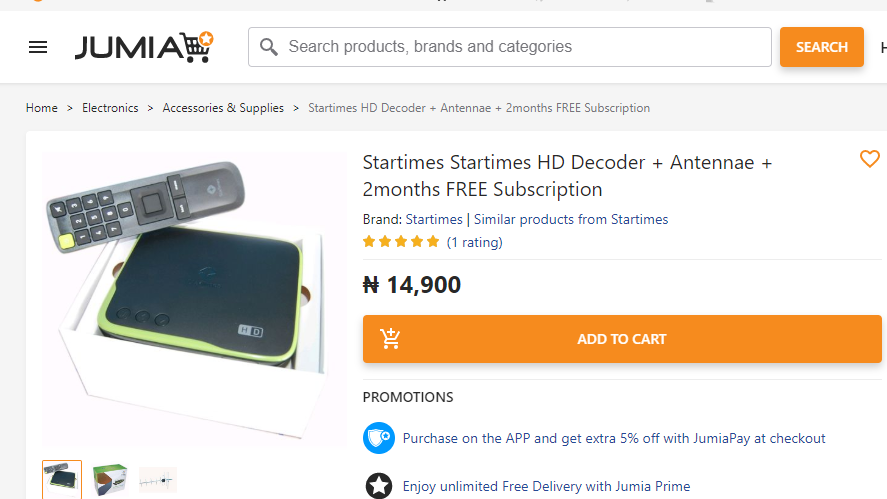 Read more: How to set up StarTimes satellite digital decoder
GOtv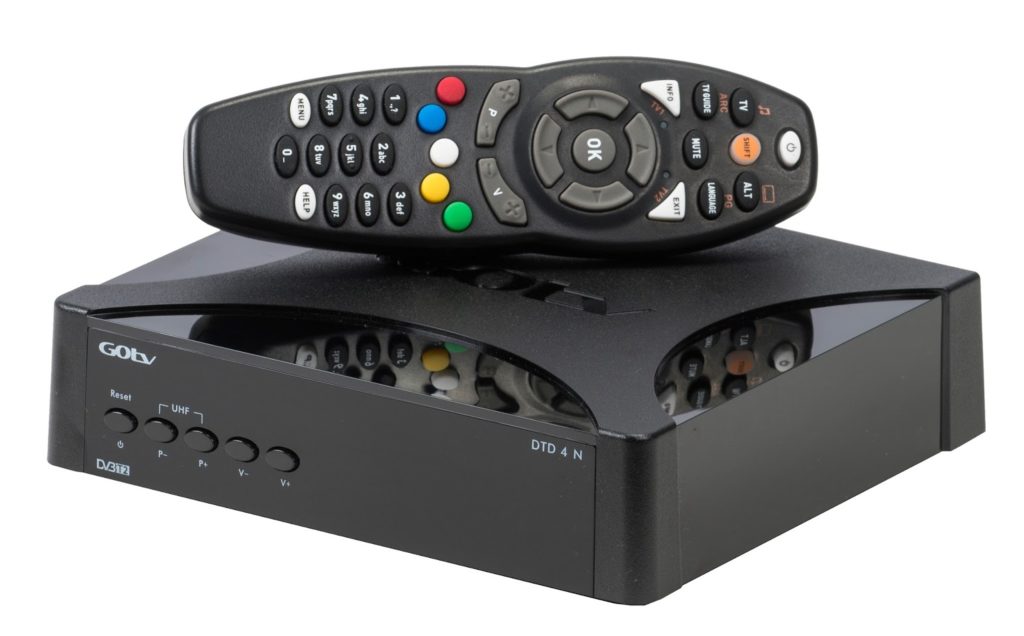 On GOtv's official website, the GOtv decoder sells for ₦6,900. It consists of Decoder + GOtenna + 1-month GOTV Max subscription.
Advertisement - Continue reading below
Monthly Bouquet, Price, and Number of Channels
Startimes
Gotv
Monthly Bouquet and Price
number of channels
Monthly Bouquet and Price
number of channels
Nova Bouquet
₦900
30+
Gotv Lite
₦400
24+
Basic Bouquet
₦1,300

60+
Gotv Value
₦1,250
39+
Classic Bouquet
₦2,600
80+
Gotv Plus
₦1,900
67+
Unique Bouquet
₦3,800
100+
Gotv Max
₦3,200

76+
Channel List
Categories
GOtv
Statimes
Entertainment and Movies
Africamagic Epic Movies
Africamagic Family
Africamagic Hausa
Africamagic Igbo
Africamagic Yoruba
B4U Movies
E! Entertainment Television
Eva +
FOX Life
Galaxy TV
GO Channel
M-Net Movies Zone
ROK 3
Telemundo
TVC Entertainment
Televista
Trybe Tv
Zee World
AMC
Bollywood
Bollywood Africa
E!
E-Stars
Fox
Farin Wata
Galaxy Tv
NTA E
Star Gold
Star Plus
St Guide
St Kungfu
St Movies Plus
St Novela E
St Plus
St Rise
St Series E1
St Sino Drama
St Zone
Viasat H+L
Zee Cinema
DOCUMENTARY
Discovery Family
Nat Geo Wild
Animaux
CGTN Documentary
Investigation Discovery
Nat Geo Wild
NGC
KIDS
Disney Junior
JimJam
Nickelodeon
Baby Tv
JimJam
Nickelodeon
Smile Of A Child
Lifestyle and Culture
Spice TV
Fine Living
Isi Mbido
St Yoruba
Local Channels
AIT
Arewa 24
BISCON tv
Channels Tv
eTV Africa
ITV Benin
Lagos TV
Liberty TV
MITV
NTA I
NTA2
OGtv
ONMAX
R2TV
RAVE
Silverbird
Tiwa n Tiwa
WAP
Wazobia Max
AIT
Arewa 24
AWA Tv
Channels Tv
eTV
Liberty TV
MITV
Nigbati
NTA Hausa
NTA Igbo
NTA Lagos
NTA Lagos 10
NTA Yoruba
Orisun
Rave Tv
Silverbird Tv
St Dadin Kowa
St Yoruba
TVC NG
WAP Tv
Wazobia Tv
MUSIC
AFRO Music English
Hip TV
MTV Base
Planet Radio TV
Sound City
MTV Base
NIGEZIE
St Music
St Naija
News and Commerce
Al Jazeera
Arise News
BBC World News
BCOS
CNN International
EBS TV
NTA News24
NTA Parliament
RSTV
TVC News
Al Jazeera
BBC World News
Bloomberg
CGTN
CNBC
Fox News
NTA Knowledge
NTA News 24
NTA Parliamentary
Plus Tv Africa
TVBC
TVC News
RELIGION
Dove Tv
Emmanuel Tv
Faith Broadcast Network
Islam Channel
Dove Tv
Emmanuel Tv
IQRAA
TBN
SPORTS
SuperSport Blitz
SuperSport Select 1
SuperSport Select 2
SupersSport Select 3
Eurosport News
Fox Sports
Fox Sports 2
NTA Sports 24
Sports Arena
Sports Life
Sports Premium
St Sports Focus
St World Football HD
Also read: 5 Ways to Pay Your DStv and GOtv Subscriptions in Nigeria
GOtv vs StarTimes: Which should you buy?
Both PayTv's are very affordable, From the table above, you would see that GOtv's monthly subscription is cheaper than that of StarTimes – but StarTimes has more channels. Take a look at the Nove bouquet on StarTimes and the Lite bouquet on GOtv for instance. StarTimes charges N900 for 30 channels while GOtv charges just N400 for 24 channels.
Even though it offers fewer channels, personally, I would recommend a GOtv decoder over StarTimes (because of the English Premier League). Before you make the decision to buy, however, make sure to go through the channel list on both Paytvs and make your decision based on the type of channels available on each bouquet, not the price of the bouquet.