Android smartphones come with loads of features that will help improve your experience, some of which you know about. But there is a whole lot of other hidden features that you probably don't know about.
Before we begin, you should know that we tried out these features on a smartphone running the Android 7.0 operating system. They should work on higher versions of the operating system (Android), but we're not sure of older versions. You should still try them out, though.
Advertisement - Continue reading below
Related Article: Android Q OS: More Updates on Likely Features
1. Split-screen
One interesting feature of foldable smartphones is their ability to run up to two apps on their screen at the same time. But do you know you can do this on Android smartphones with regular screens as well? You can split your Android phone screen and run two apps simultaneously.
To activate split-screen on your Android phone, open an app, then long-press the overview button (the square button directly to the left of your home button) to select one of your recently opened apps.  
For some Android smartphones, this button is on the right of the home screen.
2. Double-tap the Square Button to Switch to the Previous App
Let's assume you're shuffling between two social media platforms, to go back to one of the platforms, you will need to tap the Square button once, then select the previous social media app – which is a lot of work and can be time-consuming.
By double-tapping on the square button, within a split-second, you can seamlessly switch to the previous social media app you were on.
Advertisement - Continue reading below
Related Article: 7 Features That Android Can Borrow From iOS
3. Lock Apps in the Foreground
This is a good feature to try out if you occasionally give your phone to strangers, and you would like to restrict them to just one application on the phone. It is a security feature that prevents them from wandering outside the app you have permitted them to use.
The feature is called "Screen Pinning". There are two steps to activate Screen pinning. First, you have to enable it in your phone's security settings. To do this, go to Settings on your phone, then click "Security", scroll down to "Screen Pinning" and switch it on.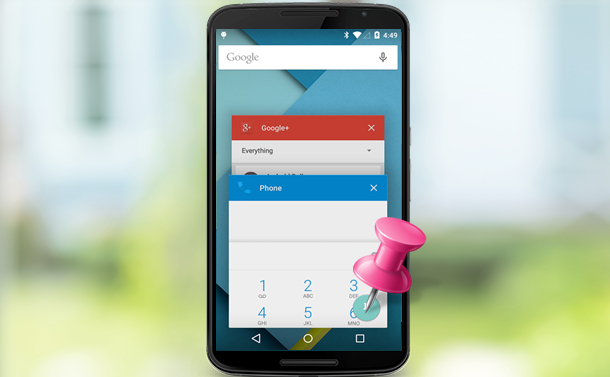 Once that is done, open the app you want to pin, and then press the Square button on your phone to display the multitasking view. Next, scroll down till you find the little pin icon, and press it.
You can also add a password to make sure no one else can unpin an app without your permission.
4. Capitalize the First Letter or a Word
While typing on your phone, if you forgot to capitalize the first letter of a word or you want to capitalize the entire word, Android has a quick fix. Instead of placing the cursor on the letter and retyping it, just double tap on the word to highlight it, then tap the upper-case key on your keyboard to capitalize the first word.
To capitalize the entire word, double-tap the word to highlight it, and then double-tap the upper-case on your keyboard to capitalize the word.
5. Double-tap the Status Bar to Reveal Notifications
Instead of swiping down from the top of your screen just to check your notifications, you can simply double-tap the status bar at the top of your screen and your notification will expand.
Advertisement - Continue reading below
Related Article: 6 Features That iOS Can Borrow From Android
6. Zoom in to Maps, Photos with one Finger
The usual method of zooming in on a picture or map is the pinch-to-zoom gesture, which lets you use two fingers to zoom in on a picture on Android. But what happens when you're holding your phone with one hand?
Android also lets you zoom in on pictures with just one finger. Just double-tap the picture (don't lift your finger after the second tap), and slide your finger up and down to zoom in and out of the picture.
Did we miss out on any useful Android features that you think aren't common or popular? Lets us know in the comment section below.