The COVID-19 pandemic has seen a rise in online transactions as the movement of people is being discouraged or prohibited. Jumia Uganda has come up with a new delivery subscription service called Jumia Prime. The aim of this is to help you cut costs on the amount you pay for the delivery of your products.
The Jumia Prime subscription plan allows consumers to sign up for 3 or 6 months, and receive free deliveries placed on all orders placed on the  Jumia platforms including Jumia Food. The service is currently available in Kampala & Entebbe but will be expanding across the country in the future.
Advertisement - Continue reading below
"One of the reasons for launching the Jumia Prime service is that we want our customers to see us as an essential service where they can shop on a daily basis. This service will also help our customers save a lot of money in the long run," said Ron Kawamara Jumia Uganda CEO.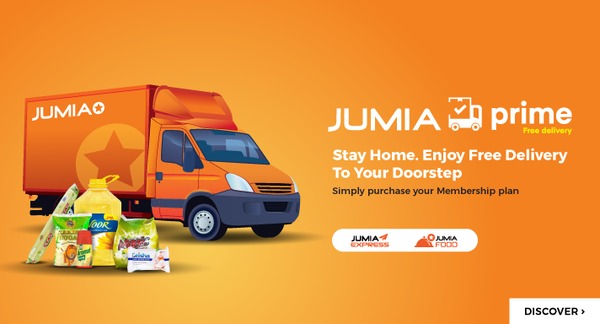 Subscription Plans
This subscription plan works on different models. You can be able to buy a one week plan, three (3) month plan, six (6) month plan or one year plan.
For Kampala
One week subscription for 9,999 UGX
3-month subscription for 74,999 UGX
6-month subscription for 134,999 UGX.
One year subscription for 224,999 UGX.
For Entebbe
One week subscription for 10,999 UGX
3-month subscription for 81,999 UGX
6-month subscription for 147,999 UGX.
One year subscription for 244,999 UGX.
---
Related Article: How to Join the Jumia Sales Team as a JForce Agent
---
How to Subscribe
The Jumia Prime subscriptions are sold on the Jumia platform through prepayment only and will automatically be activated within 48 hours.
Go to the Jumia Website or App.
Search for Jumia Prime.
Select the package of your choice.
Click Add to Cart.
Open the Cart and complete your order.
You will then receive a confirmation email saying your order has been confirmed. You can then go ahead and enjoy free delivery.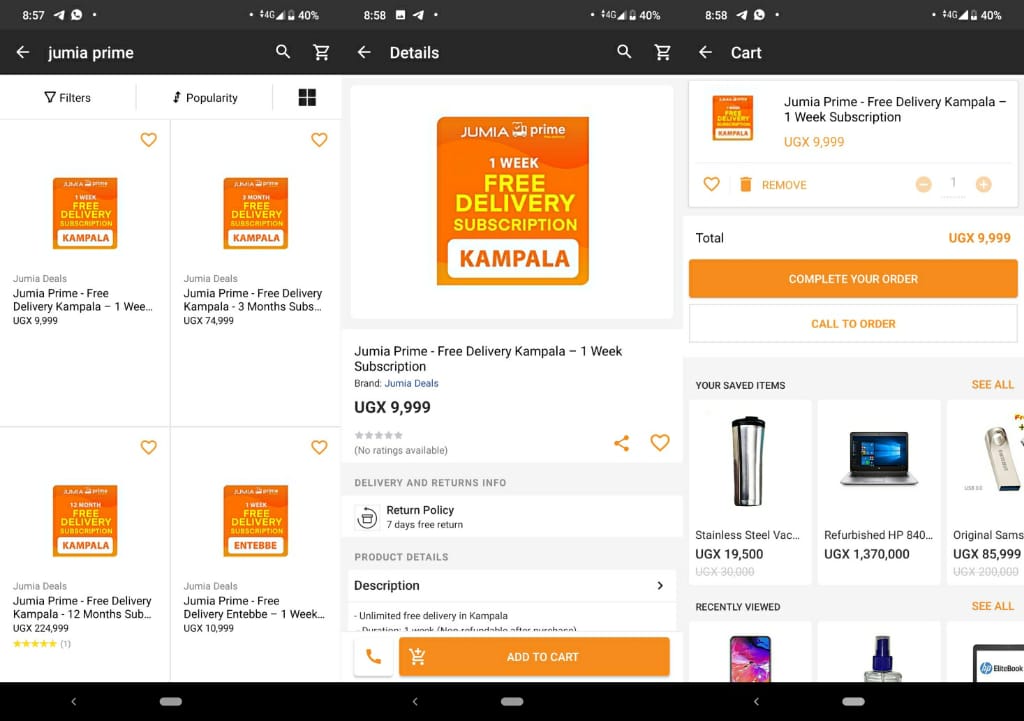 Jumia Prime is designed for frequent shoppers. It is also not available for professional usage including corporate accounts or J-Force agents. Professional users are those who place more than 40 orders a month.
There is no auto-renewal for this package but it can re-purchased following the expiry of the original Membership plan. Jumia Prime free delivery also applies specifically to non-bulky items and does not include items shipped from overseas with the Jumia Global tag.
Advertisement - Continue reading below
The introduction of Jumia Prime to Uganda is a welcome idea and good for people who frequently shop and end up having high delivery fees cumulatively. It is worth mentioning that similar Jumia Prime subscription plans had earlier been launched in Nigeria a couple of months back. Tell us in the comments sections why or why not you would subscribe to Jumia Prime.