There's a new kid on the block just in case you missed it and he's raising our expectations. Lycamobile launched earlier this year in the already overcrowded telcom sector in Uganda. But there's always room at the top for someone new especially when they have something different to offer.
Lycamobile is a UK-based multinational mobile virtual network operator with over 15 million customers across 23 countries. Uganda is their latest new market. They have country-wide coverage. Being a Mobile Virtual Network, they're piggybacking on existing countrywide infrastructure to serve their customer base. It's worth noting that Lycamobile also bought off Tangerine, another virtual mobile operator which has been operational for little more than 4 years.
Advertisement - Continue reading below
The mobile operator has both voice, SMS and data plans. The pricing is really eye-popping which isn't surprising at all for a new comer. For calls for instance, they are charging 3 UGX/Sec within Lycamobile network as well as to other networks. For text messages, they're pricing them at 65 UGX/SMS with the network and 99 UGX/SMS to other networks. The simcard costs Ugx 10,000.
But what's really catching users attention are the mobile data rates. Their lowest tier dubbed UG Super goes for Ugx 10,000 for a whooping 10GB of data with a month's validity. It's unsurprising that there are long queues at their retail outlets according to our sources with these kind of deal. The current lockdown which has seriously curtailed movement doesn't help the situation.
Their next tier is UG Mega offering 50GB of data at Ugx 25,000 and then UG Student offering 100GB at a measly Ugx 30,000. Compared to the competition, these rates are simply unparalleled. All these packages are under "Special offer".
Lycamobile Uganda data plans
Plan
Volume/month
Price
UG Super
20GB
Ugx 10,000
UG Mega
50GB
Ugx 25,000
UG Student
100GB
Ugx 30,000
UG Giga
100GB
Ugx 45,000
The daily bundles includes 250MB for only Ugx 500 while the cheapest weekly bundles offers 500MB for only Ugx 1,000. You can browse through all their plans on their website.
It's quite unsurprising for a new market entrant to offer such generous plans. Usually, this loss leader strategy is used to acquire customers and we have seen it with previous providers such as Warid later acquired by Airtel. Given the ongoing pandemic-induced #StayAtHome directive, a lot of users are desperately looking for cheaper data plans to stay connected and productively work from home. It remains to be seen if Lycamobile will persist their plans post-Corona period.
What's also obviously missing from this chart are the speeds. Lycamobile says they have a 4G network in supported areas. So we expect fast 4G speeds to go along with their generous data volumes. We are unable to acquire a SIM card to run our own quality tests given the COVID-19 lockdown and high traffic to Lycamobile's retail stores.
Advertisement - Continue reading below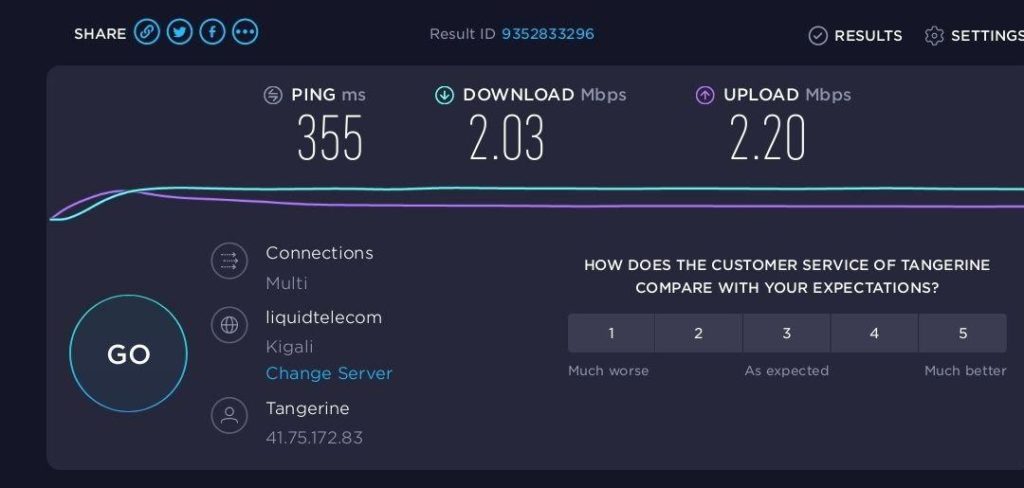 However, preliminary speed tests from an Anonymous source around Najjera show download speeds of about 2Mbps and upload of the same. Not yet what you would expect from 4G network in 2020. Another user Roger shared this speed test. It tops off at a much higher speed of 13Mbps.
You can visit any of their stores at Total Nakawa, Shell Portbell Rd Mirage Plaza, Shell De Winton Rd, Namanda Plaza, Total Nakivubo Rd among several others.
Image: @Lycamobile on Twitter