The market for wireless Bluetooth headphones is now saturated with all sorts of products. Finding a good headphone on a budget is especially hard. But the Cowin E7 have proved itself to be a great contender in the budget category of great-sounding, bassy Active Noise Cancelling (ANC) wireless Bluetooth headphones.
I have been rocking the Cowin E7 for weeks now. There are a lot of good things to report about this headphone; they are comfortable in the ears, durable design, have long battery life, heavy bass, good noise cancellation and fast Bluetooth pairing. The Cowin E7 feels a bit bulky and only pair with one device at time. Being below $60, these headphones are good deal.
Advertisement - Continue reading below
Cowin E7 Full Specs
Bluetooth: v4.0
Sound: 40mm large-aperture drivers (S/N: ≥85dB)
Playtime: 30 Hours
Connectivity: Bluetooth, NFC, Microphone, AUX
Frequency: 20Hz-20kHz
Impedance: 16Ω
S/N: ≥85dB
In the Box
Cowin E7 Bluetooth headphones
Aux cable
Micro USB cable
Manual
Design and Features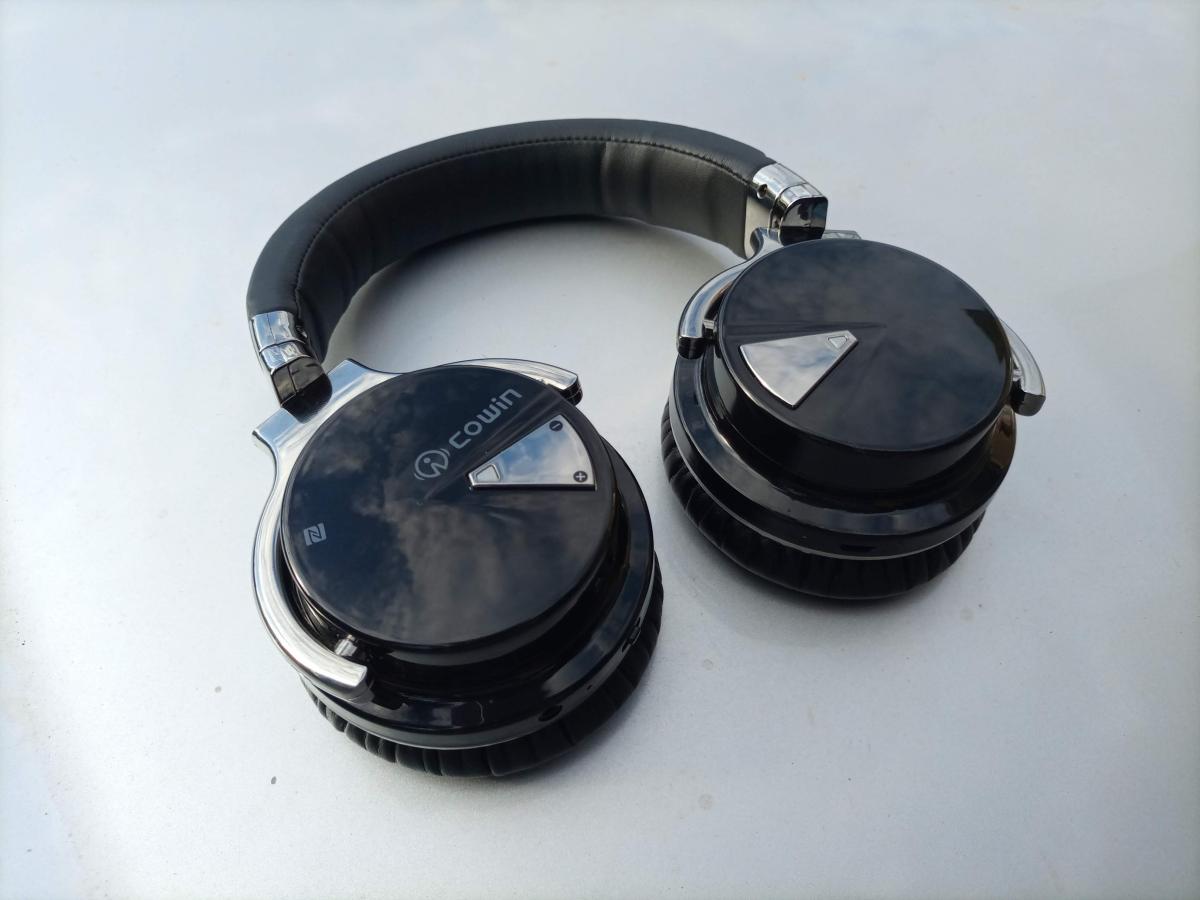 The Cowin E7 are quite comfortable in the ears, thanks to the soft protein ear cushions. I have worn them for hours without feeling pressure in my ears. The earcups rotate 90 degrees so you can put them back into their carrying case or your bag quite comfortably. The headphones are built with a metallic headband and the hinges are all light metal giving them a feel of durability.
There's an OFF/BT/NC toggle button on the right headphone shell. You power on the headphones by switching on the button from OFF position to BT (Bluetooth). The Blue light indicator next to the Cowin Logo will start flashing Blue when not paired and will light —steadily— a light-blue colour when paired. You can turn on Active Noise Cancelling by moving the button to the NC position. The indicator light will show white in this mode.
Still on the right headphone shell is a triangular-like button with the indicator light multi-function button, volume up, and volume down buttons on the other ends of the triangle. The Multi-function button is for answering/ending calls, switching between calls, play/pause music playback.
Bluetooth Performance
The Cowin E7 supports both wired and wireless modes. The headphones ship with an AUX cable which you can plug in directly to your phone or laptop and listen to music endlessly without worrying about battery life.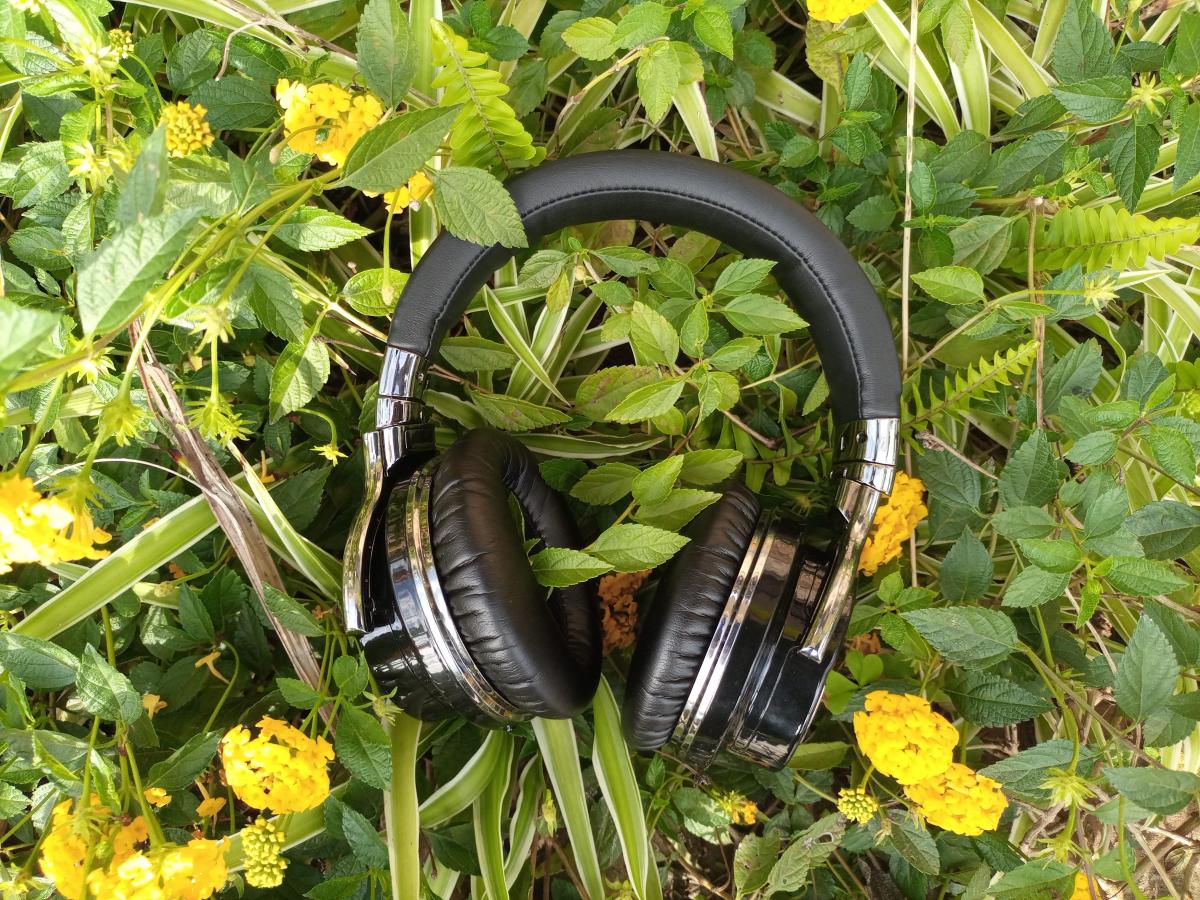 On wireless mode, the headphones support Bluetooth version 4.0 — not Bluetooth 5.0, the latest standard. Just like any other Bluetooth anything, the pairing process is not always smooth. To pair these headphones with your laptop or phone, turn the Button from Off to BT position. Then go to the Bluetooth settings menu on your device and look for available devices. The headphones appear as E7. Tap on that and the headphones will immediately pair. The headphones also support NFC, so you can initiate the pairing via NFC method.
Advertisement - Continue reading below
Next time you power them on, the headphones will automatically connect to the last connected device. Although you'd love this if you use the headphones with only one device, this can be annoying when you have multiple devices previously connected. Since the headphones connect to only one device at a time, you'll have to disconnect the currently paired device before you connect it to another device. If you don't do this, pairing the headphones with another device won't work. The headphones light indicator will light blue if the headphones are already connected to some device. So that's a little troubleshooting for you.
Sound Quality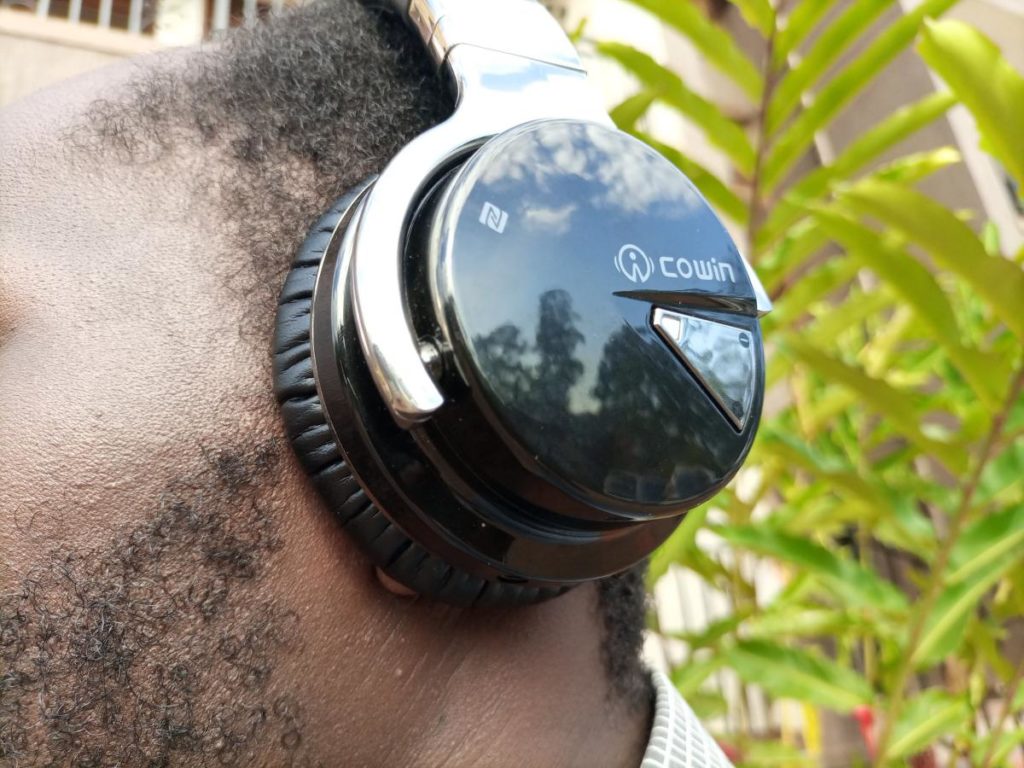 The Cowin E7 excels effortlessly at producing deep bass. I have played Jazz, R&B, Hip Hop, Rock music with these. I have been really impressed with level of sound quality and performance I got out these headphones. I would have wished for a little bit more stereo balance from the Cowin E7. The headphones support Active Noise cancelling (ANC) that you can turn on/off by moving the button to the NC position. I subjected the Cowin E7 to a "Blender test." — testing the ANC functionality by turning on a fruit blender to simulate background noise. The headphones passed my test quite well. I would still hear the blender obviously but with much less noise than when ANC mode is turned off.
Battery Performance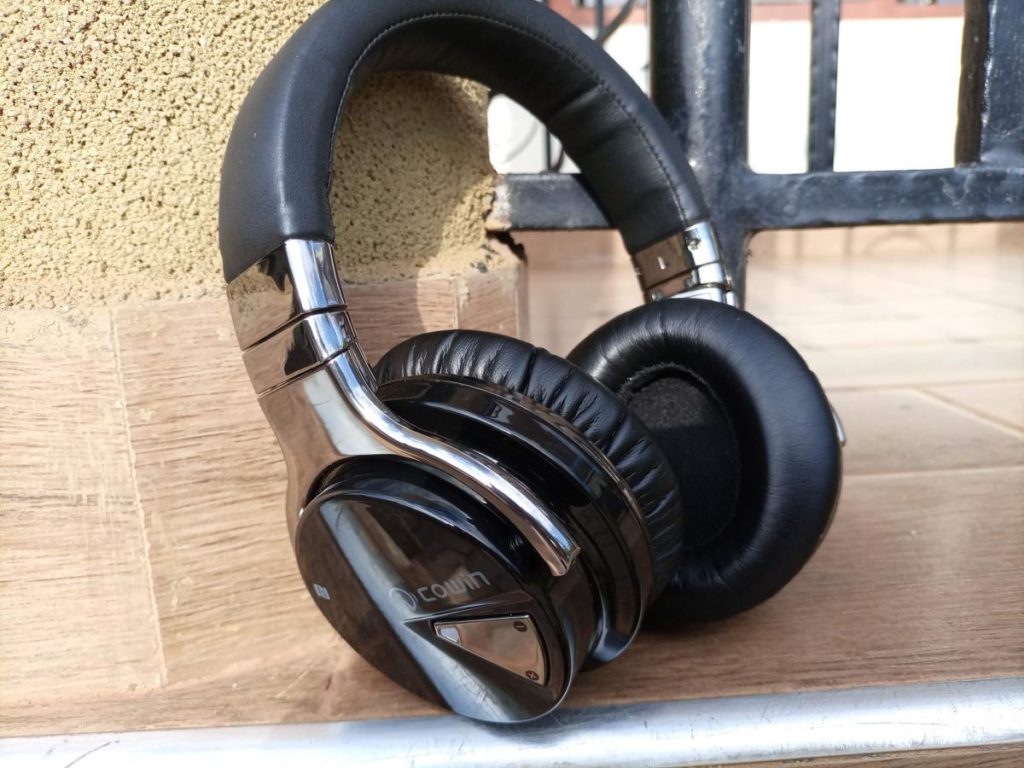 The Cowin E7 will take you the entire day when fully paired. They have about 30 hours playback time without ANC and about 20 hours with ANC turned on. The actual time though depends on volume levels. They come with a 750mAh battery. I have personally gone at least two days with infrequent on/off usage, which is really impressive performance.
The Cowin E7 are charged via Micro USB cable. You need at least 4 hours to fully charge. When charging, the headphone's light indicator will show Red and turn off when fully charged.
Tips and Tricks
Power on: Shift the button from OFF to BT position.
Play/Pause: Press the multi-function button.
Skip Forward: Press the volume down(positive sign) button.
Skip Backward: Press the volume up(negative sign) button.
Answer/End calls: Short press the Multi-function button.
Bluetooth indicator blinks red when headphone is powered on, solid blue when paired and white when in ANC mode.
Battery indicator light red when charging and turns off when fully charged.
Check battery levels from Bluetooth icon on your phone/tablet/pc.
Price and Where to Buy
The Cowin E7 are selling on Amazon.com for $59.99.
While you are at it, you can also checkout the upgraded version of these headphones called the Cowin E7 Pro currently at $79.99 on Amazon.com. They feature 45mm drivers instead of 40mm, bigger 800 mAh battery instead of 750 mAh.
Advertisement - Continue reading below