Tablet makers, for years, have struggled to keep up with the quality and popularity of Apple's line of iPads. Samsung, with its Galaxy Tab series, is the only close rival.
A couple of days ago, Samsung unveiled a boatload of new devices, which includes its latest addition to the Note series, a totally redesigned earbud, a new folding phone, as well as the new Galaxy Tab S7 and S7 Plus.
Advertisement - Continue reading below
This device is packed with cool features and top-notch specifications which include 5G connectivity, 120Hz displays, quad-speaker systems, etc. We weren't expecting anything less.
Here are the major improvements Samsung made to the Tab S7 to make it one of the best Android tablets available in the market.
The Screen And S Pen
This has to be the best screen we've ever seen on an Android tablet. It is a 12.4-inch AMOLED panel with a resolution of 2800 x 1752 pixels and a refresh rate of 120Hz which makes visualization and interaction with the screen very smooth.
This tablet comes with a 16:10 aspect ratio. And considering that most streaming content (Netflix, YouTube, etc.) are available in the 16:9 aspect ratio, this tablet's aspect ratio is a good balance between entertainment and productivity. With this, you lose very little screen when watching content on streaming platforms. There's an in-screen fingerprint scanner on board as well.
For the S Pen Stylus, the design hasn't changed much but, according to Samsung, the writing latency has improved significantly (9mm latency). This improvement can be attributed to the new high-refresh screen.
DeX Mode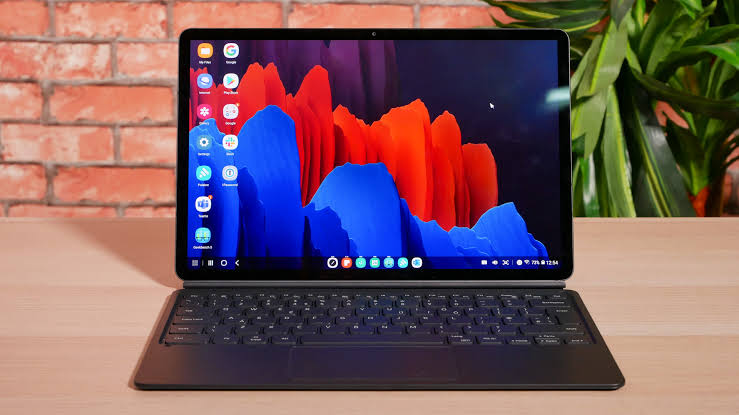 The DeX mode is a desktop-style interface that Samsung designed to work with a keyboard and a mouse. It is also designed to work wirelessly on an external monitor or TV, although this can only be done if the said TV or monitor supports screen-mirroring.
Advertisement - Continue reading below
Looking at the Galaxy Tab S7 in DeX mode, you might mistake it for a laptop computer. The DeX mode will be automatically activated immediately users connect the keyboard cover.
The Galaxy Tab S7 Plus is also the first tablet to come with the 5G connectivity, beating the iPad Pro and other tablets to the punch.
Key Specs
Display: 12.4-inch 2800×1752 Super AMOLED, 120Hz
OS: Android 10
Processor: Snapdragon 865 Plus
RAM: 6GB/8GB
Storage: 128GB or 256GB
Battery: 10,090 mAh 45W fast charge
Rear camera: 13MP + 5MP
Front camera: 8MP
Starting price (USD): Starting from $849
Samsung confirmed that the Galaxy Tab S7 and S7 Plus will be available in the US in Fall 2020 and in select markets on August 21. With this, we expect the device to be available for purchase in the African market sometimes between September and November.