The new Galaxy Note is here, and true to its roots, it packs the stylus that sets the Note apart from all other big smartphones, the S-Pen, a new S-Pen. The new stylus is a total upgrade from previous iterations in previous Note devices in a couple of ways.
It is now more capable, adding Bluetooth Low Energy which effectively turns the stylus from just a note taking device to a remote control for the Galaxy Note 9. The new stylus packs a button, just like the previous models and  this one is a little more functional. You can do things like opening the camera with just a long press of the button, toggle between the front-facing and rear cameras with a double click or take a photo  by single-clicking when in the camera UI. This remote control functionality is extended to other applications. You can now use this to scroll through PowerPoint slides with just a click of the S-Pen.
Advertisement - Continue reading below
---
Also Read: Samsung unveils the Galaxy Note 9 and it seems like the ultimate package
---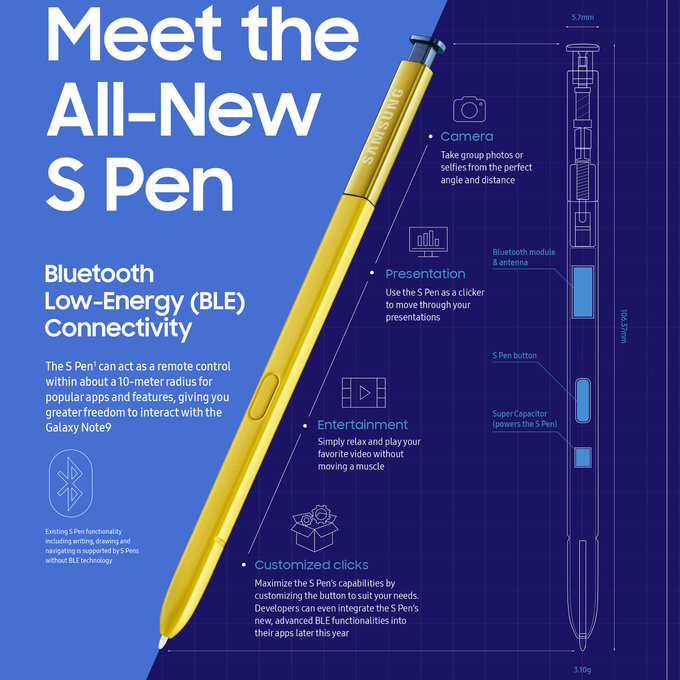 The best part is that, unlike the Bixby button, this shortcut can be customized to launch any app users want. Samsung says that it will open up the S Pen's new Bluetooth features to developers later this year which means we might as well get ready to see the cool stuff app developers develop to take advantage of this.
With this new hardware, of course the new S-Pen will drain more battery. Luckily, Samsung has built supercapacitors into the new Note which charges up the Pen to 100% in just 40 seconds for an endurance of upto 30minutes. If you run out of juice, you can still continue using the stylus for the functionality the previous iterations have been capable of. This means that users should never have to think about managing battery life on the pen, which is genius.