Some of us weren't overly surprised to see itel unveil new TV sets during the recent 'itel brand Launch' event in Nigeria. This is because we've seen smartphone brands, in recent times, branch into the Smart TV market —the Infinix Smart TV launch in Kenya comes to mind.
If you think about it, TVs have become key electronic devices for household entertainment. And while smartphones serve the function of entertainment outside the home for the user, TVs do a better job indoor. This explains why we are now seeing a number of smartphone brands try their hands at the TV industry.
Advertisement - Continue reading below
According to itel during the unveiling, it will be available in Nigeria in three different models:
A321: A 32-inch 'Basic Analog TV'
S431: This is a 43-inch 'Digital i-Cast TV' with full HD display
i551: A 55-inch 4K Smart TV with smart OS 9.0 and a frameless design.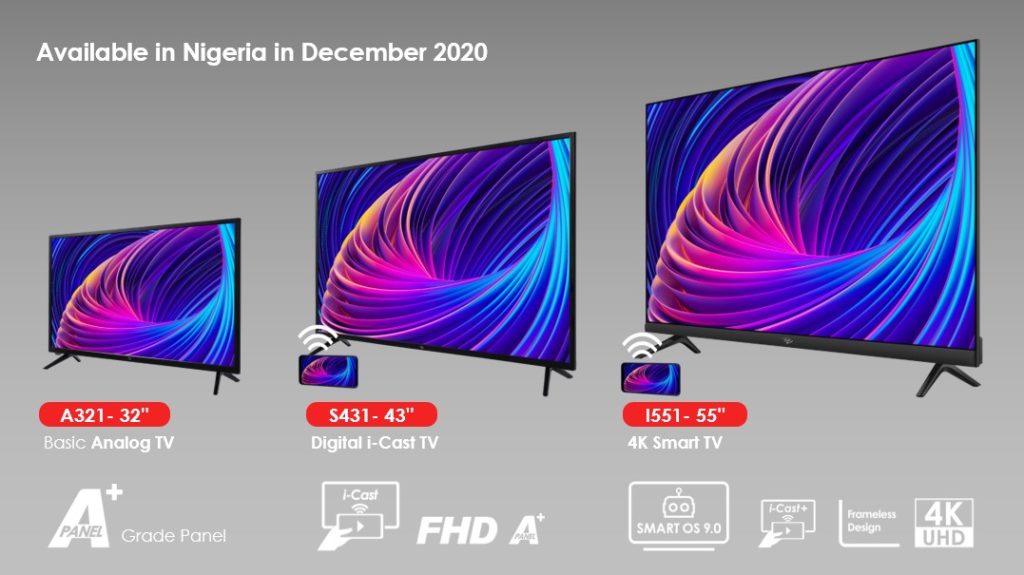 All three TVs will be available for purchase in Nigeria in December 2020.
Screen Casting (i-Cast)
The itel TV comes with a screencast function that will allow users experience seamless screencasting from their smartphones to the itel TV. The best part of this feature is that it doesn't require a Wi-Fi or cable connection.
---
Related Article: How to Cast Media from Your Android Phone to Smart TV by Screen Mirroring
---
Upcoming itel TV
itel also announced that new set of 'Android TV' will be launched and available for purchase in 2021. itel has assured us that the Android TVs will be sold at budget-friendly prices.
According to itel, they will be available in two different sizes: the 50-inches with 4K Ultra-HD, and the 40-inches with 2K display. Interestingly, they will also launch with a voice remote control equipped with Google Assistant.
Advertisement - Continue reading below
itel TV is coming into the Smart TV market in Nigeria to slog it out Syinix and Infinix TV — its sister brands. Why Transsion decided to unveil two TV brands in Nigeria in one year is still unclear, but we'll wait to see how they compete.