The Mi Band series have had spectacular success with health and fitness enthusiasts looking for fitness band on the cheap. Huami Technologies, the company that's been in charge of producing Xiaomi's Mi Band fitness trackers decided to release its own under its brand Amazfit.
The Amazfit Band 5 is Huami's own fitness tracker that's similar to Xiaomi's 2020 released Mi Band 5. There are several similarities between the two bands one wonders why Huami had to release its own Band. Amazfit added Amazon's Alexa smart voice assistant support and SpO2 blood oxygen monitoring on its fitness band. Now Huami has been known for three Smartwatch series with built-in GPS, the Amazfit Bip, GTS and GTR which are equally popular among users albeit slightly more expensive than the Mi Band series.
Advertisement - Continue reading below
I have been using the Amazfit Band 5 for several weeks now as my daily driver after having used the Mi Band 5. For better comparison, I have used both bands at the same time during workout sessions just to compare performance and results. I was quite surprised to learn that Amazfit band 5 was giving me slightly less accurate workout results compared to the Mi Band 5. More on that later.
Summarily, here's what we liked with the Amazfit Band 5;
SpO2 (Blood Oxygen) monitoring
1.1″ AMOLED display
Magnetic 2-pin charger
What we didn't like;
Inaccurate workout results.
Alexa with limited geographical support
Amazfit band 5 specs
Dimensions: 47.2 x 18.5 x 12.4mm
Weight: 24g (with strap) and 12g (without strap)
Body material: Polycarbonate
Strap material: Skin friendly TPUS
Strap length: 162-235mm
Strap width: 15.55mm
Waterproof rating: 5 ATM
Display: 1.1″ full color AMOLED, resolution 126×294
Touch screen: 2.5D glass + anti-fingerprint coating
Sensors:
– BioTracker TM2 PPG Bio-Tracking Optical Sensor
-3-axis acceleration sensor | 3-axis gyroscope sensor
Bluetooth: BT5.0/BLE
Battery: 125mAh lithium-ion polymer battery (Typical value)
Charging time: About 2 hours
Charging method: Magnetic Clip / 2-pins POGO pin
Battery Life: Typical usage scenario is 15 days
Power-saving scenario: 25 days
Standby time: 90 days
Supported devices: Android 5.0 or iOS 10.0 and above
Accessories: Clip dock, user manual
Advertisement - Continue reading below
In the Box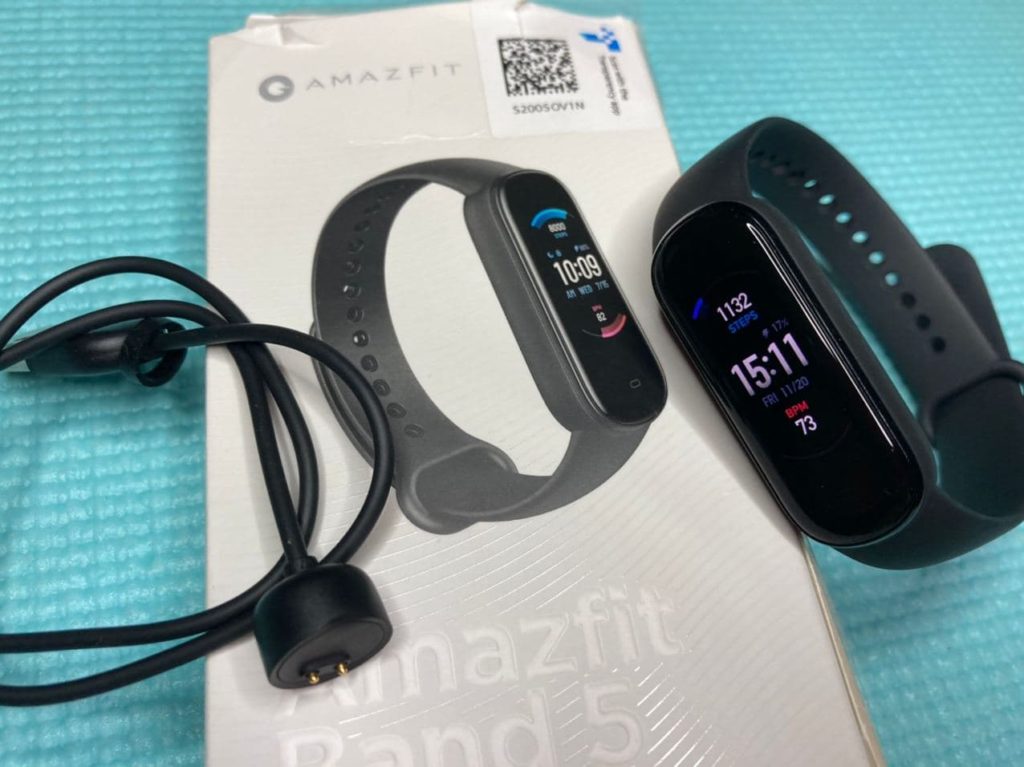 The Amazfit is a light-weight fitness tracker weighing only 24g with the strap. It measures 47.2 x 18.5 x 12.4mm in dimension with body built from Polycarbonate. The fitness band comes with a 2-pin Magnet charger cable and a manual. No USB wall charger is included in the box. Luckily you can charge the band with your standard USB-A smartphone charger. The Band itself comes with some charge to get you started. But before you do, you must install the Zepp App from Amazfit to set it up.
Amazfit Band 5 Features
The Amazfit Band 5 comes with 11 sports modes including outdoor running, walking, cycling, treadmill, pool swimming, freestyle, indoor cycling, Elliptical, jump rope, yoga and rowing machine. You can record your distance, speed, heart rate and calories burnt.
Now I took the Amazfit band 5 for an outdoor session once and I noticed a discrepancy in results compared to the Amazfit GTS and Mi Band 5 I had used earlier. So I took the Amazfit band 5 and the Mi Band 5 on the same outdoor running session to rule out any unknown variables. Still the Amazfit band 5 was reporting way less distance and pace than the other trackers. For instance, during my 11km run, the Amazfit Band 5 incorrectly reported 8.58km.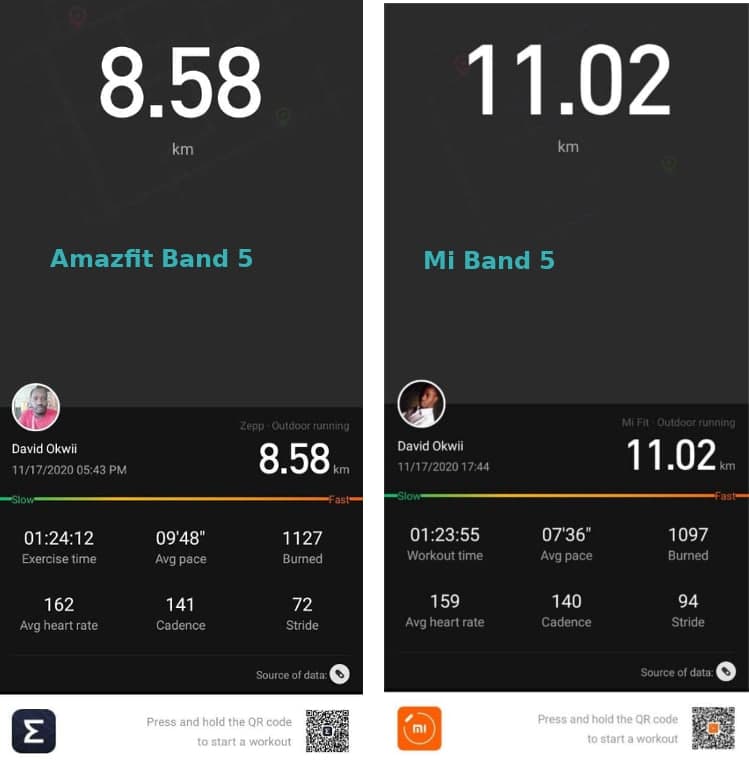 Now you need to know that both Amazfit Band 5 and the Mi Band 5 don't come with built-in GPS. So the results are not point accurate unless you take your smartphone paired with the band with you. Instead the bands use an algorithm that uses steps taken and other metrics to determine distance, pace and calories burnt. Amazfit has a lot to tweak in this regard.
Now unto Heart rate monitoring. I found both bands giving pretty much the same results. The Amazfit band 5 supports continuously 24 hour heart rate monitoring which you can turn on/off from the settings. I tend to prefer on-demand measurements.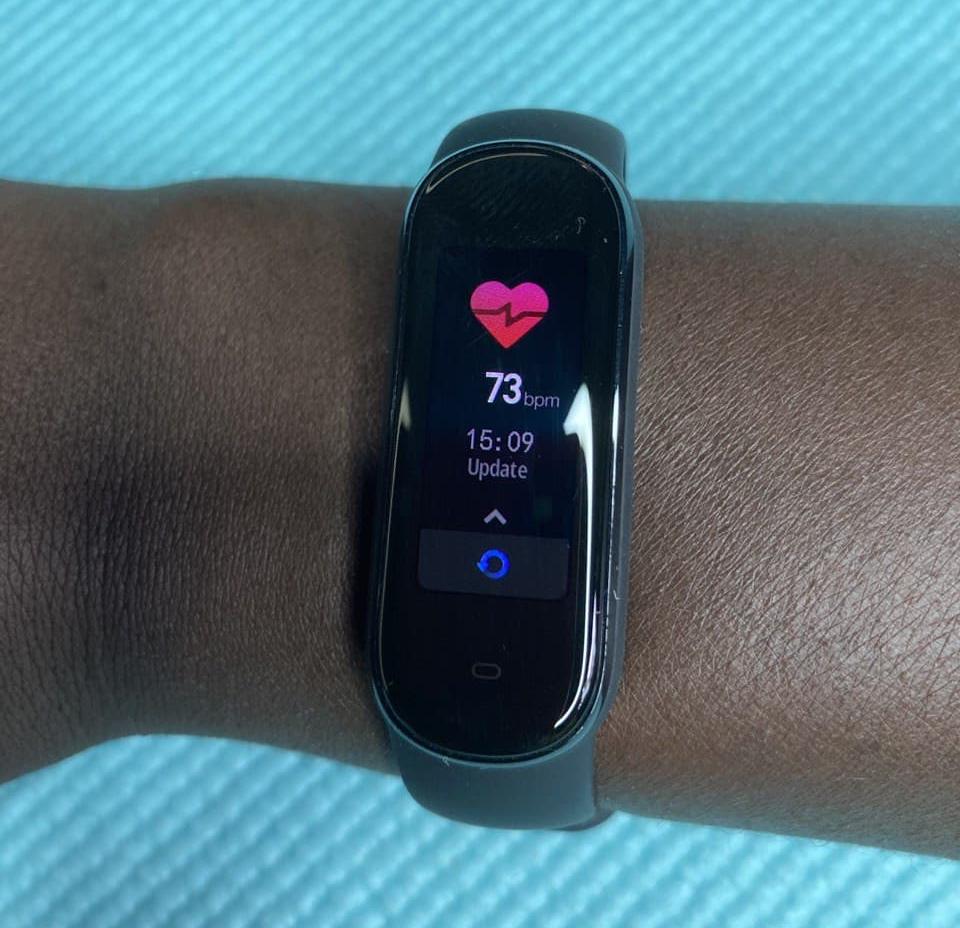 SpO2 Blood oxygen monitoring
What distinguishes the Amazfit Band 5 from the Mi Band 5 is SpO2 blood oxygen monitoring which is included in the former and not the latter. SpO2 has been a big deal in fitness trackers and smart watches in 2020. Even the Apple Watch series 6 comes with SpO2 monitor. SpO2 is an indication of how much oxygen is in your blood. This is critically important during these Covid-19 pandemic times where an abnormality might be symptomatic of the virus. A normal SpO2 range is between 95-100% according to health experts.
I did take my SpO2 measurement with the tracker. I was able to get inconsistent results. One measurement first gave me 85% and the subsequent values where 96%. Obviously I don't and you shouldn't expect the Amazfit Band 5 to give you hospital medical-grade results. The measurements should be taken with a pitch of salt and only hospital results should be considered.
Alexa built-in support
This is certainly another feature that's lacking from the Mi Band 5 but is available with the Amazfit band 5. Alexa is a smart voice assistant from Amazon akin to the Google Assistant. Now Alexa is not available in all countries including my home Uganda, so I didn't get a chance to test it. Alexa is activated from within the Zepp app. The app app will display a prompt message asking you to sign into your Amazon account, or to create a new Amazon account if you don't have one already. So if you're in one of those countries where Alexa is not supported, then this feature isn't applicable to you.
Advertisement - Continue reading below
Charging and Battery life
The Amazfit Band 5 is powered by 125mAh li-ion polymer battery which according to the company should take you about 15 days on average use. The device is charged by a 2-pin magnetic charger similar to that of the Mi Band 5. When I took it for a spin, I was able to hit about 10 days without charge which is still impressive. The battery life is going to be determined by the features you turn on. For instance continuous heart rate monitoring and PAI will drain the battery a lot faster.
The other Amazfit Band features include stress monitoring, breathing exercises, PAI vitality index, women period cycle tracking among other. We have already talked about them in detail here.
Read more: Xiaomi Mi Band 5 Guide: 5 Features You Should Turn On
Blood oxygen monitoring
Alexa support
11 sports modes
Stress and breathing monitoring
Sleep tracking
PAI score
Women health tracking
15 days of battery
Checkout our video review of the Amazfit Band 5 below.
Price and where to buy
The Amazfit Band 5 is retailing at about $49.99 on Amazon and about $23 on Gearbest.
If you are looking for a fitness tracker with SpO2 blood oxygen monitor on the cheap, then the Amazfit Band 5 is a good recommendation. The other trackers with SpO2 will take you back at least $179 such as the Amazfit GTS 2, Fitbit versa 2 at $179 or Apple watch series 6 at $329. Alexa support is a welcome addition but it's not globally supported, so that isn't a strong reason to easily recommend this band. Otherwise, for me, the Mi Band 5 at just $30-38 is still the best Fitness tracker in this price range.