If I had a penny for every time a trigger happy reviewer dismissed the Amazfit GTS as an Apple clone, I would open a Gringotts bank and hire me some goblins to run it. I would like to believe that the Amazfit has enough going for it to firmly stand on the legs of its own merits. Or be judged by its own unique flaws. But I digress. So then, without further ado, let's dig in.
Design & Build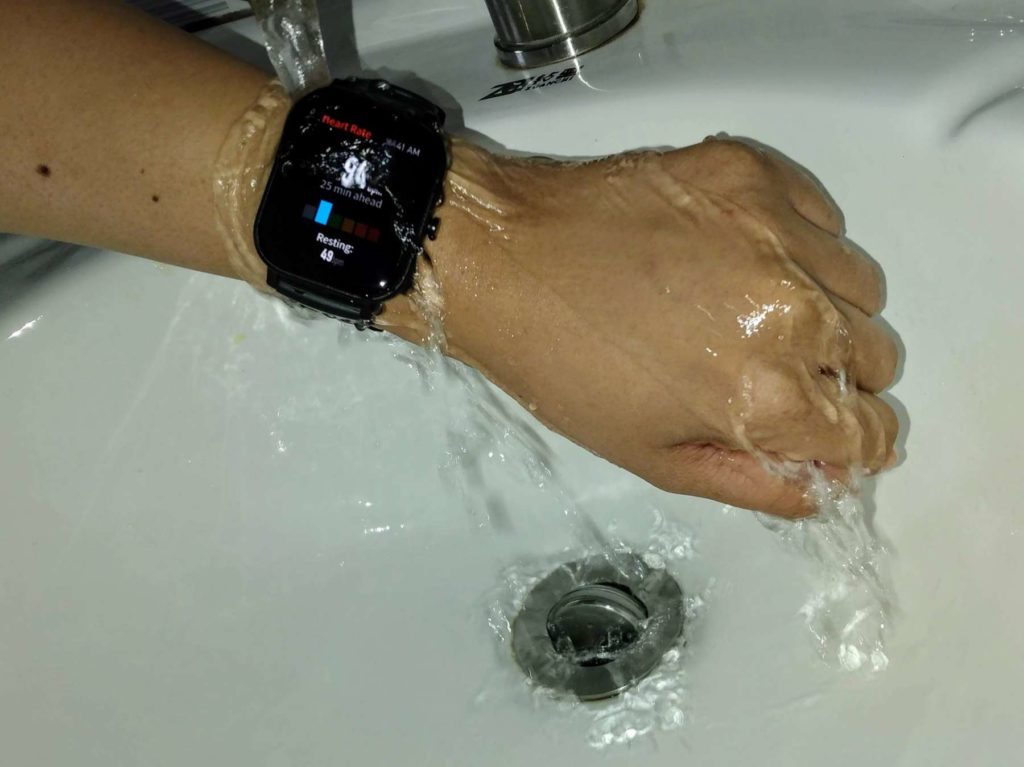 The Amazfit GTS's design philosophy is keeping in line with how regular watches have looked like for the better part of 3 decades or more. To state it more bluntly, the waterproof GTS is simply a watch-shaped smartwatch.
Advertisement - Continue reading below
Huami, Amazfit's parent company stays the course to give you a no-frills smartwatch no different from a few others on the market. Sunny side up, you're greeted to a gorgeous 1.65″ AMOLED screen that bleeds into the black bezels for a seemingly larger surface area.
If the spec sheet is to be believed, the body is made from aircraft-grade aluminum alloy on the chassis and a polymer material on the underside. Velvet-smooth silicon straps secure the GTS on your wrist, unless you'd rather some fancy third party alternatives of your choosing.
As for the GTS crown, it is a glorified home button and an on/off switch. We noticed that the screen goes to 'sleep' when not in use (and if you don't have Always On Display). A tap on the crown will turn on the display in short order. That is if you prefer that to the feature that turns on the display when you raise your wrist. Rotating the crown serves no discernable purpose as far as we could tell.
Color schemes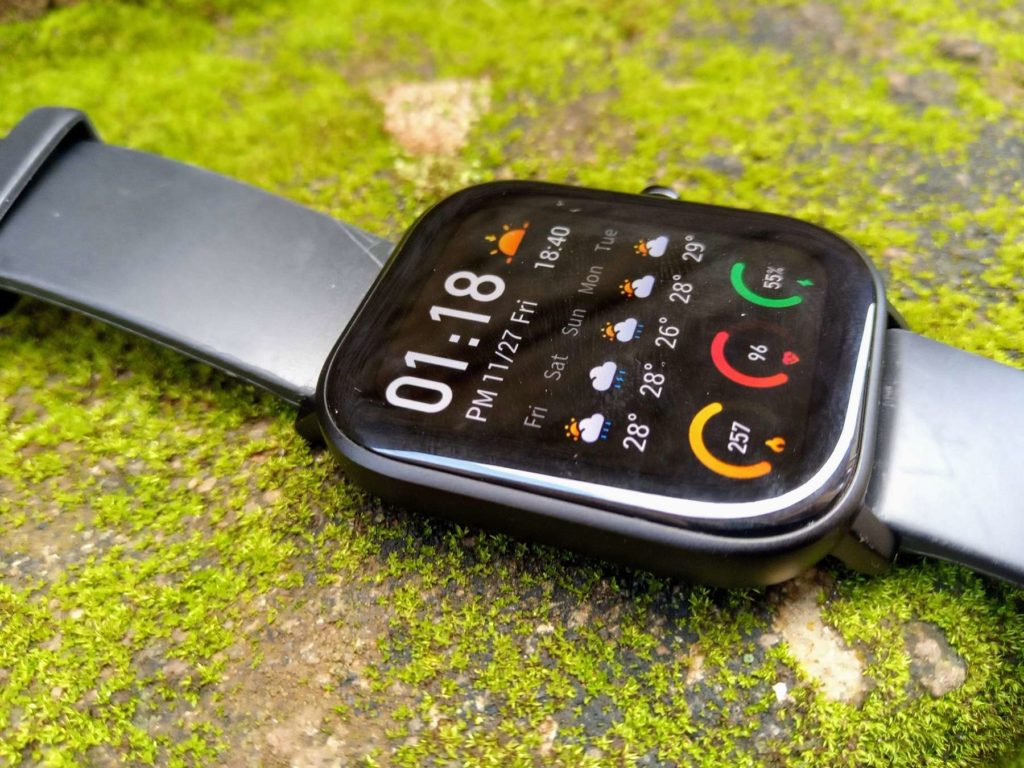 My Amazfit GTS is matte black on black, naturally, but before you ask me who died, there's more flavors of the colorful kind. Other than black, there's also matte gray with a gray strap, desert gold with a tan strap, matte silver with an orange strap, matte pink with a pink strap and finally matte blue with a blue strap. All that's left is to choose your flavor.
A quick release mechanism lets you quickly swap out the straps for any other you might fancy. It's also an easy easy to replace a broken strap or somesuch with third party alternative.
Features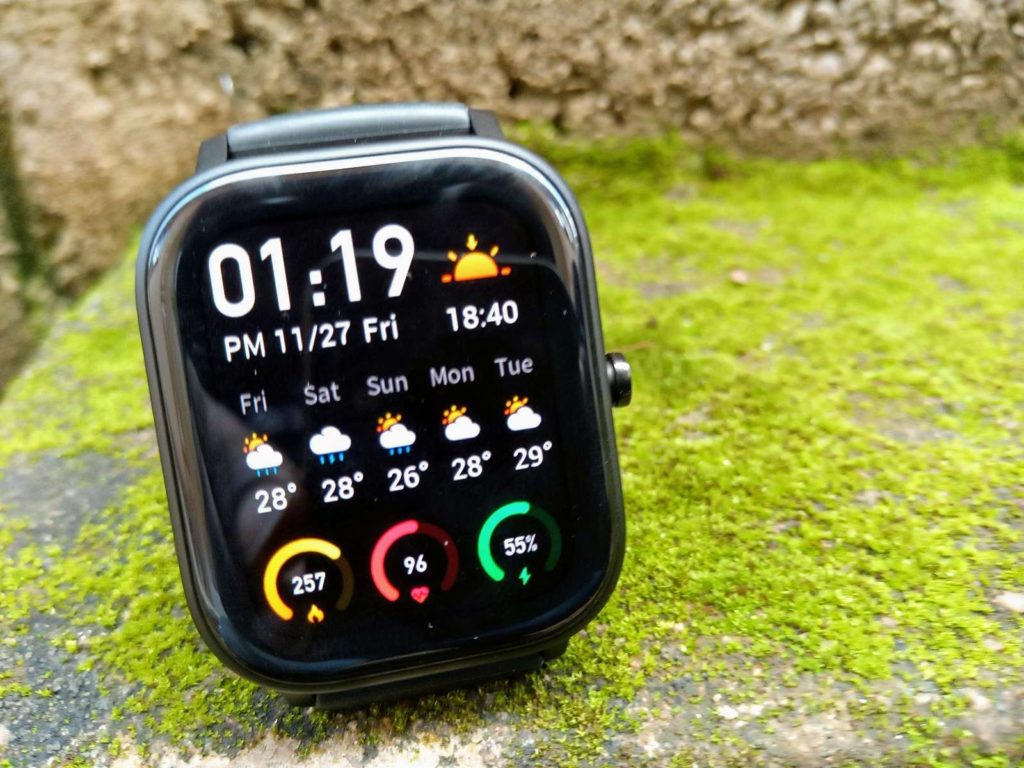 The Amazfit GTS has a respectable arsenal in its armoury. Powered by Huami's proprietary OS, the watch is a bastard child between a smartwatch and a fitness tracker that doesn't fully commit to either. Expect app notifications, music control, event reminders, alarms and always on display under the smartwatch banner. But even so, you get app notifications you can't reply to and music control you can't initiate on your GTS
Advertisement - Continue reading below
The GTS runs Huami's proprietary operating system, which is fairly robust for a fitness tracker but limited for a smartwatch. You can use the GTS to control music, for example, but only if it's already playing on your phone. (You can't start a playlist from the watch.) And, while you can view notifications from your smartwatch, you can't reply to them.
The fitness tracker side of things is quite robust. The GTS comes with built-in GPS, a proprietary bio-tracking optical sensor, 6-axis acceleration sensor, 3-axis geomagnetic sensor and air pressure and ambient light sensors.
The GTS actively monitors heart rate, calories burned, distance (steps) and Personal Activity Intelligence (PAI), a health score backed by actual science. PAI dumbs down fitness and health metrics into bite-sized data you can gobble up at one go. In a nutshell, it's in your best interest to keep your PAI over 100.
Formerly the Amazfit, the Zepp app (Android and iOS) manages the smartphone end of things. The app is quite big (over 80MB on Android), and quite overwhelming to navigate. Smartwatch features are repeated on the Homepage, Enjoy tab and the Profile tab for some inexplicable reason.
Fitness & Sleep tracking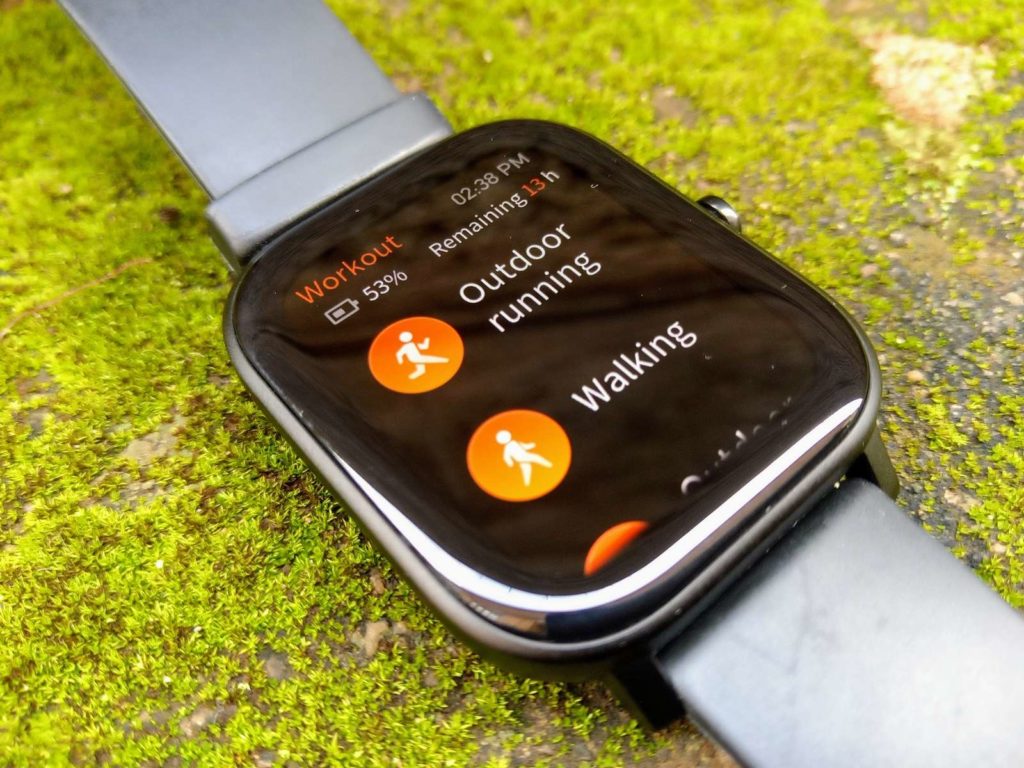 Unlike other rugged fitness trackers, the GTS is smooth as a baby's butt. Fitness hobbyists who engage in light outdoors exercises will appreciate the feature-laden Amazfit GTS. However, hardcore fitness nuts might have to look elsewhere for a less bling-bling smartwatch that can roll with the punches.
The GTS serves up 14 sports activities which you can track on your phone including open water and pool swimming, elliptical trainer, trail running and skiing among the notable mentions. The recorded data is pretty impressive and has an acceptable margin of error.
And might I add; the built-in GPS is a godsend. It works fine for the most part outdoors although it's pretty useless indoors. It took me about an hour to get it up and running in my apartment. Outdoors, that's cut down to mere seconds. An added bonus is that the enormous battery capacity means that your GTS won't give up its ghost in the middle of you crushing your previous personal best.
Heart rate monitoring is stellar although it drains battery more than usual. Sleep monitoring more or less caught me at the exact moment I nodded off. Using the app, I get to see how long I was in deep sleep, REM, light sleep along with a sleep score and heart rate.
Advertisement - Continue reading below
On the downside, I have woken up on occasion only to see I have taken a bunch of steps and burned calories all without lifting a finger. You'd imagine you'd need to first get off your tush to register some steps on the GTS. I guess I sleep walk (I don't). Also, it's quite upsetting that Huami's proprietary software doesn't support native third party apps or external sensors as does WatchOS and Wear OS. Other than Strava which can pull up your data, it's all locked in the Huami ecosystem and not much good to you otherwise.
The juice box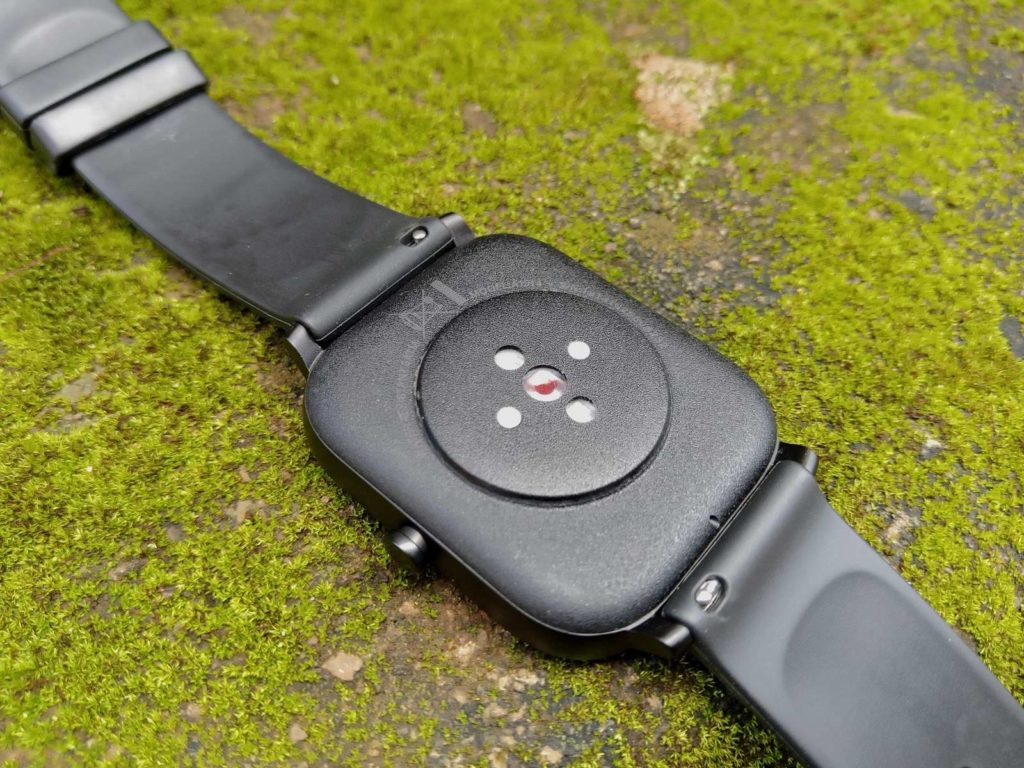 The Amazfit GTS quite soundly puts lots of smartwatch elders in the game to shame on the battery front. The watch packs a 220mAh lithium-ion polymer battery, a better offering than most. From that you get 14 days typical smartwatch usage with heart rate always on, sleep monitoring, thrice a week exercise regimen for 30 minutes with GPS on, and lifting your wrist a spartan 30 times to read the time, and 5 times for other operations.
Of course you can take it a step further. You can squeeze 46 days out of the GTS when you turn off Bluetooth, heart rate monitoring and other functions. Also, you have to lift your wrist to read time a minimum 100 times a day. Although one wonders what use the smartwatch will be in this scenario.
Real world battery usage though drops to about 10 days, if we are being honest. Come on, we are human and twiddling with devices is what we are about. But even then, 10 days is still quite the feat considers some high-end smartwatches require docking them to charge at the end of every day.
The GTS charger is a magnetic 2-pin pogo mechanism that snaps onto the watch. Charging the 220mAh lithium-ion polymer battery to completion takes about 2 hours. That's a small price to pay for how long it lasts. For the most part, I would charge it, strap it on and forget all about the charger for the next week or so.
Watch our video quick review below;
---
Related: Amazfit Bip review: A budget fitness smartwatch with a retro feel
---
Verdict
My experience with the Amazfit GTS was kinda bittersweet. For one, it's a gorgeous, comfortable smartwatch. It's lightweight with a beautiful finish that gets it confused for an Apple Watch on occasion. The AMOLED display is crystal clear and it can get blinding bright if you want it to.
Advertisement - Continue reading below
The GTS sports the expected industry-standard bells and whistles only let down by an OS that's still wet behind the ears. Huami's OS doesn't support third party apps or sensors. The Play Store is rife with poor ratings owing to buggy updates that break functionality more often than fix anything.
I failed to get the app to pinpoint my town and had to settle for a nearby town for weather updates. And there's the odd times the overeager GTS started recording my steps and calories before I even leave the bed.
Disregard the few hiccups mentioned above and you have yourself a smartwatch that does more than read time at a decent price. The battery capacity puts a smile on my face although with always on display and other features turned on, it won't last as long as advertised. Also, with good calibration, the GTS gives quite accurate metrics.
Price & where to buy
At a list price of $149.99 (Amazon), the Amazfit GTS is one of the best seller fitness smartwatches on Amazon. It's currently at a deal so you can get it at $99.99 but I don't know for how long. Jumia Kenya is also selling the Desert Gold variant at KES 14,900 only.
Amazfit GTS Specifications
Model: Amazfit GTS (A1914)
OEM: Huami Science and Technology
OS: Proprietary. Supports Android 5.0 or iOS 10.0 and above
Display: 1.65″ AMOLED, resolution 348 x 442, 341ppi, Always-on display
Touch screen: Corning Gorilla 3 + Anti-fingerprint coating
Dimensions: 43.25 x 36.25 x 9.4mm
Weight: Approx. 24.8g (without strap)
Waterproof rating: 5 ATM (up to 50m)
Connection: Bluetooth 5.0, BLE
Battery: 220mAh lithium-ion polymer battery.
Charging: Magnetic 2-pin pogo connecter. Approx. 2hr charging time