Access Bank has unveiled a new 'Device Finance scheme' that allows its customers purchase their desired smartphones and pay for it over a stretched period of up to 12 months. The scheme provides customers of the bank operating a salaried account access to a smartphone loan which they can use to purchase any of their desired devices and pay back in monthly installments.
The monthly installments —which can be as low as NGN 1,500 depending on the selected device— will be deducted from the customers account at the agreed date/period. There are a variety of smartphones (Android, iOS, etc.) available to customers in the Device Financing scheme with prices ranging from NGN 12,500 to NGN 325,000.
Advertisement - Continue reading below
Speakin to the press about the innovative smartphone credit/financing scheme, the bank's Executive Director on Retail Banking, Victor Etuokwu said;
"Access Bank has taken the initiative to lead the digitization of lending in Nigeria and wants every customer to benefit from the modern connected lifestyle. Through our revolutionary and ground-breaking credit schemes such as Device Finance, we will see more Nigerians get connected to do more in business online and enjoy the social lifestyle of their choice. And that is the kind of change that we want to see."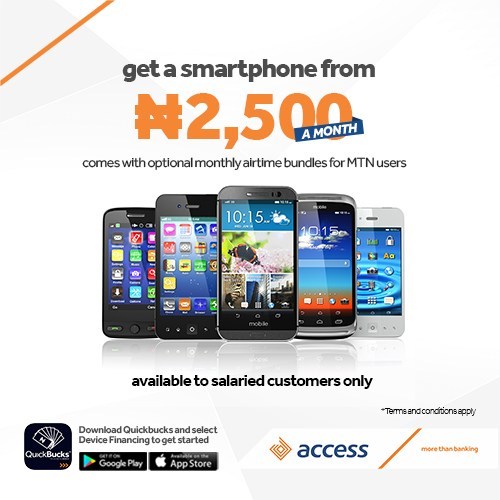 The Device Finance scheme also comes with an optional benefits; monthly airtime bundle. Partnering with MTN Nigeria, customers who purchase their devices under the scheme's contract arrangement can also purchase an additional monthly airtime bundle together with their device. The airtime bundles under the Device Finance scheme ranges from NGN 2,750 to NGN 22,750 and can be used for calls, SMS, and also converted to data.
While the smartphone loan is collateral free, applicants/customers will be required to supply details such as location, addresses, (salary) account details, Bank Verification Number (BVN), email address, and the device you want to purchase. Once a customer's application is approved, a transaction code alongside pickup details is sent to the customer via email.
Visit the Access Bank Device Financing scheme page to learn more about applying for a smartphone loan. You should also check out other platforms that offer smartphone financing loans and services in Nigeria.
Advertisement - Continue reading below