Despite the Corona pandemic, MTN Uganda overcame difficult conditions to log multiple notable successes. Here is our personal pick of MTN's six greatest moments of 2020.
1. Ayoba Chatting App
MTN Uganda in partnership with SIMFY AFRICA, launched Ayoba chatting app back in July with a core aim of enabling customers to access more affordable communication.
Advertisement - Continue reading below
Ayoba is an instant messaging app that is currently available to Android devices with the iOS version set to be rolled out. The biggest perks have been the ability to use the app without a data connection and to chat (app to SMS and SMS to app) with anyone regardless of whether they have the Ayoba app or not.
---
READ ALSO: How to Send and Receive Mobile Money Using The MTN AYOBA App
---
Key Features of the Ayoba App Include:
Local languages: Ayoba is available in the top local languages in the markets where the offering has launched. African languages available include Swahili, Luganda, Hausa, isiXhosa, and Yoruba. 
Chat now: Users can instantly send and receive text and voice messages with any of their contacts regardless of device type or network.
Security: End-to-end encryption means that messages in a conversation cannot be read by anyone else.
Chat with everyone: Users can send SMS text messages with anyone in their contact list, regardless of whether they have Ayoba installed or not.
Channels: Users can subscribe to channels for locally relevant content across various categories.
FREE to use: It is free to use by MTN customers for up to 1GB every month, for every user.
2. MTN Kabode Smartphone
As the year draws to an end, MTN Uganda took to the stage to unveil its device loan service dubbed "pay mpola mpola" scheme where customers get a brand new smartphone and pay it in instalments.
MTN Kabode is the first device under the scheme and to be eligible for the phone, a customer must have been on the network for a duration of at least 6 months and can check qualification status by dialing *165*5*2#.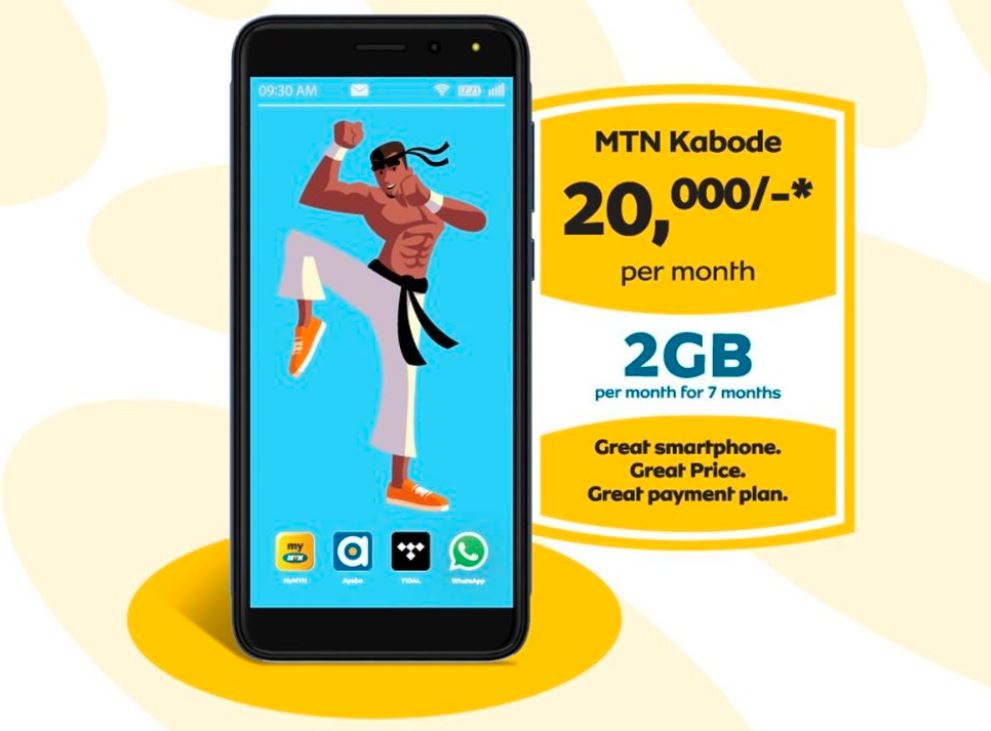 The device is available in MTN service centers across the country and a customer is expected to carry their national ID, a minimum deposit of UGX45,000 to be able to get the MTN Kabode 4G smartphone. A customer will then pay UGX 20,000 per month using MTN Mobile money for a period of 6 months to complete the payment of the device.
At the moment, MTN Kabode ranks as the only available smartphone routing under the 'pay mpola mpola' scheme. But as per the telco's plans, mid-range releases including TECNO, Infinix, Itel, Xiaomi, and Samsung phones will be available by 2021.
Advertisement - Continue reading below
3. Showmaxx Payment Using MTN Momo
At the start of the national COVID lockdown in March, most Ugandans were suddenly confined to their homes, which had a dramatic impact on viewers choosing to stream entertainment especially on platforms like Showmax.
Showmax is one of the few internet-based Video on Demand (V.O.D) services based in Africa offering thousands of hours of Afrocentric and international TV shows, movies, series, and live sports. It's available in over 70 countries and works on smartphones, PCs, tablets, and smart TVs.
MultiChoice Uganda entered a partnership with MTN Uganda to offer MTN MoMo as a payment method for Showmax subscriptions packages and offer the bouquet prices in local currency i.e Ugandan Shillings.
Up until then, one needed a credit/debit card, Paypal account, or a voucher/ promo code to pay for Showmax. You can read more on how to pay for Showmaxx using MTN Momo.
4. MTN Wakanet
Home internet solution has always been a problem in Uganda. From cost to reliability, there are myriads of reasons why home internet has never hit off.
MTN Uganda has joined the mix with Wakanet, a home internet service. The starter kit comes with a 4G user router and a 35 GB bundle that has no expiry date.
The service costs UGX 245,000 with free installation. The WAKANET bundles are; 35 GB, 75 GB and 175 GB at UGX 75,000, 150,000 and 300,000 respectively. Dial *177# to view menu options.
Just like every other home internet solution, there have been concerns about coverage and speed. So you should proceed with caution when opting for MTN Wakanet.
Advertisement - Continue reading below
5. Wear For Me Campaign
MTN added its voice to the global drive to raise awareness about the importance of wearing masks with the launch of the #WearItForMe campaign across 21 African and Middle Eastern markets.
To help drive the much-needed change in behaviour, MTN committed its September 2020 marketing resources towards encouraging everyone to adopt wearing masks so as to save lives. 
It was a campaign of the moment but highly helpful, especially during this festive season. It's important to remember that wearing a mask correctly is something each one of us can do to protect ourselves and our loved ones.
6. Zero Rated Access to Educational Websites
The term new normal has been thrown around so much this year and it's no different when it comes to education. Many parents ever since the outset of lockdown and the pandemic took to the internet to look for avenues to keep their children busy and sharp as they wait for schools to resume.
MTN Uganda zero-rated lots of educational websites to help parents during the lockdown.
The following zero-rated educational websites can be accessed even without an active internet connection over the MTN network:
Tell us in the comment section your biggest highlights or moments of MTN Uganda in 2020 if there is anything we missed.
Advertisement - Continue reading below