After writing about the specifications and features of the Oraimo Freepods 2 earbuds, we decided to do an actual review. Reviews like this help users make great buying decisions that are not based on only product specifications but actual product usage too.
This post will cover all the relevant parts of the Freepods 2 earbuds usage. We'll help you with as many need-to-knows as possible. You should read every bit of it and decide if it's worth your coins.
Advertisement - Continue reading below
Background
I bought an Oraimo Freepods 2 (2Baba version). After making inquiries from the retailer, this is the only available version. The other version of the Freepods 2 – which was first released – was recalled as it experienced certain product issues.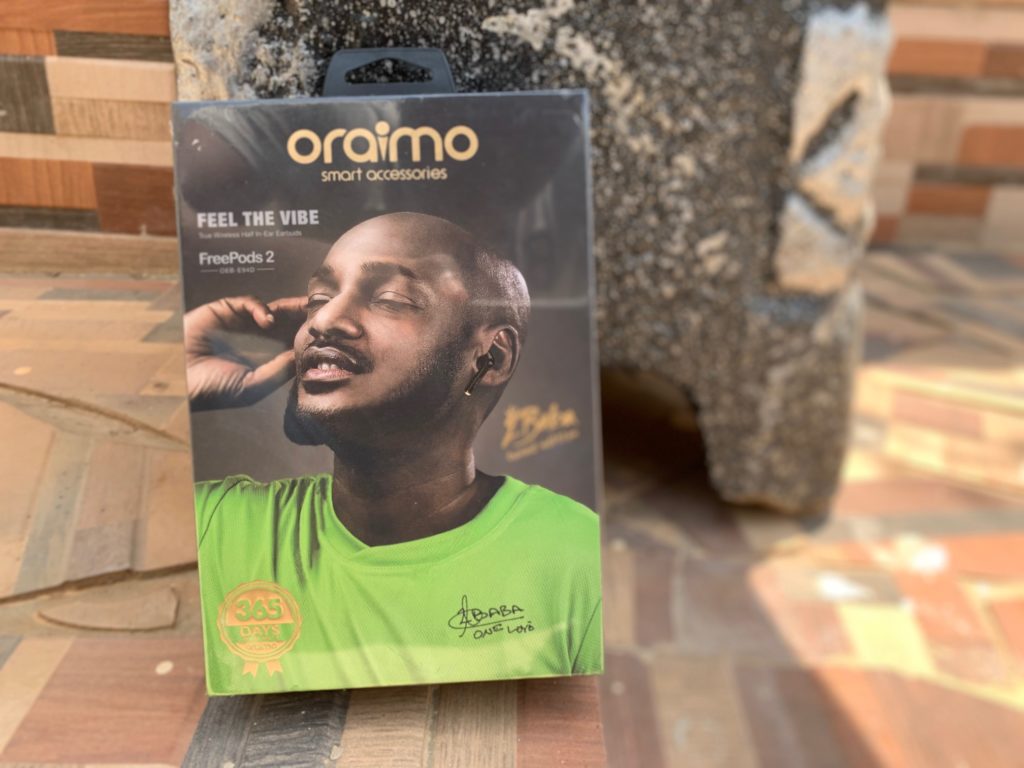 The story seems to checkout as only this version of the Freepods 2 earbuds are on sale on the Oraimo Nigeria website. The other version is "sold out".
---
READ MORE: Top 6 AirPods Pro Tricks You Should Know.
---
How Much is the Oraimo Freepods 2 Earbud?
I bought this version of the Oraimo Freepods 2 earbud for N11,500 Naira. On the Oraimo Nigeria website, the product sells at a discounted price of N9,900. It's understandable that I bought it at a slightly higher price because of the middlemen and retailers involved.
So, depending on the retailer you buy from, you can get the product for between N11,500 – N15,000 naira. This seems like a generally decent price for an earbud. Especially when you consider the prices of its alternatives – Apple AirPods, Samsung Galaxy Buds e.t.c
Unboxing the Freepods 2 Earbuds
The Freepods 2 earbuds came in a beautiful, dark box which has the photo of a celebrity "2Baba" on it. On the back of the box, there's a lot of information about the product including its specifications, lab test results, and how to use it.
Advertisement - Continue reading below
Inside the box, you'd see the earbuds which are safely kept in a covered charging case. The case was wrapped with a transparent nylon which is most likely meant to prevent it from dust. Also available in the box is a USB cord for charging and a user manual.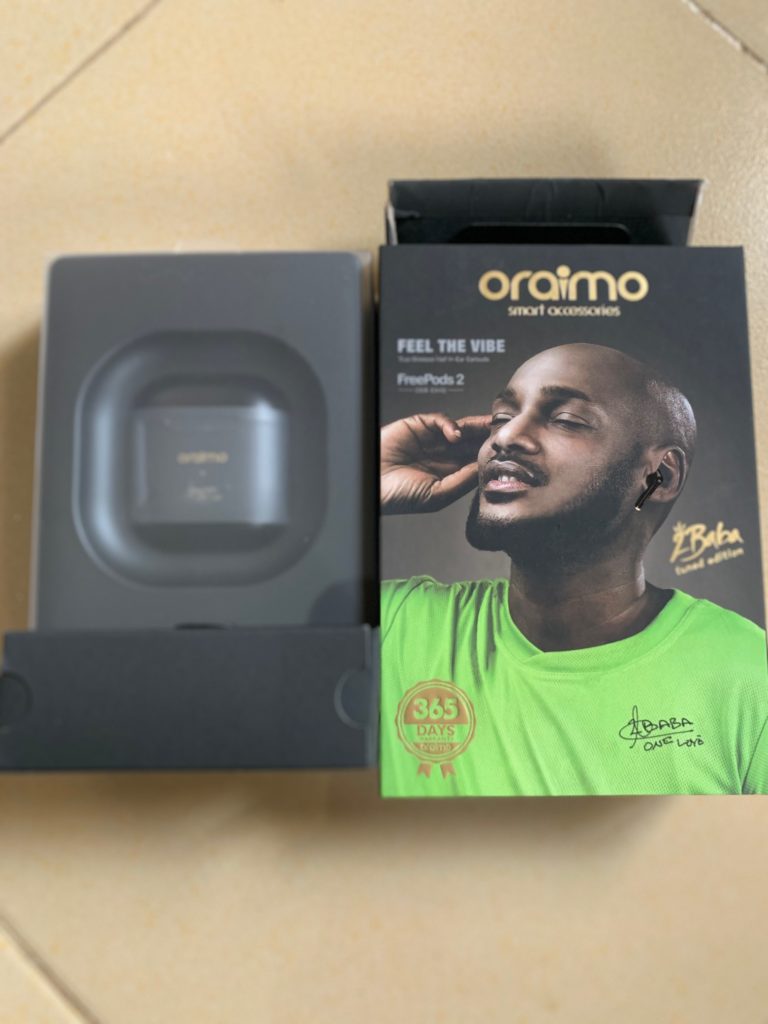 Basically, the Freepods 2 came with everything you need to make it work, in the box.
Setting Up the Freepods 2 For Use
After unboxing, the next thing to do is connect the device to your smartphone. This is possible with Bluetooth. Once you remove the Freepods from the case, it comes on automatically. Here, you'd need to search for the Bluetooth name "Oraimo Freepods2 2Baba" and connect to it. Once that is done, you're good to use it.
However, before you start using it, it is advisable to charge the product as it doesn't come fully charged. This process took less than 30 minutes to charge fully.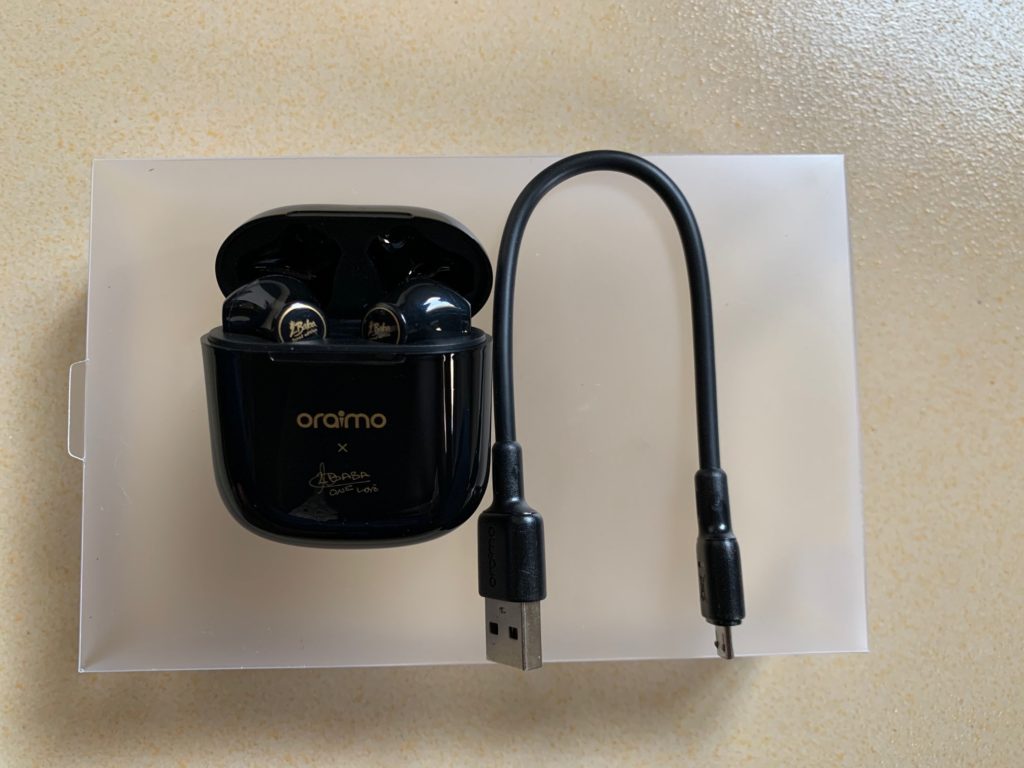 How Long Does the Freepods 2 Last?
I started using the earbuds to play music non-stop after charging it fully and here's what I observed with regards to playtime.
Start time
4:40pm
Low battery warning
(left earbud)
7:28pm
Low battery warning
(right earbud)
7:33pm
From my use, the first earbud lasted 2 hours, 48 minutes. While the other lasted 2 hours, 53 minutes. Oraimo advertised 3 hours of talk time and 3.5 hours of music playtime.
To optimize for long usage time, users can use only one earbud at a time while the other is in the case, charging. Charging the earbuds in the case takes a little over an hour. I started charging at 2:40 pm and it was already full at around 4:15 pm. That's 1 hour, 35 minutes.
What's the Sound Like?
The sound of the Freepods 2 earbuds is decent. The audio is loud and clear and is like every other average earphone or earbud available. It does not produce a bass sound which I imagine a lot of users might be more interested in.
Advertisement - Continue reading below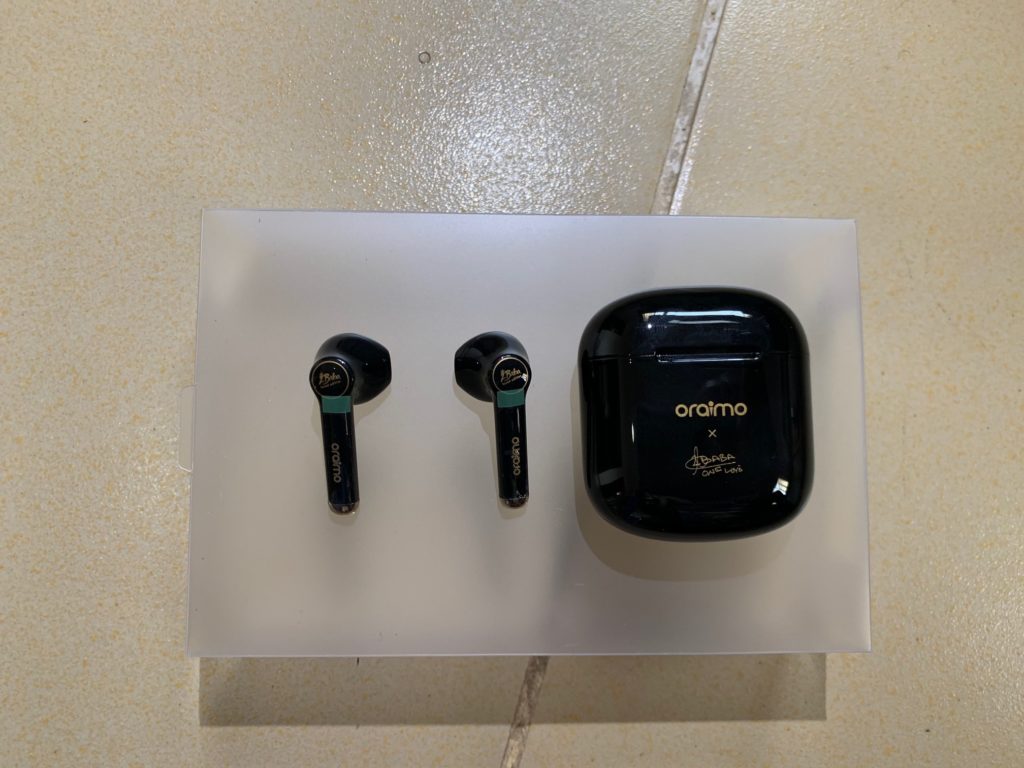 Depending on what you need the earbuds for, in terms of sound, this might or might not be the best option. If you do a lot of calls, watch videos, with light music, then it's perfect for you. However, if you're big on music and love the sound of bass, then maybe you should consider a different product.
Should You Get the Freepods 2 (2Baba Version)?
This product is pretty decent and can properly serve your wireless earphone needs – answering calls, watching videos, listening to the audio, and so on. It is also very affordable. These two attributes make it a great bargain for users.
Tips & tricks On Using the Freepods 2 Earbuds
There are a couple of tips that can make using this product very easy for you. Please find them below:
| | |
| --- | --- |
| ACTION | RESULT |
| Tap on one earbud twice | Play/Pause |
| Tap and hold on the left earbud for like 1.5 seconds | Previous track |
| Tap and hold on one earbud for 5 seconds | Manual turn off |
| Tap and hold on the earbud for 2 seconds | Manual turn off |
| Tap on earbud once or twice | Answer/end call |
| Tap and hold on the earbud for 2 seconds | Reject call |