Summary
The Tecno H5 is the best entry level smartphone we've reviewed from Tecno so far. Its user interface has been  tweaked to become user-friendly enough for the first-time smartphone user and a delight for a multi-media fan. The H5 is your lego blocks for consuming and creating content on the mobile phone thanks to useful pre-installed multimedia Apps. The downside to the H5 is that the low price point introduces a couple of trade offs like the display among others.
Unboxing
Neatly packed in a sealed white box with good branding, the Tecno H5 comes with an 1800mAh battery, a travel charger, ear phones, a phone cover that fits to the back of the phone, a manual and a 13 month warranty. Unboxing is always exciting as one breaks the seal that Tecno uses to guard against counterfeits revealing the 4.0 Inch Tecno H5 and the accessories provided.
Advertisement - Continue reading below
Specs Overview
The H5 comes with Android Jellybean 4.2, A snappy 1.3 Ghz Dual Core Processor and a 4.0 WVGA display. The H5 has 4GB ROM 512MB RAM with a micro SD expandable to 32GB. It also features 3G speeds, Dual SIM feature, A 5MP rear and 0.3MP front Camera.
Dual Sim & Android Jellybean
Tecno has maintained the dual SIM feature on almost all its smartphones except the Phantom Pad mini. Tecno retained this feature on the H5 and this has been one of its biggest selling points seeing that Dual SIM is still an essential feature in Africa that many phone users here still benefit from.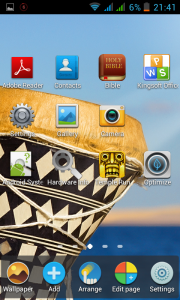 The H5 comes with Android's 4.2 Jellybean OS and unlike the Tecno Phantom, this phone can actually be upgraded to say KitKat (over-the-air, if Tecno wishes to) which isn't available on the Phantom. This means that Phantom users are stuck on 4.2 Jellybean and should purchase a new phone if they want to upgrade to the latest unless Tecno provides an Over The Air (OTA) update which up until now hasn't arrived.
Tecno has also tweaked the OS to look and function a little differently. The User Interface looks the same till you try access settings from the home screen which then reveals a colorful side menu compared to the menu that used to appear from the bottom in ICS and Gingerbread
Design & Display: Not So Good Viewing Angles
The H5 is 11.65mm thin at a height of 124mm and a width of 65.8mm. Making it easy to hold and to fit in the hand unlike very huge devices. The all  plastic back cover isn't anti-scratch and that is probably why Tecno offers a Phone cover.
The placement of the power button to the left and Volume keys to the right doesn't feel right as I find myself pressing both buttons just to turn on the phone. I believe they should have kept the power key on the  right or on the top than on the left but that once again is a question of adaptability .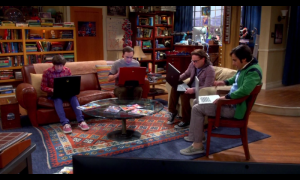 Advertisement - Continue reading below
The 4.0 WVGA display is big enough to play and work but disappointing because of the limited viewing angles when it comes to images and Video. It was however big enough for games and work. Even though the screen looked sharp when we were watching the famous "Big Bang Theory". we experienced limited viewing angles when viewing an image. We also had to put the display at its brightest while outside in the sun but still had issues viewing. Tecno can do better with the display especially with the viewing angles .
User Interface: Tweaked For First-time Smartphone Users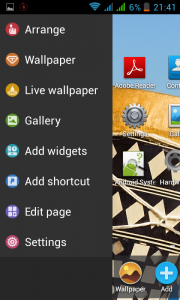 Tecno doesn't have a name for its User Interface (UI) like how Samsung has SmartWiz UI and Huawei has Emotion UI but we are sure its not pure/stock Android as experienced on say the Nexus devices. With the H5,Tecno tweaked the UI changing the feel, look and functionality a little bit. They started with the settings menu which now loads as a side bar and not as horizontal menu as seen in previous versions. Tecno also added swiping across the menu bar to the left or right to provide quick access to music and radio or settings. The rest of the UI feel and functionality are the same Jellybean experience we have always known.
Performance: The H5, Gives The Best Performance For Mid-range Device
The 1.3Ghz Dual Core processor is probably one of the best things about the H5, It keeps it speedy even when multi tasking. We opened over 15 apps and let them run in the background while switching from one app to another and yet the H5  still performed fast and fluid enough. Although the phone occasional froze for a few seconds at a time, it's not as much as we expected for an entry level- midrange device. We opened an office app to edit a spreadsheet and document while playing Temple Run and rendering an edited Video in the background. We occasionally facebooked and read the bible but the H5 hardly froze which we found impressive.
Made For Entertainment
Looking at the way the H5 was designed, it was certainly built for entertainment. Starting with the 8GB SD card that comes pre-installed and upgradable up-to 32GB gives you enough space to load movies, music, images and more.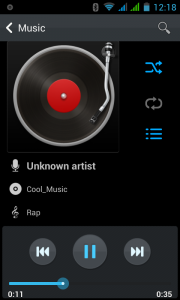 Another hard to believe fact is that he H5 has about 34 Codecs meaning it will play most of the formats you throw at it for both audio and Video including those you probably have not heard of yet. These include Mp3, MPEG4, DivX, AVI, AMR, AAC, among others. The version of Jellybean that runs on the H5 was tweaked to provide quick access to Music and radio at just a few swipes. Further, the H5 packs a radio that can play without earphones with a speaker that is also pretty loud. We tested the earphones and found them to be average in terms of the quality of sound they produce. Overall, the H5 is made for entertainment
Camera: Shoots Videos Better Than It Takes Images
The H5 features a 5MP rear camera with a flash and a 0.3MP front Camera, It can shoot both pictures and Video with multiple modes like HDR, Panorama, Auto Capture when smile is detected. It also gives option of varying the Exposure, ISO, White Balance, Color Effects, Saturation, Contrast, Brightness among others.It can also shoot in  Sunset, Portrait, Landscape, Night, Normal or Auto mode. The H5 Camera also features an inbuilt photo editor with various photo filters and the ability to adjust Exposure, Contrast, Vibrance, Curves Hue etc which is pretty amazing.
We took a couple of photos and Videos with it and the images were average.  The Videos we shot with the camera were much better than the images.
Battery Life
The H5 packs an 1800 mAh battery, We didn't have enough time to do benchmark tests with it but like all smartphone batteries, It was an average performer for the time that we had it. We were unable to establish how long the battery can last on 3G, or if you start gaming constantly, decide to watch a movie/video or how long the standby and talk times were but we spent time with it and the battery lasted about 8-10 hours on 3G while making a couple of calls and keeping the phone busy. Our Verdict — It's a good enough battery for the H5 since it doesn't have the large displays that guzzle battery
Advertisement - Continue reading below
Pre Installed Apps
Tecno packs in all of its smartphones a host of pre installed apps some of which you can uninstall if you don't need them while others cannot be uninstalled but disabled. Some of the apps that come pre loaded are the Torch, Recorder, a new Wireless inputs App, palmchat, Palm Play, Gameloft, Flash Share, the APK Assistant and the Notes app. The H5 features some new useful apps like the "Backup and Restore App that helps you backup all data on your phone. The all new "Movie Studio" is another fun app that is actually important. We were able to shoot some short videos and edit them using the app.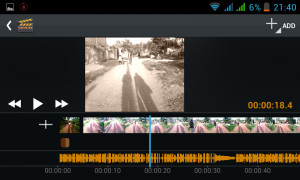 Tecno also pre loads a pro version of the "Du battery Saver" App which had a bit of extra functionality and was helpful in preserving battery. The rest of the apps are Facebook, WhatsApp, UC browser, Google Plus, Hangouts, YouTube, Gmail, Maps among others. We loved the fact that some apps could be uninstalled or disabled and we also found some apps very vital like the APK assistant, Flash Share, CarlCare, Du battery among others
Gaming
The H5 comes with 4 pre installed games. These are Danger Dash, Fashion Icon, Modern Combat and Green farm 3. This time Tecno did their very best to put some really interesting games that people would actually love to play inclusive of a Fashion game that many ladies would love to play.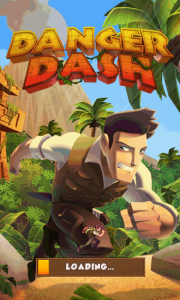 "Danger Dash" is more like temple run but this time its tigers not monkeys, Its tigers chasing you; its quite interesting. Modern Combat is another interesting game where you take on the character of a military expert who is given different missions including saving his colleagues who have been captured in a mission gone wrong. The graphics in this game were quite impressive though the controls were quite tough to get used to
Warranty & Customer Care
One of the things we love the most about Tecno and the phones we reviewed, is that the 13 Month warranty is real and comes in handy when your phone misbehaves. When we reviewed the Phantom F7, we got an issue or two which were fixed under the warranty at the CarlCare center. We like this because it reduces the actual costs of the phone. You do not want to buy a phone and spend the same amount trying to fix it should it break down (for whatever reason) and with CarlCare centers spread around the country, one can get their phones worked even when they are up country. That's good customer care.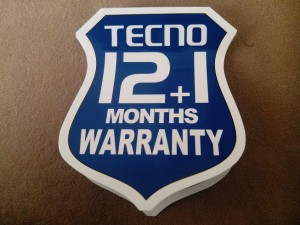 Availability & Cost
This is one area where Tecno has excelled at — distribution. When in Kampala Uganda, You will find a Tecno distribution point in all major towns of the country and with all major vendors like MTN, Airtel and other Dealer Shops not to mention the Tecno Retail store. The H5 is being sold at a retail price of 260,000 Ugx which is about $105 at the Tecno Store
What We Didn't Like
The poor viewing angles
What We Liked
The 1.3Ghz Processor, Thoughtful Games & Apps, 13 month Functional Warranty plus availability and cost
Advertisement - Continue reading below
Conclusion
Tecno has now proved that they are here to stay and that they are the African Smartphone manufacturer  of choice giving lots of choice to fit all budgets. If you are looking for your first budget smartphone that is big on entertainment, this would be a perfect fit. Whatever else it falls short of is not worth complaining about considering the low price point. If you are looking to replace your existent entry level or mid range smartphone, you would consider the Phantom A+ or something like that