We all want to live healthy lives, free from diseases and other complications that might result from a lack of activity. Sadly, our modern way of life means that most of us spend hours on end sitting, doing little in the form of physical activity.
According to guidelines from the WHO, to maintain a healthy lifestyle, an Adult should:
Advertisement - Continue reading below
Do at least 60 minutes of moderate to vigorous-intensity physical activity daily.
Engage in physical activity of amounts greater than 60 minutes daily will provide additional health benefits.
Include activities that strengthen muscle and bone, at least 3 times per week.
While you can easily pop into a gym and get these in daily, no problem, some might opt for a more natural way of putting these in throughout their daily activities and a fitness tracker comes in very handy to help keep an eye on these metrics.
I have used the Xiaomi Mi Smart Band 5 for the better part of the past month and during the period, I have gathered a few observations that I'd like to share in this product review. In case you missed it, we already have an unboxing and first impression of this gadget so you might want to check that out for things that might not get covered in this piece.
If you already have a Mi Band 4 and are wondering whether to upgrade to this version, we have a detailed look into the difference between both devices.
Anything New?
So what's new with the Mi Smart Band 5 from the previous generation? Well, perhaps the most notable change in the Mi Smart Band 5 is the new charging mechanism.
This device's charger now attaches through magnets to a dock at the back of the device meaning that you don't need to remove the Mi Band 5 from its strap just to get it to charge. This, for me, is reason enough to get this device as this new way is a lot more elegant and less finicky.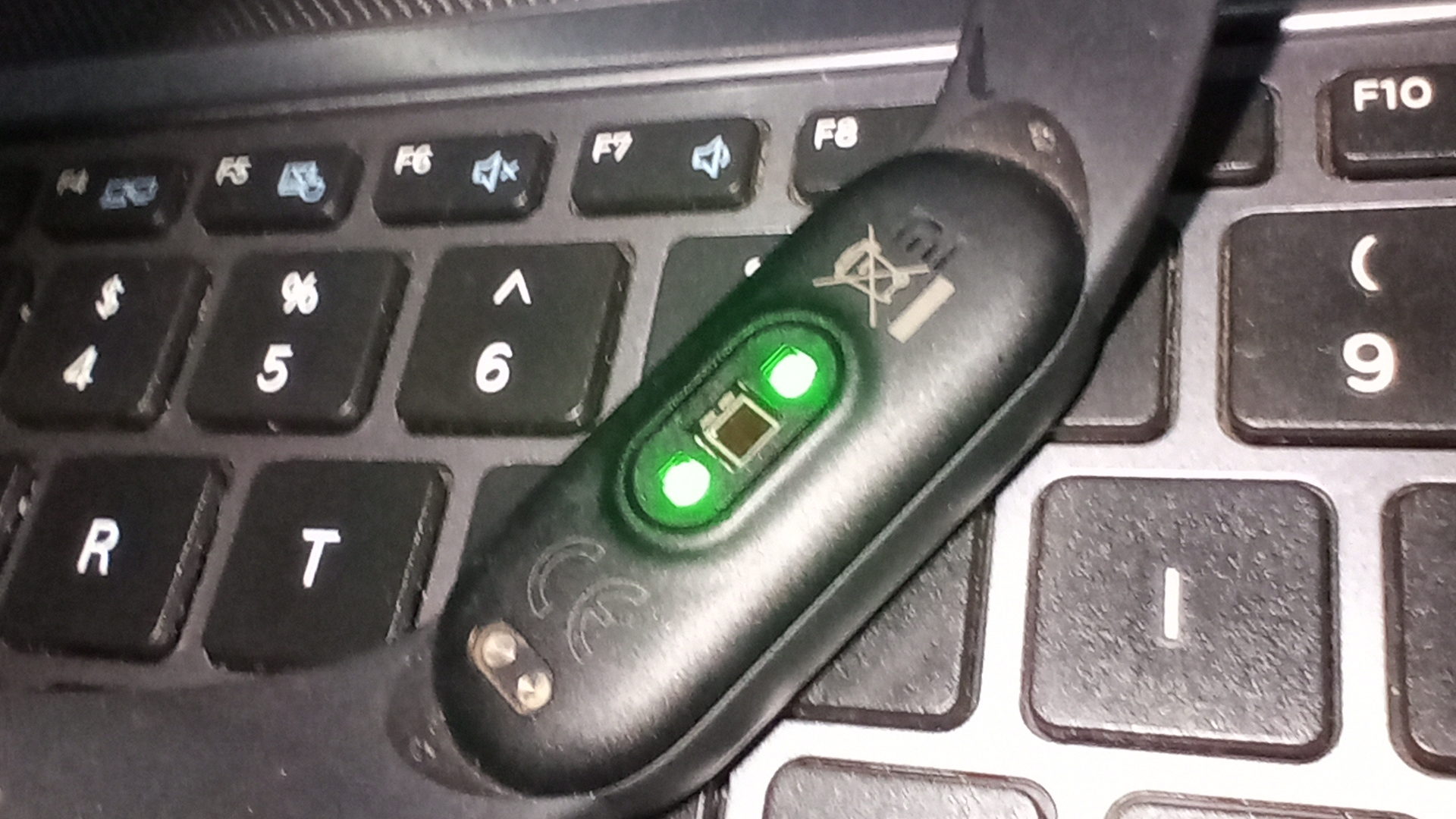 Also note that I have the international version of the Mi Smart Band 5 and as such, I don't have NFC which is standard on the Chinese version.
Advertisement - Continue reading below
Mi 'Smart' Band 5?
So Xiaomi calls this iteration the Mi Smart Band 5 and not just the Mi Band 5 as we all call it. But how smart is this Band?
Well, for starters, Xiaomi skimmed on some rather important sensors that would make this device truly smart, at least compared to its competition. These include the omission of the SpO2 sensor that is used to measure the blood oxygen level.
The Mi Band 5 also doesn't come with a built-in microphone so you can sermon your Google Assistant or Siri using it, or receive calls. You also don't get GPS on this model so you need to have your smartphone's location services turned on.
That said, you still get a lot of improved sensors with this unit. You get a much better heart rate sensor, you get stress monitoring and a bunch of smart-watch features including Music controls, Remote camera shutter, and mirrored notifications from your device.
Many of these features were already present in the Mi Band 4 and you can check out more of these features here.
Do these warrant the 'Smart' branding? Well, for most people, yeah. I for one, am conviced that this indeed is a Smart band as we shall soon see in the next few baked-in features.
Personal Activity Intelligence (PAI)
At the center of the Mi Band 5 experience is the Personal Activity Intelligence (PAI). This is essentially an overall assessment of your health status. This is arrived at based on various metrics that the Mi Band tracks over the course of the day, summarised over a week.
These metrics include your physical activity, workouts, heart rate, and stress levels among many other measurements. Over the course of the past few weeks, I only averaged 11/100 so I guess I really am a slob.
Advertisement - Continue reading below
For the serious fitness enthusiasts, the Mi Band 5 tracks up to 11 different workouts. these include:
Outdoor Running
Treadmill
Cycling
Indoor cycling
Walking
Elliptical
Rowing Machine
Yoga
Jump Rope
Pool swimming
Freestyle and many more
On top of that, the Mi Band 5 through the Mi Fit app, allows you to track even more activities. These include mundane ones like brushing your teeth, eating, sleeping, and more physical ones like Basketball, Badminton, and more.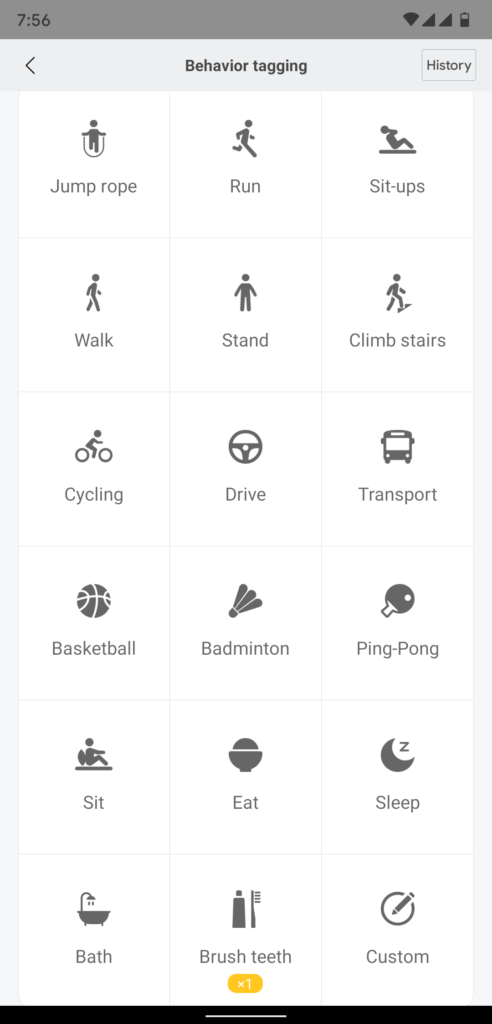 Speaking of the Mi Fit app, that is the primary way of managing your Mi Band. It is available on both iOS and Android and allows you to set up your device, customize watch faces, and more. We will have a post taking a look at the Mi Fit app and all the features that it offers users.
Battery
Xiaomi advertises 14 days of battery life on the Mi Smart Band 5 and in our initial impressions, we made it through 10 days which was pretty close.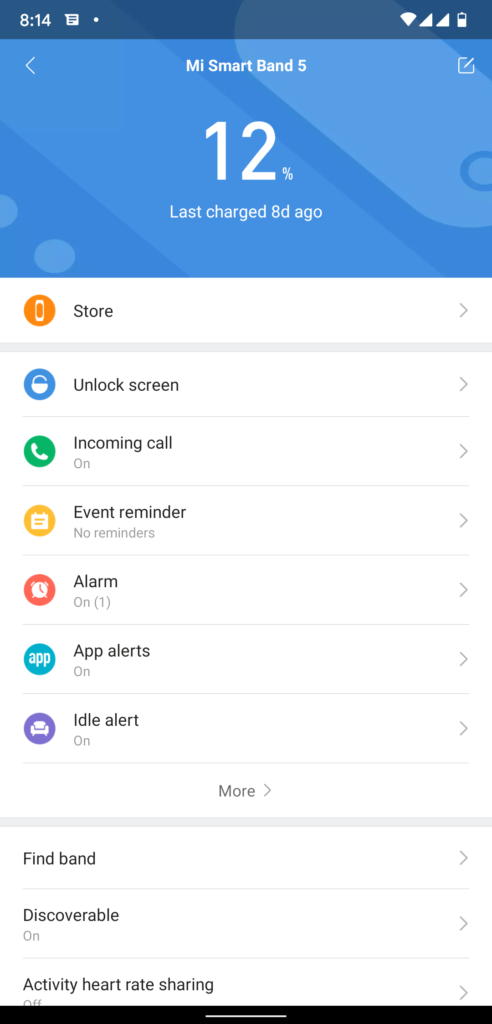 Since then, however, I have been exploring and enabling convenient features that are obviously detrimental to battery life. These include lift-to-wake and notification mirroring that lights the screen whenever I lift my wrist to glance at the Band and sends my phone's new notifications respectively.
With these features turned on, battery life is down to one week. While this is not exactly impressive, it is still not bad considering I use it to track my sleep as well.
Sleep Tracking
The Mi Band 5 tracks sleep pretty accurately. Fasten the strap appropriately as you go to bed and the Mi Band's AI can determine when you fall asleep and is able to denote whether it is a night of deep sleep or not.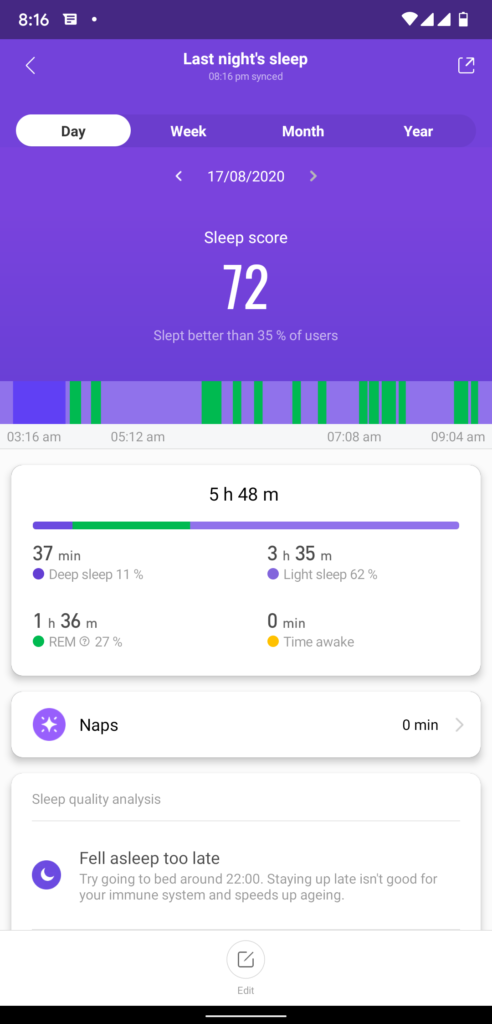 It is also able to track your naps during the day and charts the resulting data neatly and you can check it out from within the Mi Fit app.
Advertisement - Continue reading below
Now that we have covered the main features of the Mi Band 5, let's look at the little things.
Things Worth Noting
The Mi Band 5, like previous generations, cannot be turned off. When unboxing, I thought someone had tampered with my package since the device came while turned on. The only way to truly shut it down is to let it run out of juice. However, if you remove it from your wrist, after 10-15 minutes, you'll notice that the flashing green light won't come on.
In my experience, the Bluetooth connection between my phone and the Mi Band was pretty strong. I would leave my phone charging in my room and I'd still get notifications on my Mi Band when outside.
Often times, I wished there was a way to respond to messages quickly through the Mi Band. Well, I know we can't get a keyboard on there because of the size of the display. Also, we have smartwatches for that but quick reply bubbles for messages and Instant messaging apps like WhatsApp or Telegram would be nice.
There are countless custom watch-faces available for the Mi Band. Most of them were designed for the Mi Band 4 but they still work well on the Band 5. This also means that we should soon see even more custom watch faces for the Mi Band 5.
The matte black rubber straps that came with the Mi Band 5 are subtle and understated which would appeal to many users. While I know there's a whole ecosystem of custom Mi Band straps, they are not readily accessible in Kenya. Hopefully, that changes soon.
We still haven't been able to adequately test the Menstrual cycle tracker as we need at least two months of data to determine its accuracy. Stay tuned for that update.
Conclusion
In closing, it is no doubt that Xiaomi has done it again with a really decent fitness tracker. The Mi Smart Band 5 is a compelling offer for anyone looking for a wearable but isn't exactly looking to spend smart-watch kind of money.
Advertisement - Continue reading below
If you have a Mi Band 4, you might not need to upgrade to this one. If you're using an earlier gen tracker, at $45, this is a no-brainer. I got mine from Xiaomi Kenya at KES 4900 and so far, so good.
Do you have any questions on the Mi Smart Band 5? The comment section below is open!