Xiaomi unveiled the Mi Band 5 back in mid-June and it offers quite a number of improvements over its predecessor —the Mi Band 4— while still staying true to its roots.
Fitness trackers are a very interesting proposition for users in the market for an affordable smart wearable. They offer some of the major functionality (fitness tracking and the likes) you would get from a smart-watch without going over-the-top.
Advertisement - Continue reading below
I have had the Xiaomi Mi Band 5 for a few days now and in this post, I document some of my thoughts and first impressions. First of all, I should mention that while I have seen the Mi Band 4, I haven't used it. This makes the Mi Band 5 my first fitness tracker. Well, the second one if we count the Tecno T-Band from 2016.
Unboxing
The Mi Band 5 packaging is simple and doesn't really come with much. The following are what comes in the box.
Mi Band 5
Magnetic charging cable
A Quick Start guide
To charge the Mi Band 5, you'll have to use your phone's charging brick or plug it into a USB outlet, both of which aren't included.
Look and Feel
The Mi Band 5 is a minimal-looking wrist-band and the black variant I got was pretty subtle.
It has a simple, unisex design with a clean look. The band is narrow, relatively thin, and not bothersome. It won't look out of place even if you have slim arms.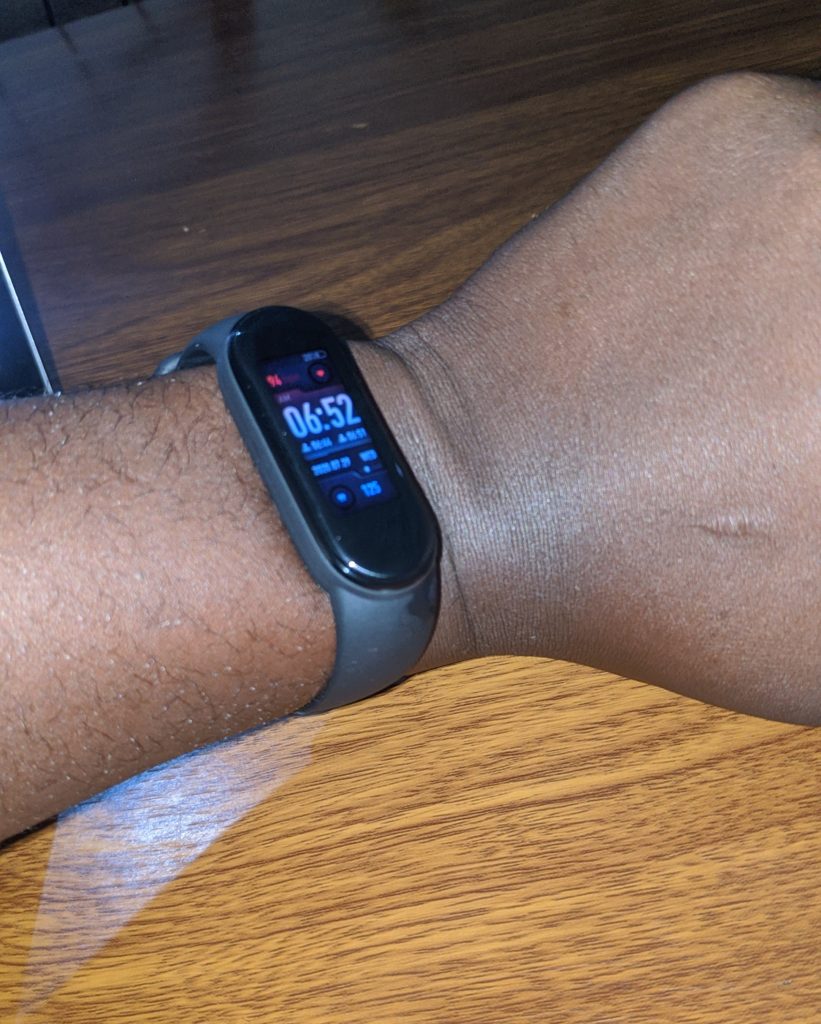 The fastening mechanism is the same as the previous generation; insert the strap through a hole and then push the pin into one of the many fastening points depending on the fit you want.
Advertisement - Continue reading below
The band came with the black silicon strap but I am made to believe there are so many more first-party and aftermarket straps with various colors and material options. I will be trying some of those later on.
So, the Mi Band 5
Going in, I had a lot of expectations but most of those were from the idea that the Mi Band is a substitute for a smartwatch. It is not.
The Band 5 has a vibration motor that works well, a heart-rate sensor, and a 1.2-inch AMOLED display. And that's it. No microphone, no speaker.
The touch display allows you to do many tasks and functions from within the watch but replying to notifications isn't one of them. The rest of the settings are done using the Mi Fit app that is available on the Google Play Store and App Store.
Useful Features
Mi Band also has a good number of smart features that are pretty useful. I like how you can set it to vibrate when you get notifications or to show you incoming calls. With this, I am able to keep my phone on silent throughout and never miss a notification, even in loud situations.
You can also use the Mi Band 5 as a remote shutter button for your smartphone camera. Just go into the Mi Fit app and enable the feature, grant it the necessary permissions and the next time you open your camera, you can take a photo by tapping your Mi Band.
Some of the other features I thought were pretty cool include;
You can find your phone using the Mi Band
The Band can nudge you to get moving if you're sitted for too long.
Menstruation Management
It also has a feature to track menstruation cycles and predict future cycles. There's the option of inputting your cycle information. This is a very handy feature as it helps to record and manage menstruation data.
Advertisement - Continue reading below
It also claims it can remind women of their period time changes. We're yet to test the accuracy of this since we'll need to use it for a minimum of 2 months before we can comment on it.
Onto Fitness Stuff
The Mi Band 5 is a fitness tracker first. So how does it cope? I used the band to track my activities for a few days and while the band can track up to 11 workouts including outdoor running, pool swimming, cycling, walking, treadmill, freestyle, indoor cycling, jump rope, yoga, elliptical, and rowing machine. I only used it to track my walks, runs, and bike rides.
The step counting is pretty accurate and in fact it encourages you to be on the move because of the set goal of steps for each day.
It did not automatically start tracking my activities but owing to the sheer number of features in the Mi Fit app and the Band itself, the feature might be there, waiting to be activated.
When you work out with the band on, it is able to tell you how many calories you've burned. For most, these might look like arbitrary numbers but over time, you start to get an idea of how much you need to work out more.
For sleep monitoring, you have to activate it yourself. It also lets you know that enabling sleep monitoring will drain your battery more.
Battery
Speaking of battery, the Mi Band 5 lasts for a long time. It has an advertised lifespan of 14 days per charge and after using it for 6 days, it still had 62% of juice left. If more features like sleep tracking and raise-to-wake are enabled, I am sure there will be a dent in the battery life.
Side Note: I have also noticed that my phone's battery drained a little faster too since Bluetooth has to be on throughout.
Advertisement - Continue reading below
Cons
My main issue with the Mi Band 5 is that you have to fasten the band tightly for it to work well. Be it to track your sleep patterns or to measure your heart rate. The first night I slept with it on, my wrist was a bit sore and I found it generally uncomfortable throughout the night.
We will continue to use the Mi Band 5 and push out a more detailed review of the same in due course.
Mi Band 5 is available in Kenya through Xiaomi Kenya for a recommended retail price of KES 4900 or about $50, shipping included.