The Samsung Galaxy Buds Live and Apple's AirPods Pro are two of the latest and most-advanced true-wireless earbuds in the market today. And I think the most interesting things about both earbuds is that they both take fundamentally different design approaches, redefining how an earbud should look. This surely leaves a lot of people wondering which earbuds are better and is the right one for them.
In this post, we will show you how the new Galaxy Buds Live compares to the AirPods Pro.
Advertisement - Continue reading below
Design and Shape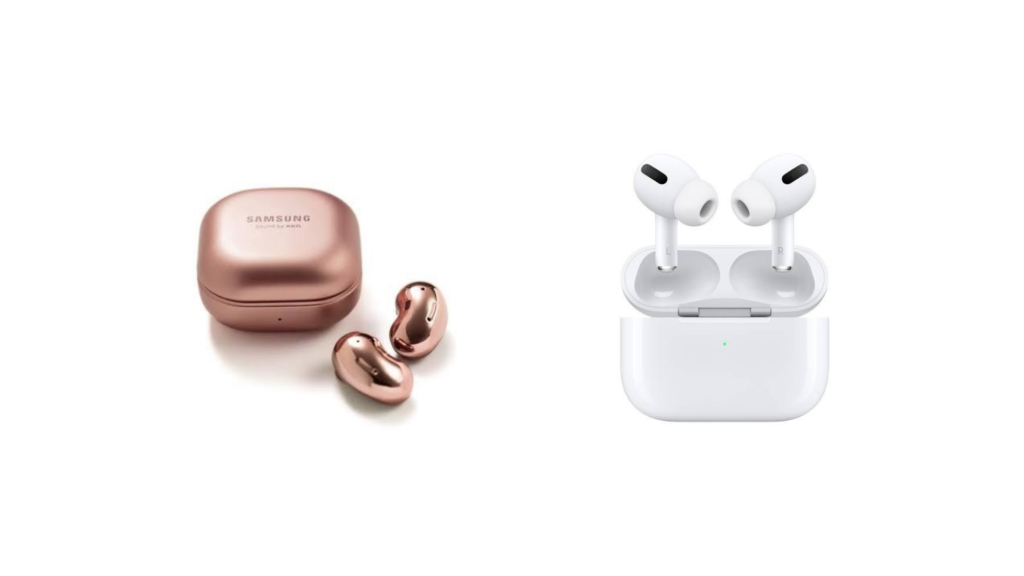 While the AirPods Pro maintained the conventional earbud design — one with an angled stem and silicon tips— although, with a slightly shorter stem this time, the Samsung Galaxy Buds Live comes with a unique design, different from what we are used to.
Samsung designed it is to look like kidney beans, hence it was dubbed "Galaxy Beans." Unlike the AirPods Pro, the Galaxy Beans don't come with tips that go into the ear canal to create a seal. Instead, the whole thing seats on the outside of the ear.
Also, while the AirPods Pro maintained the usual white color you'll find on any older generations of the AirPod, the Galaxy Beans come in three different color variants — Mystic Black, Mystic Bronze, and Mystic White.
Battery and Play Time
On paper, the battery life for both earbuds looks decent. However, usage time is entirely dependent on factors like usage time, usage intensity, usage mode (with active noise cancellation on or off, voice assistant enabled) etc.
According to Samsung, the Galaxy Beans, with active noise cancellation (ANC), and voice assistant enabled, will last for around 5 hours. However, it'll last longer (closer to 8 hours) if both ANC and voice assistant isn't enabled.
With the AirPods Pro, you get up to 4.5 hours of listening time on a single charge (up to 5 hours with Active Noise Cancellation and Transparency off) as well as a charging case that gives you over 24 total hours of listening time.
Advertisement - Continue reading below
They both support Qi wireless charging, and while the Galaxy Bean's charging case charges via USB-C, the AirPods Pro charging case charges via a lightning connector.
Water Resistance Ratings
The Galaxy Buds Live are rated IPX2, which makes them sweat and splash-resistant to some degree, whilst the AirPods Pro are IPX4 which makes them more splash and water-resistant.
Here is a detailed guide to help you understand IPX ratings and why it matters
Specs Comparison
| Specs | Galaxy Buds Live | AirPods Pro |
| --- | --- | --- |
| Dimensions | 16.5 x 27.3 x 14.9mm (earbuds) | 30.9 x 21.8 x 24 mm |
| Weight | 0.19 ounces (earbuds); 14.8 ounces (case) | 0.19 ounces (earbuds). 1.61 ounces (case) |
| Water resistance | IPX2 | IPX4 |
| Color | Mystic Black, Mystic Copper, and Mystic White | White |
| Voice Assistant | Bixby | Siri |
| Price | $169.99 | $249 |
Galaxy Buds Live vs AirPods Pro: Choosing the Right One For You
This depends on your needs, what you look out for in an earbud, and how you like to use them. If you enjoy silicon tips from earbuds going into your ear canal, for instance, you definitely want to get the Apple AirPods Pro.
However, if you don't enjoy complete ear seal and like to let in background sound while listening to music, the Galaxy Beans are a perfect option. The open design means you don't need to enable transparency mode (as with the AirPods Pro) to let in sound. You have the consider the price difference as well. The Galaxy Buds Live ($169.99) is $80 cheaper than the AirPods Pro ($249.99). So, do the maths and decide which one checks all (or most) of your boxes and go for it.