Pros:
Bluetooth Call Support is a nice touch.
The build quality is not bad.
Price is reasonable.
Battery life is decent.
IP68 water resistance brings a level of confidence in various use cases.
Cons:
The display leaves a lot to be desired.
The translations in the App are just bad.
---
Let me take you on a journey through my experience with the Oraimo Watch 3 Pro. Over the past couple of weeks, this smart wearable has been my trusty companion, and I'm excited to share my thoughts with you.
Before diving in, a bit of context: I've been accustomed to wearing the Huawei Band 7 and the Redmi Watch 2 Lite as my daily wearables, so that's the perspective I'll be bringing into this review.
Advertisement - Continue reading below
Unboxing: A Familiar Start
Opening the Oraimo Watch 3 Pro's package felt like coming home to familiar Oraimo branding – green and black on a cardboard box. Inside, you'll find:
The Oraimo Watch 3 Pro
User manual
Proprietary magnetic charging cable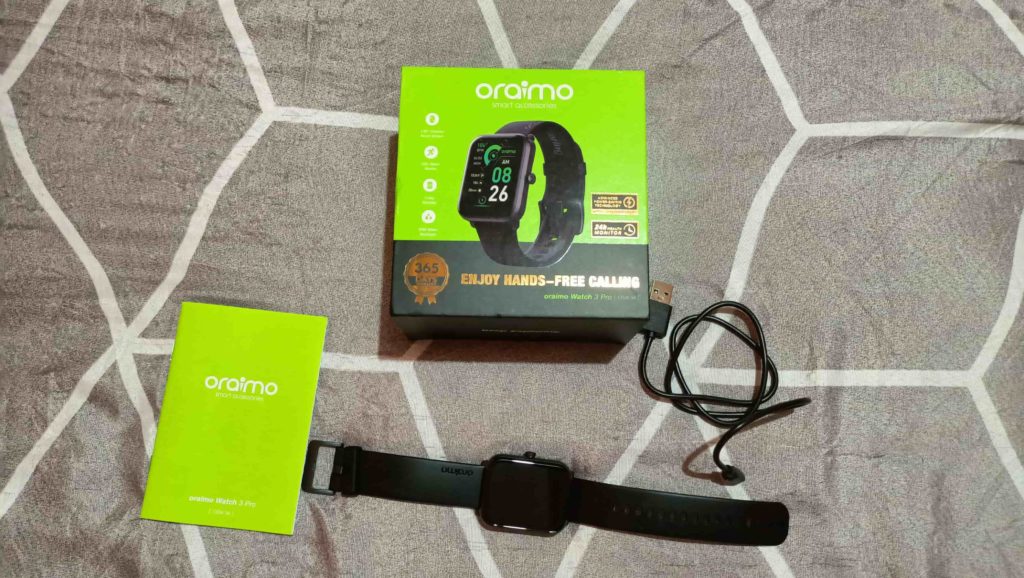 Upon unboxing, Oraimo recommends a full charge before use, which, while it may not be strictly necessary, gave me peace of mind. Luckily, the watch charges rapidly, reaching full power in under an hour.
Getting to Know the Oraimo Watch 3 Pro
The Oraimo Watch 3 Pro, officially launched recently, boasts a 1.83″ TFT display with a resolution of 320*385. Its body is crafted from a combination of plastic materials, ensuring durability.
With a 300mAh battery, this watch can stay powered for up to 7 days on standby and carries an IP68 rating, making it waterproof for various activities.
Battery Life: Impressive Durability
The Oraimo Watch 3 Pro promises 7 days of battery life, and in my experience, it lived up to this claim. Even with all notifications mirrored to the watch and constant use paired with my smartphone, it only dropped by 40% in 3 days.
This makes the promised 7 days of usage entirely feasible. Additionally, the fast charging feature is a welcome bonus, taking the watch from zero to full charge in just 50 minutes.
Advertisement - Continue reading below
Fitness Tracking: Covering Your Every Move
Like most wearables, the Oraimo Watch 3 Pro also doubles as a fitness tracker. Oraimo claims it supports over 120 sport modes, including the usual suspects like running, walking, cycling, and swimming, as well as niche exercises like boxing and football. Yoga, Pilates, mountain climbing, tennis, and badminton are also part of the menu, ensuring there's something for everyone.
Companion App: Lost in Translation
The watch pairs seamlessly with your smartphone via the Oraimo Health app, which, for the most part, is user-friendly and intuitive. However, it does suffer from translation issues that can be a bit irksome.
For instance, instead of the universally understood term "Bluetooth pairing," the app uses "Binding." While not overly confusing, various instances of "Confirm or not" can be mildly frustrating.
More Than Just a Watch
The Oraimo Watch 3 Pro isn't just a watch; it's a versatile device. It combines fitness tracking, health monitoring, music control, camera remote, and smart assistant functions seamlessly. It tracks steps, calories, distance, heart rate, blood pressure, blood oxygen, sleep quality, and more.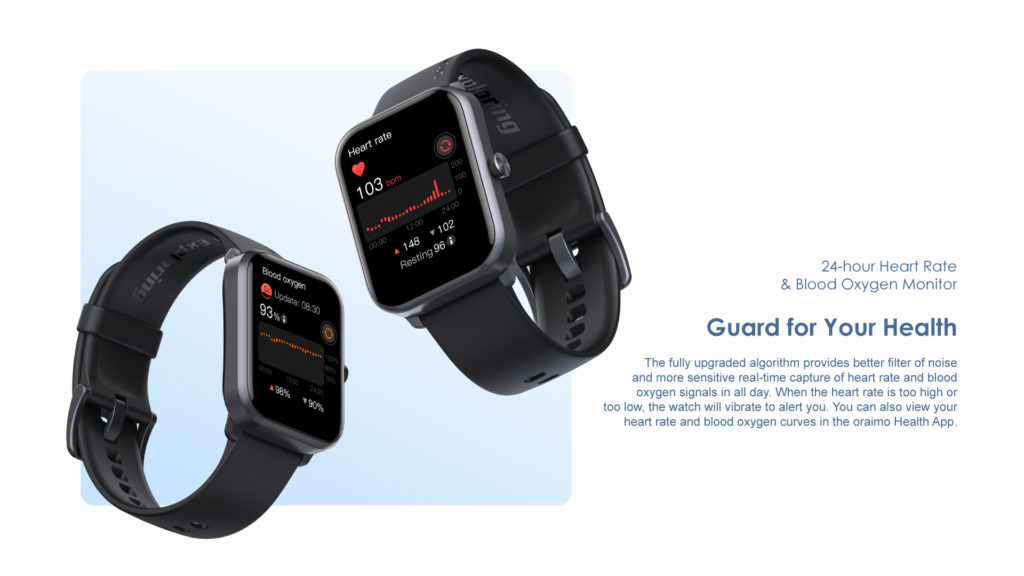 It syncs with your smartphone to display notifications for calls, messages, and social media apps. You can even control your music and camera directly from the watch, and it supports voice commands from Google Assistant or Siri.
Battery That Keeps Up
One standout feature of the Oraimo Watch 3 Pro is its battery life. With a 360mAh battery, it can easily last a week on a single charge. It also supports fast charging, allowing you to get up to 7 days of usage with just 30 minutes of charging. This means you won't have to worry about running out of power when you need it most.
The Oraimo Watch 3 Pro is compatible with both Android and iOS devices, offering versatility. You can connect it to your phone via Bluetooth and use the Oraimo app to customize settings and view your data. The app is user-friendly and easy to navigate, allowing you to update your watch's firmware and download new watch faces effortlessly.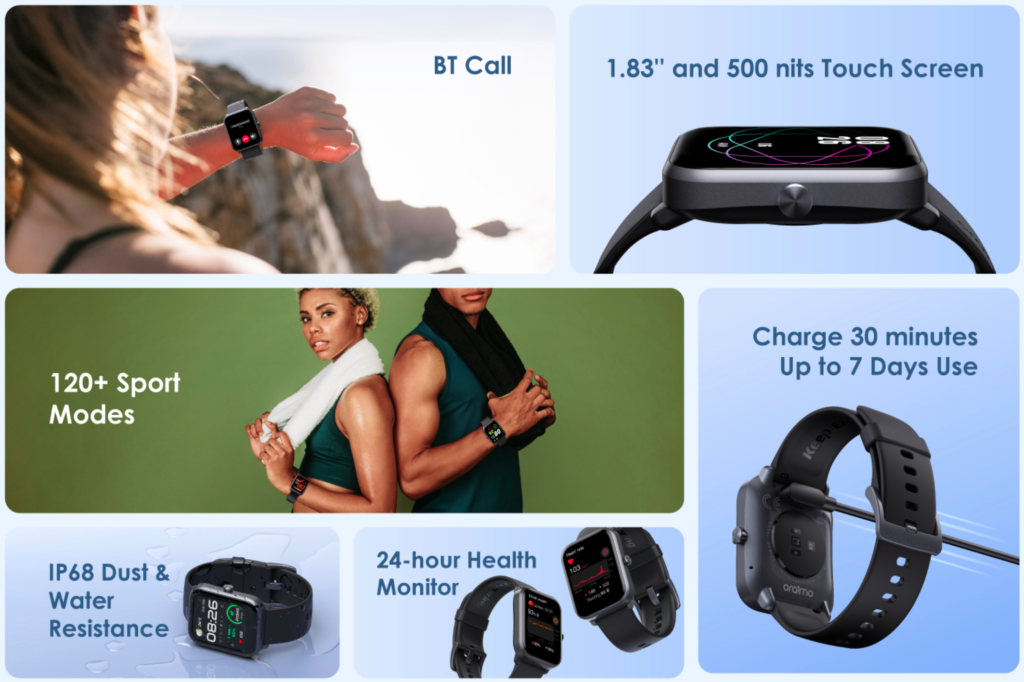 Update
Before I wrap up this review, I want to share an important update. Unfortunately, after a week of testing, my Oraimo Watch 3 Pro stopped charging. Concerned about this sudden issue, I decided to take advantage of the impressive 365-day warranty that Oraimo provides and dropped my watch off at Carlcare for assistance.
Advertisement - Continue reading below
It has been a week since I handed over my watch for repair or replacement, and I'm still awaiting news from them. While this unexpected hiccup has given me pause, I remain hopeful that Carlcare will swiftly resolve the issue so that I can continue enjoying the many features and capabilities of the Oraimo Watch 3 Pro.
Despite this setback, I must emphasize that my overall experience with the Oraimo Watch 3 Pro, before the charging issue arose, was quite positive and I'd recommend those to anyone looking to get into the smartwatch space.
Its features, affordability, and performance left a lasting impression, and I look forward to getting back to wearing it once it's back in working order.
Pricing and Availability
The Oraimo Watch 3 Pro offers an impressive array of features at an accessible price point. In Kenya, it's available for KES 4,900. For our international readers, here's the approximate pricing in other currencies:
In USD, the Oraimo Watch 3 Pro comes in at around $45.
In Naira (NGN), it's approximately ₦20,700.
For our readers in Uganda (UGX), the price is roughly UGX 167,000.
This competitive pricing makes the Oraimo Watch 3 Pro an enticing option for those looking to enter the world of smart wearables without breaking the bank. If you're in the market for a versatile smartwatch that won't break the bank, the Oraimo Watch 3 Pro is well worth considering
You can purchase the watch online from the official Oraimo website or through various online retailers such as Amazon, Jumia, and Konga.
Featured image courtesy
Advertisement - Continue reading below