The Huawei Band 7 is the Chinese OEM's 2022 rendition of its long line of wearable trackers. This comes to succeed the Huawei Band 6 that we saw last year. In a market with favorites like the Xiaomi-made Mi Smart Band 7, and the Mi Smart Band 7 Pro, what does the Huawei Band 7 bring to the table?
I have been using the Huawei Band 7 for the past 2 weeks and in this post, I will be shading light on various aspects, features and quirks, and more. Straight off the bat, the Huawei Band 7 is not a drastic departure from the Huawei Band recipe and shares so many aspects with its predecessor.
Advertisement - Continue reading below
---
---
Specifications
Dimensions – 44.35 x 26 x 9.99 mm
Weight – 16g
Display – 1.47-inch AMOLED
Resolution – 194 x 368 pixels
Battery – up to 14 days
Bluetooth– BT5.0, BLE
Water Resistance – Upto 5 ATM water-resistant
Fitness: 100+ workout modes
Sensors – Accelerometer sensor, Gyroscope sensor, Optical heart rate sensor
Color Options – dark gray, gold, green, red 
What I liked
Competitive Price
Huawei Health is pretty wholesome, albeit closed off from Google Services
Always-on Display
Considerably faster charging
What I didn't like
Recycled Design
Not-so-stellar battery life
No GPS
No NFC
Still no Third-party app support despite running HarmonyOS
---
---
Display and Design
Fitness trackers are not meant to be watches or smartwatches for that matter. They are relatively smaller and compact so they can go unnoticed during your workouts. The Huawei Band 7 sits just shy of 10 mm from your wrist so accidental dings and scratches are minimal.
The Huawei Band pioneered this wider form factor in the fitness tracker realm, something that many seem to be aping, including Xiaomi with the Mi Band 7 Pro. This Huawei Band recycles the design we saw with the Huawei Band 6 and Honor Band 6, a form factor that is known to work and work well.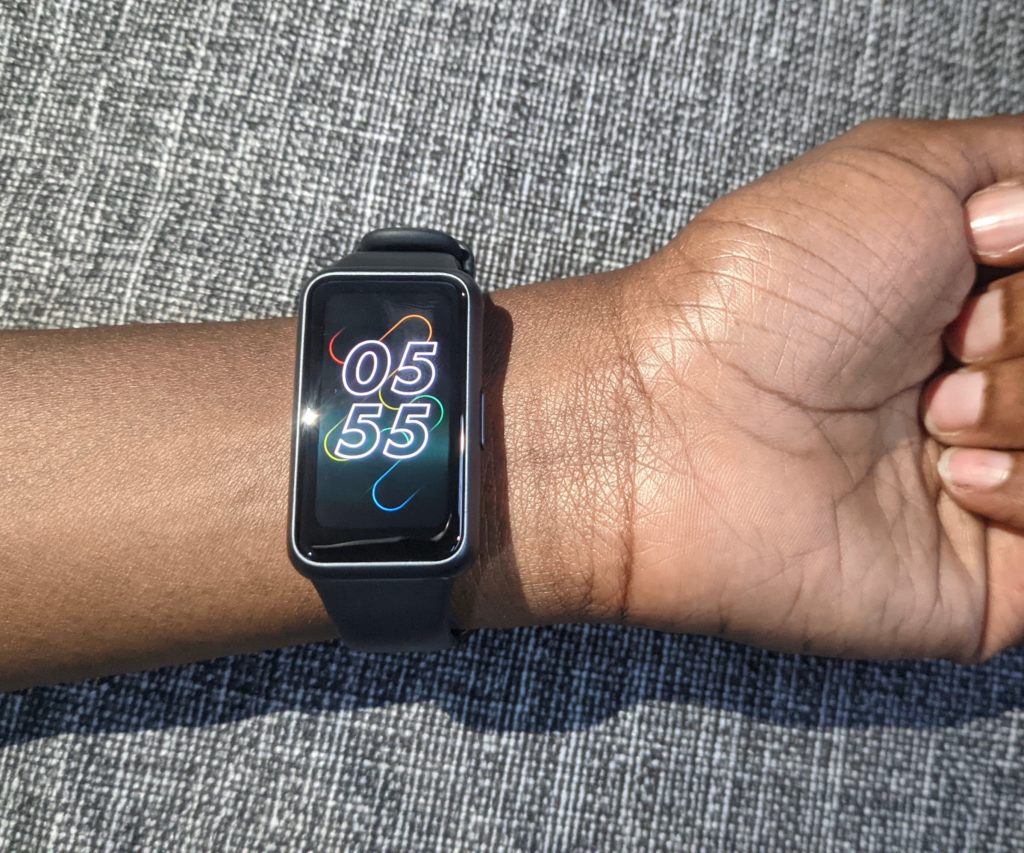 It has a 1.47-inch AMOLED display that seems a little crispier than the previous generation, despite having the same pixel density with t 194 x 368 pixels.
The screen gets plenty bright and is easily usable even in direct sunlight. However,I wish it came with some form of the ambient light sensor so it doesn't blind you at night when you forget to put it in DND Mode or lower the brightness.
AoD and Watch faces
I've used the Mi Bands for the past few generations and one thing that puts the ecosystem above all other platforms I have used is the robust amount of customization
Advertisement - Continue reading below
There are countless watch faces available for the mi band and you can even install third-party apps with even more watch faces. The same cannot be said about the Huawei Band 7.
The selection of watch faces is a little slim with many faces that are recycled from older Huawei and Honor Bands. I guess that can be seen as consistency but that's just a little stale in my opinion.
The AoD is a welcome addition to this model but then again, the AoD watch faces are very few and I wasn't able to find one that wowed me. Hopefully, we'll get even more watch faces but for now, the AoD is only available in 4 options, that's it.
Health Tracking
These fitness trackers come with a host of sensors that could offer users an insight into their body's overall wellbeing and the Huawei Band 7 is no different. This device comes with continuous heartrate monitoring so you can see in a simple graph, how hard your heart is working as you go about your activities.
There is also a stress monitoring feature that gives you a score out of 100. There is support for a 24-hour SpO2 monitoring feature, an option that is even more important in this COVID era, not just for the mountain climbers and high-altitude sportspersons that this metric is probably built for.
DISCLAIMER: This gadget and all other fitness trackers are only meant to give you an overview of the metrics that they track and should NOT be used as substitutes for medical-grade equipment.
Workout and Activity Tracking
The main reason for going for a fitness tracker, other than the fact that they're semi-smartwatches, is to track your fitness and workout. For many slobs, yours truly included, step counting is the primary workout we engage in all day.
I wore the Huawei Band 7 along with the Redmi Watch 2 Lite on either wrist for a day and the step count between the two gadgets at the end of the day was off by around 50 steps. This is accurate enough for all but the most accurate of scenarios so I give it an okay rating.
Advertisement - Continue reading below
Huawei says that the Band is able to track up to 100 different workouts. And yes, the tracker does have a number of sports that it says it can track. However, the analysis and tracking are a little rudimentary, to say the least. I don't know what Elliptical is so I tried to track that during one of my morning runs and the watch only gave me the heart rate reading and duration of the workout.
Some of these key workouts include:
Outdoor run
Indoors run
Outdoors walk
Indoors cycle
Pool swim
Jump Rope
Elliptical
Rower, and more.
The same is the case for most of the tracked fitness workouts. You will only get a reading of your heart rate and the duration you've taken to perform the said workout. This isn't particularly bad, but it is a little underwhelming, to say the least.
However, some activities like bike riding, walking, running, and more, offer a lot more details. I went out bike-riding with friends on a weekend and at the end of the session, the Huawei Health app had a more detailed breakdown of the session.
This included details such as the route we took, the maximum speed, minimum and average speed, heart rate, and calories burnt.
My complaint is with the automatic workout detection. Where my Redmi Watch 2 Lite would prompt me to start tracking a workout it thinks I am undertaking, the Huawei band just didn't give a hoot.
The lack of built-in GPS could be to blame for this one but it just makes the band fall short of the capabilities offered by the competition.
Huawei Health App
The Huawei Health app could easily be the star of the show here. We talked about step counters and the Huawei Health app also has lots of its own step counters. Should you forget to wear your Huawei Band, the Huawei Health app will still count your steps using your phone and sync with your status later on so ideally, there is no gap.
Advertisement - Continue reading below
The app brings together a bunch of features and services under one neatly laid-out dashboard. These include a step counter, your exercise records, heart-rate graphs, sleep tracking data, stress, weight, and SpO2 tracking details.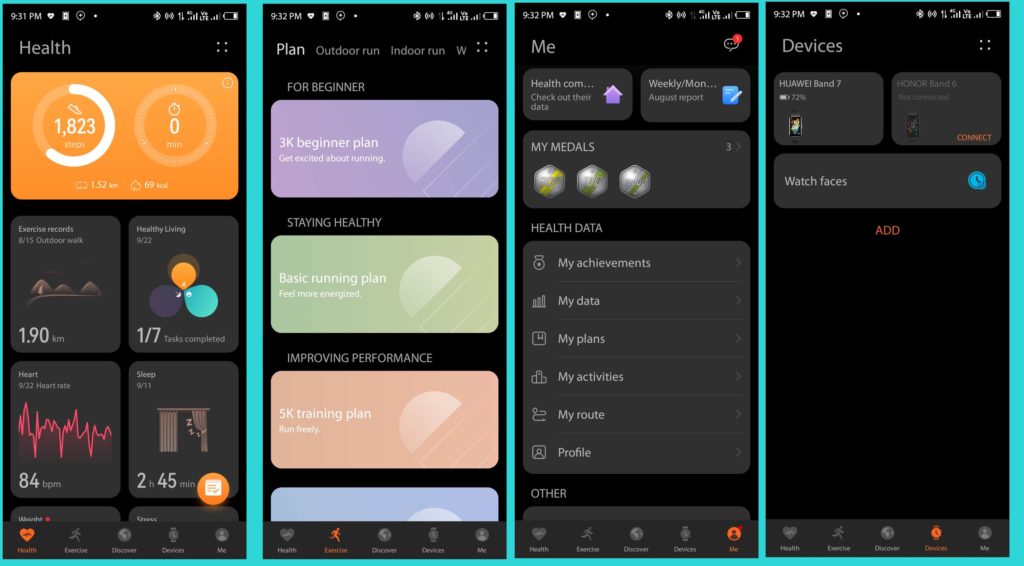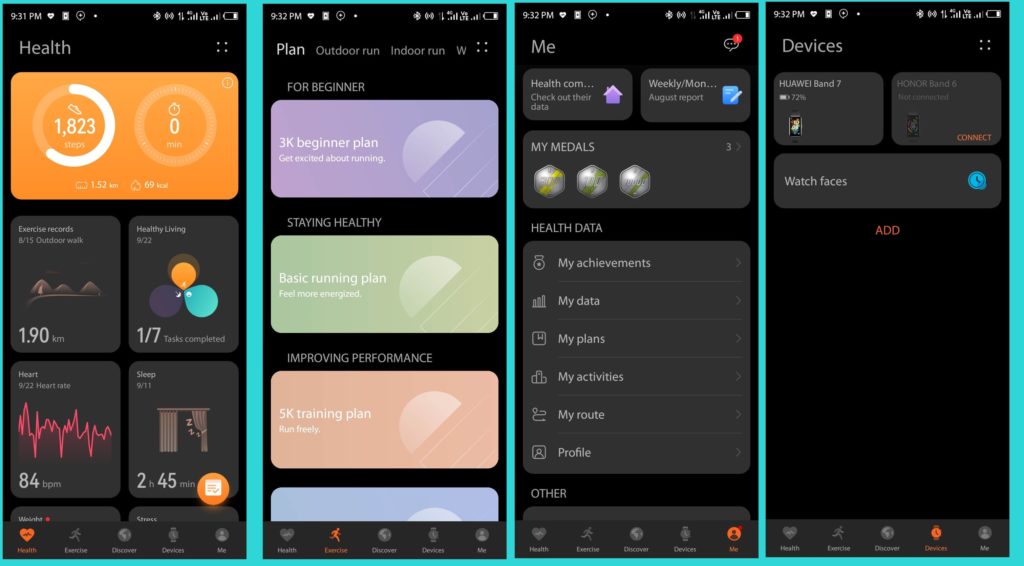 There is also a hub for Exercises from where you can initiate tracking for any of the supported workouts, both indoors and outdoors. There are a few competition options so if you have a friend who has a Huawei Band device, you can engage in competitions and goals.
It is also through this app that you get custom watch faces from the host of available ones, both paid and free.
The elephant in the room is that Huawei and Google aren't in the best of places right now. This means that your workout data will probably always live in the Huawei Ecosystem and the chances of syncing that with Google Fit are next to zero.
To be fair though, even Xiaomi seems to have dropped the sync option with Google Fit with the switch from Mi Fit to Zepp Life.
Battery Life
Huawei rates the Band 7 at 14 Days of typical battery life. However, real-life mileage varies widely depending on usage. I charged my watch every 5 days and I hardly finished a full week on a single charge. This, is probably because of all the testing and fiddling but more so because of the Always-on Display.
I had AoD switched on for 8 hours a day, only letting the Band switch off this feature during my inactive hours and overnight. I'd expect persons that will use this band for its intended purpose, fitness tracking, to get comparable mileage, if not a little more. A week of battery life out of this band seems like a more reasonable estimate.
On the plus side, the Band charges at 5V 1A/1.5A/2A via the proprietary magnetic charging mechanism. Fun fact, the charger has not changed one bit from the Band 6 and Honor Band 6. And yes, I did try and it charges this Band just fine.
Advertisement - Continue reading below
Huawei Band 7 as a Smartwatch
Fitness stuff aside, we use our fitness trackers as semi-smartwatches and as such, expect some level of functionality over the analog time-pieces that they replace on our wrists.
The Band 7 runs on HarmonyOS, Huawei's in-house operating system that's meant to replace Android, giving them a more unified platform.
However, there is little in form of third-party app support which is a bummer. The band also doesn't have a speaker or a microphone so you can't interact with it like that. It can only relay what's on your phone in form of notifications. Luckily, there is a new option to interact with these notifications, albeit from a handful of apps like WhatsApp and the Messaging app on Android with quick replies.
There have been reports of connectivity and permission issues for users on iOS, an issue I haven't encountered on Android so safe to say, your experience might vary depending on your operating system. I'd love to try it with a Huawei device but I am not sure I'm ready to deal with the perceived limitations of not having Google Services.
Pricing and Availability
The Huawei Band 7 is available across various markets in the world in a number of color options including Black, Green, Pink, and Red.
The Band 7 is priced at €59/£50/$59. This puts it around $7 more expensive than the Xiaomi Smart Band 7.
Conclusion
The Fitness tracker market is a little crowded right now with pioneers like Xiaomi's Mi Band, Huawei's previous Band models, Amazfit, and many more. Cheap smartwatches from Xiaomi are also devices to consider for this kind of money.
The changes in this model over its predecessor are pretty abysmal so if you can get the Huawei Band 6 or even the Honor Band 6 on a good deal, that could be a steal right now because you won't be missing much, only the Always-on Display feature.
Also, the Mi Band 7 Pro can be considered at this price. However, the availability for that one is still spotty at the moment. For its price, it is hard to fault the lack of GPS and NFC, seeing as competitors are missing that as well.
Should you be invested in the Xiaomi ecosystem, the Mi Band 7 is still your safest bet. But if you want to be different, the Huawei Band 7 is a solid device that has just as much to offer. I for one will be using this for the next few months.
Advertisement - Continue reading below