Mi Smart Band 7 is Xiaomi's latest iteration of its popular fitness tracker in 2022. I have been using the Mi Band series since the 4th model. I have seen how Xiaomi has been incrementally improving its fitness band until the current version. Xiaomi has dropped the "Mi" branding from the fitness tracker instead of its Xiaomi brand. But for consistency, I am going to refer to this fitness band as the Mi Band 7.
Advertisement - Continue reading below
The Mi Band 7 adds incremental improvements from the Mi Band 6, the previous model. The Mi Band 7 adds about 20% screen real estate growing from 1.56" to 1.62". The Mi Band 7 also now packs a more powerful processor, a bigger battery of 180mAh battery compared to 125mAh on the Mi Band 6. This band is also slightly heavier, weighing 13.5g compared to 12.8g on the Mi Band 6. The user interface has been redesigned to accommodate a bigger screen and better animations thanks to a faster processor. These improvements might not be enough to convince someone with last year's model to upgrade but are notable if you're upgrading from Mi Band 5 and older.
---
Related:
---
Mi Band 7 Specs
Mi Band 7 Specs:
Dimensions: 46.5 mm x 20.7 mm x 12.25 mm
Weight: 13.5g
Display: 1.62 inch AMOLED Touch Display
Resolution: 192 x 490 pixels,326 PPI
Brightness: up to 500 nits, adjustable
Battery: 180mAh
Bluetooth: 5.2 BLE
Water resistance: 5ATM
Fitness modes: 110+ sports modes
Sensors: High precision 6-axis sensor and PPG heart rate sensor 6-axis sensor
Watch faces: 100+
Summarily, here's what I liked;
Bigger brighter AMOLED display
Always-on display
Training load analysis
Bigger battery
What we didn't like
I have been using the Mi Band 7 as my daily driver for close to a month now. While there's no significant difference with last year's model, I must say that this is Xiaomi's most refined Fitness band. The company has kept on making incremental improvements to this fitness band on both the hardware and software front. One of the most requested features has always been a built-in GPS. While Xiaomi didn't include it in this model, Xiaomi instead decided to produce a "Pro" which includes a GPS. So if that's what you're going for, then consider the Mi Band 7 Pro instead.
Advertisement - Continue reading below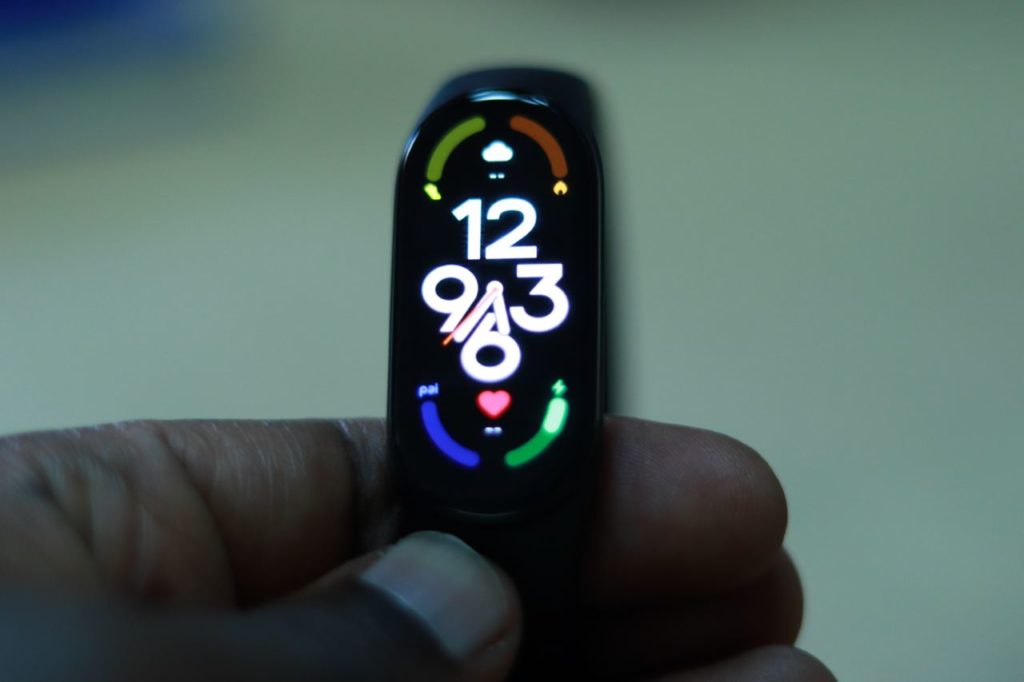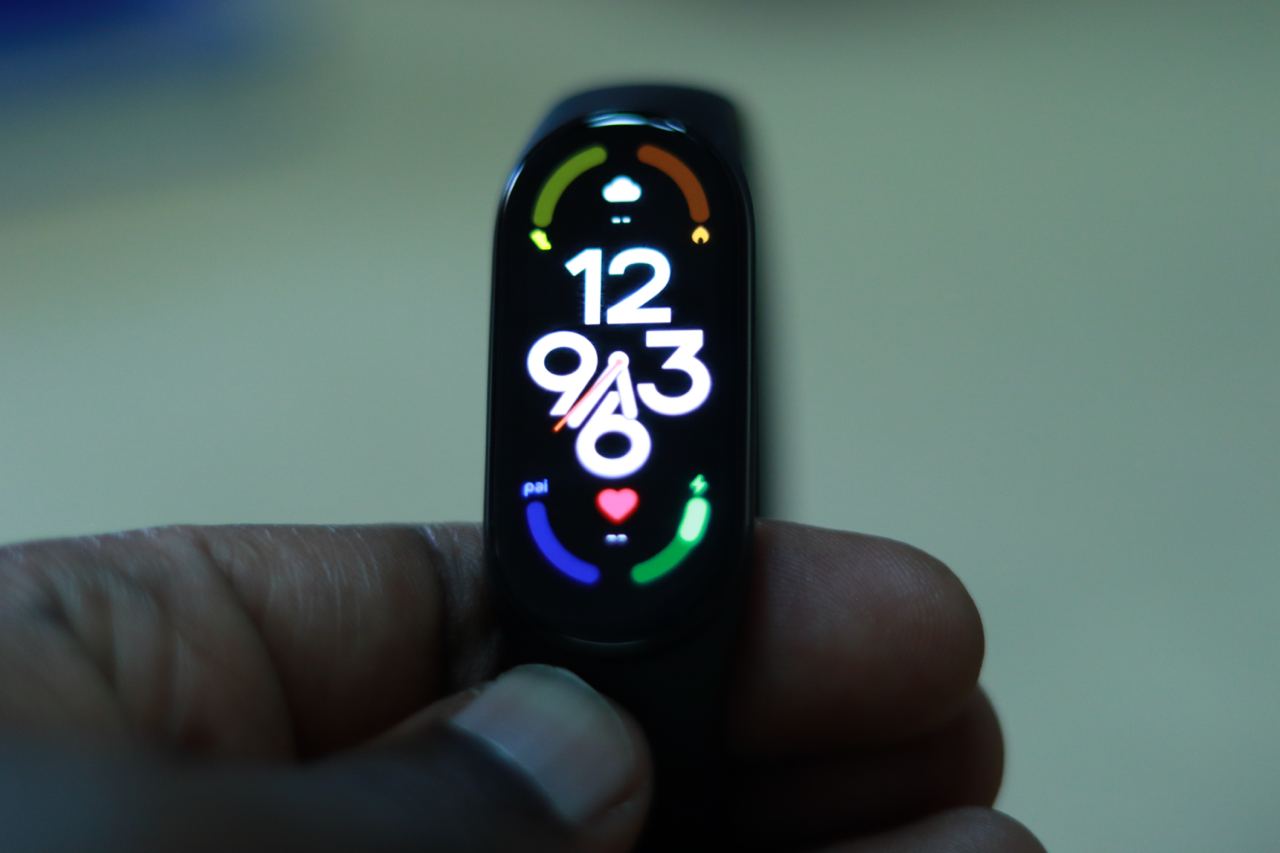 ---
Related:
---
While the Mi Band is still the most affordable fitness band in its price range, its price has been increasing steadily. This year's Mi Band 7, for instance, goes for $50 on Amazon. Prices could be cheaper on AliExpress or Flipkart. However, the price range of this fitness band was always around $30-40 depending on where you purchased it.
Another noticeable improvement I see is the inclusion of an Always-on Display. Xiaomi has managed to do this without severely impacting the battery. With an Always-on display, your fitness band has a lock screen showing basic information such as the time and steps. I now have mine turned on by default.
The lock screen is different from the watch face and I don't think you can customize it the way you do with Watch faces. Xiaomi has over 100 watch faces you can download from its watch store making this device highly customizable.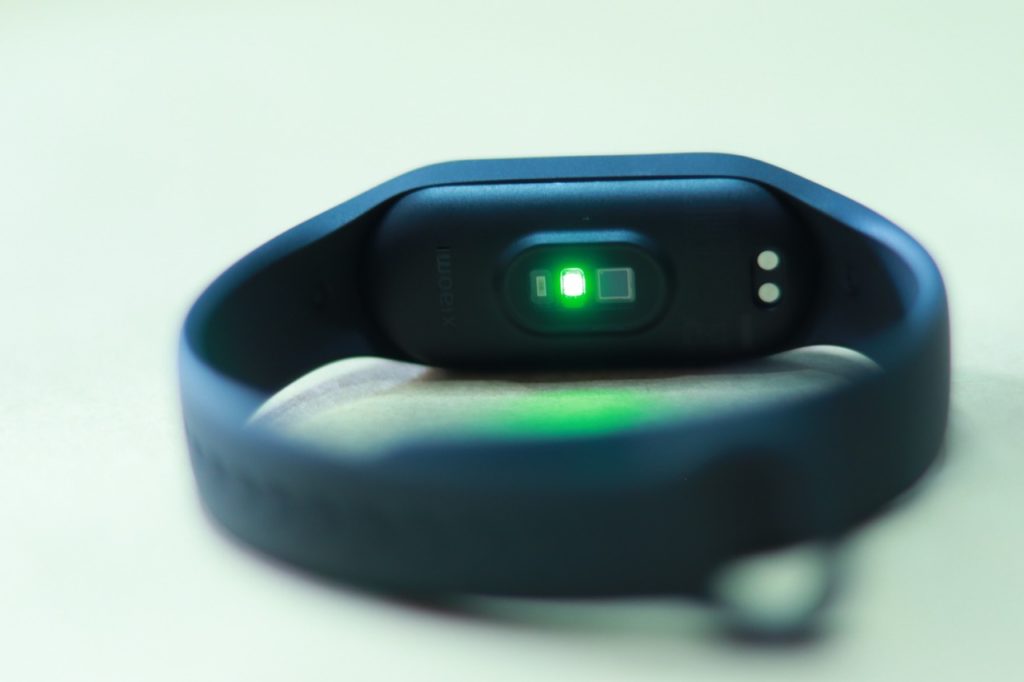 ---
Read more:
Xiaomi has also added continuous Blood saturation (SpO2) monitoring. In the previous model, you still had a SpO2 sensor, but you only got a value when you wanted to measure. With the Mi Band 7, you now have the option to have it running in real-time like the heart rate monitor. I wouldn't know of any instances where real-time SpO2 monitoring comes in handy except in cases where you're hospitalized or hiking a mountain or involved in a high-altitude activity. Still, having the option available is a plus for those who might need it.
What else is new?
Advertisement - Continue reading below
25% bigger 1.62" AMOLED display
More powerful Dialog 14706 processor
Bluetooth 5.2 LE
Bigger 180mAh battery
Brighter display with 500 nits
Xiaomi has continuously increased the screen of real estate with each iteration of the Mi Band. With a 1.62" AMOLED display, you now have about 25% more screen display compared to last year's version which had a 1.56" screen. The icons and text font are noticeably bigger and brighter as well. The resolution has been bumped up from last year's 152 x 486 pixels, 450 nits to 192 x 490 pixels and upto 500 nits.
This makes the screen a little sharper and crisper than the previous model. The animations are also a lot smoother thanks to a faster Dialog 14706 processor. Even though this year's model is a few grams heavier than last year's model, it still feels incredibly light on my wrist.
While the display is bigger and brighter than last year's model, you still get 7-14 days of battery just like last year's model. To compensate for these changes that would obviously impact on battery, Xiaomi bumped up the battery of the Mi Band 7 to 180mAh up from last year's 125mAh.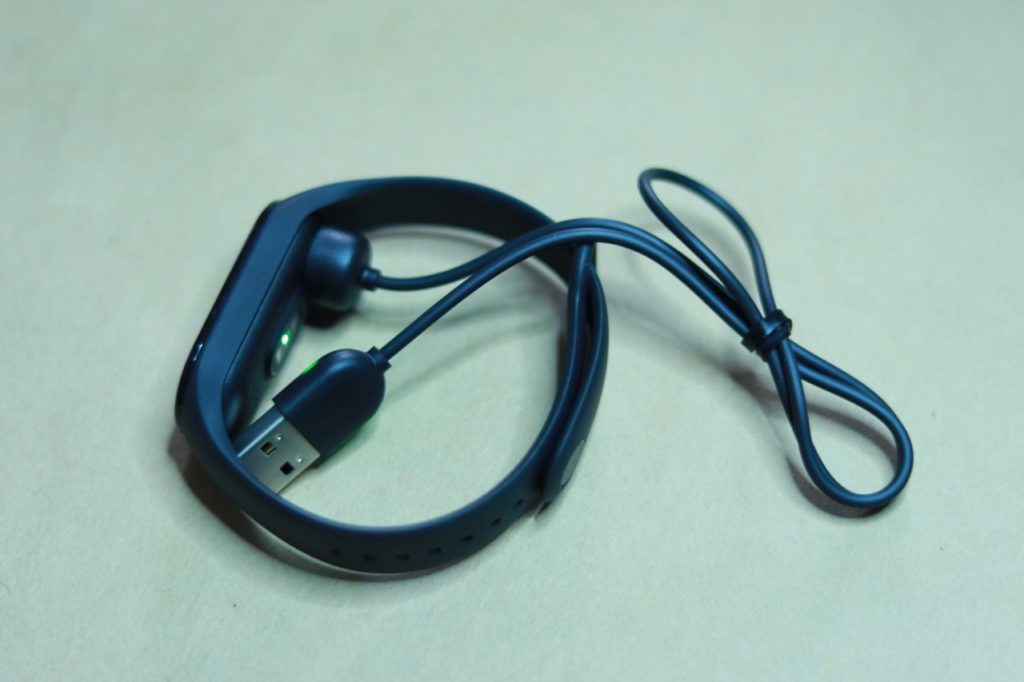 Battery usage is highly dependent on features you enable on your fitness band. For instance, having an Always-on display, continuous heart rate, or SpO2 monitoring will severely reduce the battery of the band. You might hit even 7 days with these turned on. The band is still charged by the same 2-PIN magnetic charger that shipped in last year's model.
Using the Mi Band 7 as an activity tracker has been incredibly helpful. Xiaomi has managed to sneak in activity tracking features seen on more premium brands and models such as the Fitbit charge 5. One of those features is called "Training load analysis". This feature enables you to know when it's best to work out or take a break so as to give your body some time to recover.
The band will calculate the corresponding workout load based on the EPOC (Excess Post-Exercise Oxygen Consumption) you have produced in the last 7 days in order to assess your workout. You can then adjust your next workout schedule based on the zone your score is in.
As a sedentary lifestyle tracker, the Mi Band 7 shines. It'll alert you when you've sat for long periods of time and prompt you to stand up and stretch or take walks. You don't have to set up anything, this feature is enabled by default. As a person who works in front of a computer for long periods of time, I put on the fitness band to remind myself to take those breaks for the benefit of my own health.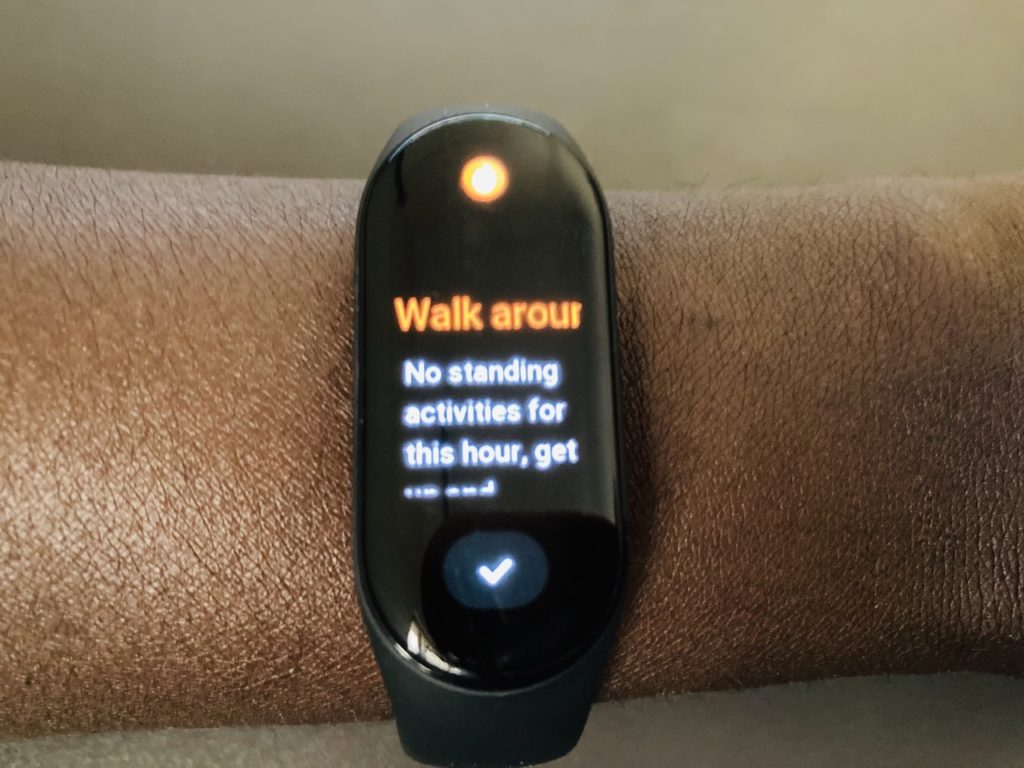 Advertisement - Continue reading below
Another fitness tracking feature I find cool with the Mi Band 7 is workout detection. With this feature, the Mi band will remind you after it detects the type of workout you selected has been going on for some time. It will ask you if it should start tracking the activity or not.
For instance, I occasionally take evening walks. Instead of manually starting the walking activity, the Mi Band 7 will automatically detect that I am walking after about 300 meters and ask if it should record the activity. If you stop walking, it'll automatically pause the activity and resume when you restart walking. Workout activity tracking is supported for outdoor running, walking, treadmill, rowing machine, elliptical.
Key features of the Mi Band 7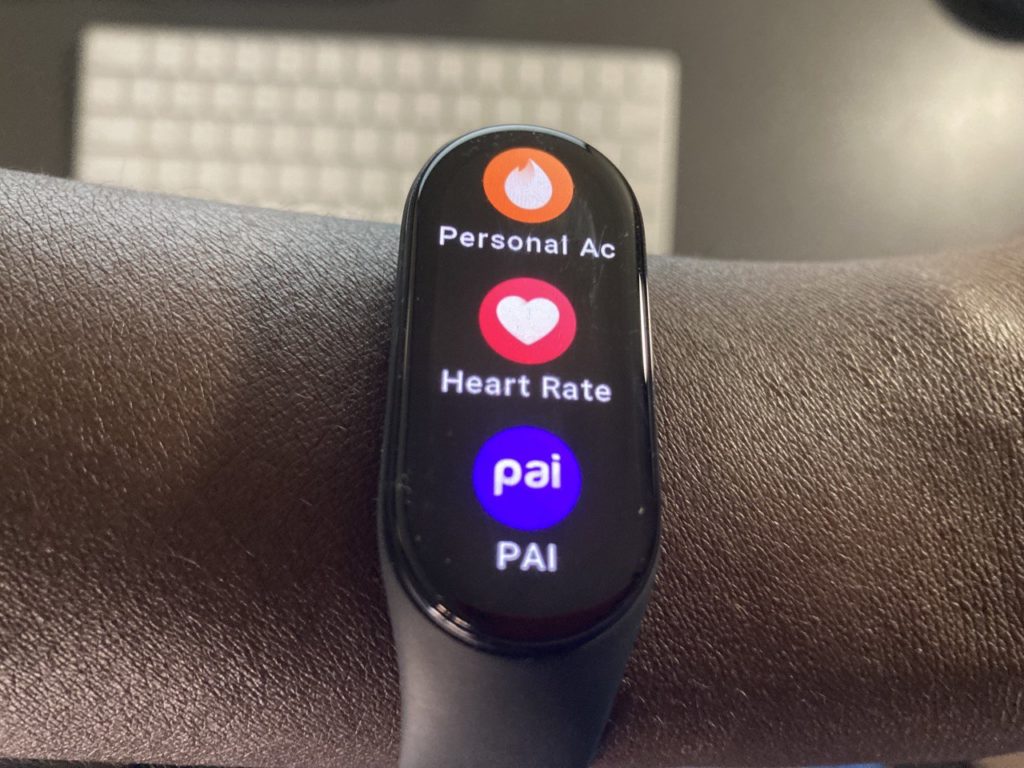 Female Health management
Personal Activity Index
Stress Level Monitoring
Deep breath exercise
Sleep tracking
Heart rate Monitoring
SpO2 Blood Oxygen Monitoring
Workout activity detection
Over 110+ Activity modes supported
Over 100 Watch faces
Music Playback control
Weather
App notifications
Flashlight
Pomodoro Timer
Phone finder
Timer and Stopwatch
One thing I noticed missing is the ability to sync the Mi Band 7 with Google Fit. This feature is only present if you use the Zepp Life App instead of the Mi Fitness App. Zepp life App is mostly used to set up budget Amazfit devices. But since it's the same company that manufactures Mi Smart Band — Huami technologies — the app will work just fine. If you're not a Google Fit user, you can sync your Mi Band 7 with Strava instead.
You can also watch our video review of this Mi band 7 below;
Price and Availability
The Xiaomi Smart Band 7 was first launched in China for about CNY 239 ($35) before the global version was released. The Global version also normally supports NFC purposes of payments. You can get the global version for $50 on Amazon or slightly less on AliExpress. If you live in India, Xiaomi usually has a special launch for the Indian market but hasn't announced the dates yet. Xiaomi has a great global presence and works with offline retailers. So if you know somewhere they sell Redmi smartphones, chances are that they also have the Mi Bands too.
Conclusion
I love the larger, brighter, and sharp display of the Mi Band 7. I like the refreshed and refined User Interface that now has a lot smoother animations thanks to a faster processor. The Mi Band 7 now packs a little more information within the band itself rather than getting everything from the companion smartphone App.
However, for $10 more, the Mi Band 7 isn't an obvious recommendation for users with the previous model. However, if you're coming from older models older than the 5th model or if you're buying a fitness band for the first time, the Mi Band 7 is an easy recommendation. If you're looking for a built-in GPS specifically, then go with the Mi Band 7 Pro. For $50 or less, the Mi Band 7 offers a lot of value that the competition can only dream of.
Advertisement - Continue reading below