The new Google Pixel 6 series has been unveiled and they are currently available for pre-order. The device is coming in as a successor to the Google Pixel 5 unveiled next year. The new Pixel 6 series comes in two models (Pixel 6 and Pixel 6 Pro). Although the Pixel 6 and Pixel 6 Pro are identical in many ways, there are features and specifications that are notably different. And in this article, we shall compare the specs and features of the Google Pixel 6 vs Pixel 6 Pro.
Related Article: Google Pixel 6 Series: Here's What's New
Advertisement - Continue reading below
Design/Display
First, both smartphones come in different sizes. The Pixel 6 is a 6.4-inch Full HD display with a 90Hz refresh rate, while the Pixel 6 Pro is a 6.7-inch QHD screen that features a 120Hz refresh rate. Also, the Pixel 6 has slightly large bezels (83.4% screen-to-body ratio), while the pro version has thinner bezels (88.8% screen-to-body ratio) with a curved screen. Both smartphones also come with an In-display fingerprint sensor.
When you look at the rear of both smartphones, you will notice that Google adopted a new design for the camera tray. It is now a rectangle-shaped camera bar that houses the cameras. They both rated IP68 for dust and water resistance. They also do not come with a headphone jack. And there is no micro SD card port on either device.
Processor/RAM/Internal Storage
Both smartphones come with Google's brand new processor, the Tensor Core processor – a complete change from the usual Qualcomm processor you will find on a typical Google Pixel device or any other high-end smartphone. come with Google Tensor. Google says with this, it'll be able to optimize the chipset to make the most of the hardware of the Pixel 6 and Pixel 6 Pro. The Pixel 6 is backed by 8GB RAM, while the Pixel 6 Pro is backed by 12GB RAM which will definitely give you a better multitasking experience. Both devices are available with 128GB/256GB internal storage
Camera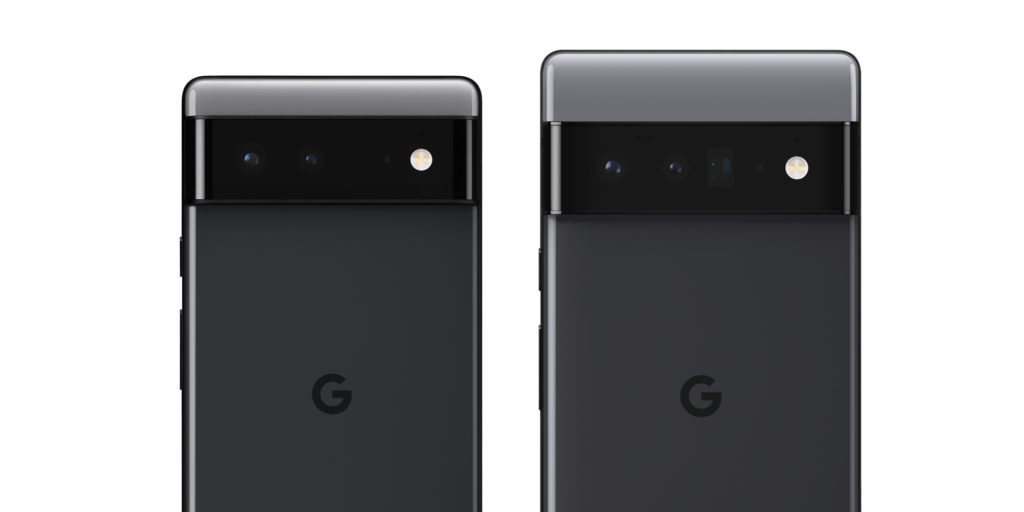 The Pixel 6 shares the same 50 MP main camera and 12 MP Ultra-wide camera with the Pixel 6 Pro. And exclusive to the Pixel 6 Pro is the 48 MP Telephoto (4X Optical Zoom) lens. For the selfie lens, you get an 8 MP single selfie lens, and on the Pixel 6 Pro, there's an 11.1 MP lens. Both smartphones can shoot in 4k at 60fps with the rear camera, while the front cameras can also shoot in 4K, but at 30fps.
Battery
The battery on the Pixel 6 Pro is significantly larger than the regular Pixel 6. It is a 5000mAh non-removable battery. While a 4614mAh non-removable battery powers the Pixel 6. To support that, you get 30W wired charging on both smartphones (0%-50% in about 15mins). Both smartphones also support wireless charging and reverse wireless charging so you can top up your Pixel buds or other accessories.
Google Pixel 6 vs Pixel 6 Pro: Specs Sheet
| | | |
| --- | --- | --- |
| | Pixel 6 | Pixel 6 Pro |
| Display | 6.4-inch Full HD, 1080×2400 px + 90Hz Refresh rate | 6.7-inch QHD + 120Hz Refresh rate |
| OS | Android 12 | Android 12 |
| Processor | Google Tensor | Google Tensor |
| RAM | 8GB | 12GB |
| Internal Storage | 128GB | 128GB, Up to 256GB |
| Battery | 4614mAh | 5003mAh |
| Fingerprint Sensor | In-display | In-display |
| Camera (Rear) | 50 MP main camera + 12 MP (ultrawide) | 50 MP (wide) + 48 MP (telephoto) 4x optical zoom + 12 MP(ultrawide), |
| Camera (Front) | 8 MP (wide) | 11.1 MP (ultrawide) |
| Price | $599 | $899 |
Finally, starting at $599, the Pixel 6 is $300 cheaper than the Pro model which starts at $899. At the moment, both smartphones are available to pre-order, and shipping will begin on the 28th of October. You can pre-order yours on Amazon right now.
Advertisement - Continue reading below