8BitDo is an old hand at releasing instantly lovable 3rd party retro-themed game controllers. This is no gimmick though. The controllers such as their latest flagship the 8BitDo Pro 2 are unquestionably premium in feel, have heft, and pack a plethora of features to win over any gamer worth his salt.
For only $49.99 on Amazon, you can get your hands on the 8BitDo Pro 2 which works on Windows, macOS, and on Steam, Android and iPhone, Raspberry Pi, and the Nintendo Switch. Changing between devices is as easy as switching between the input modes via a button at the back. All you need to remember is that S input stands for Switch, A is for Apple (macOS), D is for Android (DirectInput) and X marks the spot for Windows 10 and above.
Advertisement - Continue reading below
For a more in-depth look at how to set up the 8BitDo Pro 2 controller, please check out our tutorial.
Old dog, New tricks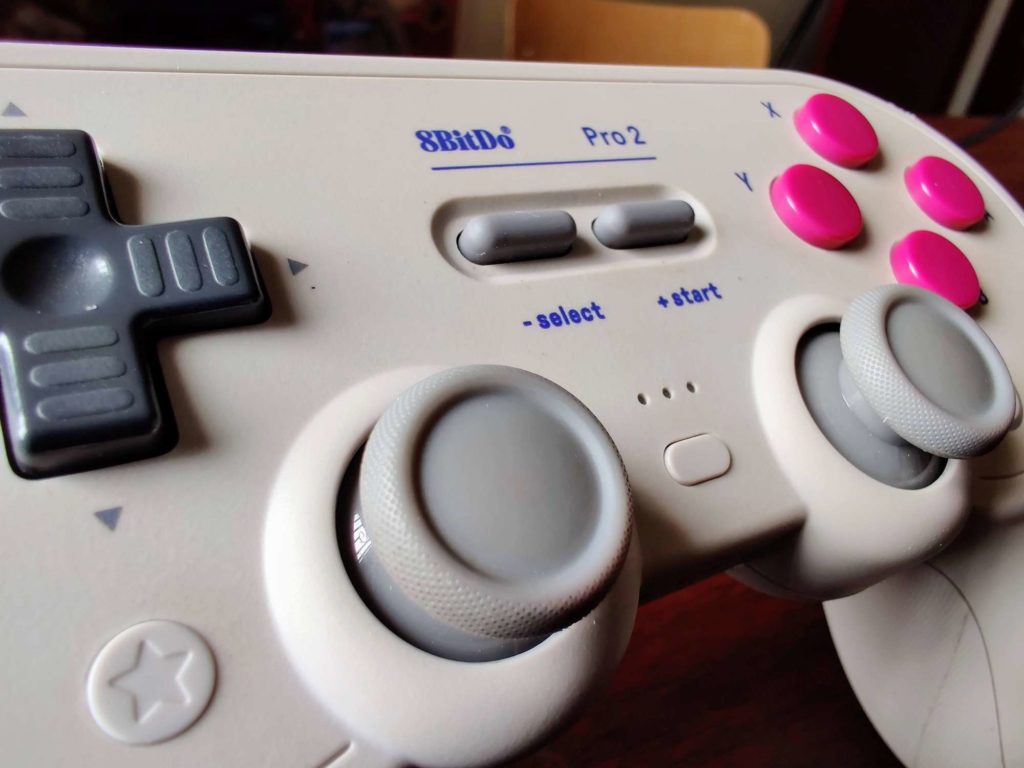 To the casual eye, the 8BitDo Pro 2 gives off some serious Game Boy and Super NES controller vibes and that's by design. It's actually a mishmash of the look and feel of various controllers that give it that familiarity you can't put a finger on. The greyish (or black) face gives way to a textured back to give you a firmer grip. The longer ergonomic handles allow for longer more comfortable gameplay.
If you've been following 8BitDo's journey, you'll see a spitting resemblance to the SN30 Pro+ albeit without the Profile button. The Profile button allows you to switch between different configurations based on the game you are playing or your preference.
There are two extra programmable buttons at the back (P1, P2)that come without any designation but you can always set them to do…whatever. Being new to this, I haven't yet found a use for them, but I am sure I will find a few in the coming days and weeks of use.
---
Related:
---
8BitDo Ultimate Software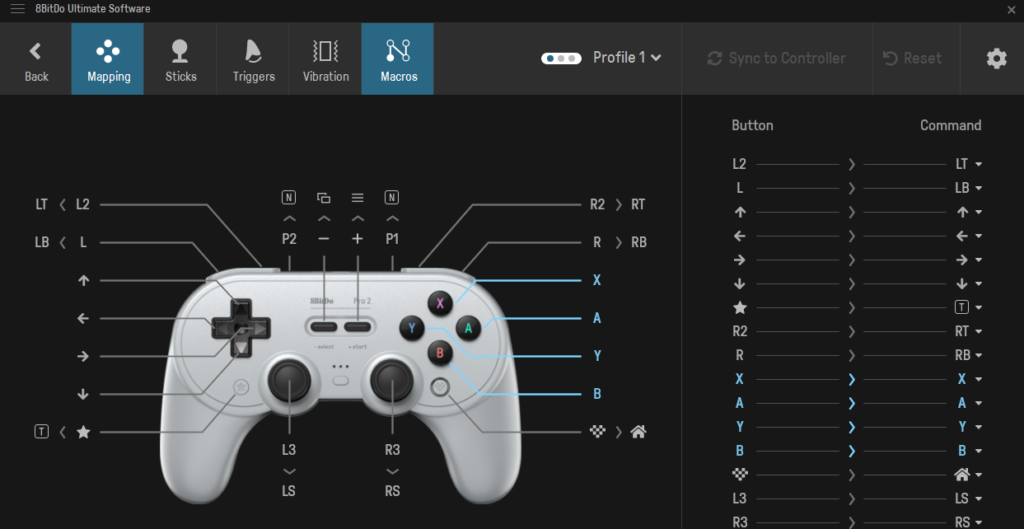 The controller doesn't stray too far from the norm with its button arrangement. It favors the Nintendo Switch A/B/X/Y layout. Playing games on Android and Windows switches the buttons from AB to BA and XY to YX. You can get used to it pretty fast as I did. But here's the thing; you don't have to.
Advertisement - Continue reading below
The 8BitDo Ultimate Software available for Windows, macOS, Android, and iOS allows you to customize the button mapping, adjust stick and trigger sensitivity, vibration control and create macros with any button combination of your choosing. Personally, the first thing I did was to change the button setup to Xbox and reduce the vibration. The default maximum setting was rattling my bones for no valid reason.
The 8BitDo Pro 2 saves up to 3 profiles accessible by simply pressing the profile button. Once you exit the Ultimate Software app, the profile changes will take root. From then on, you can tell which profile you're rocking by the white LED light next to the profile button.
Updating firmware is another thing you can do whenever you connect your controller via USB. It's quick and seamless to the point that it's almost unnoticeable.
Game Play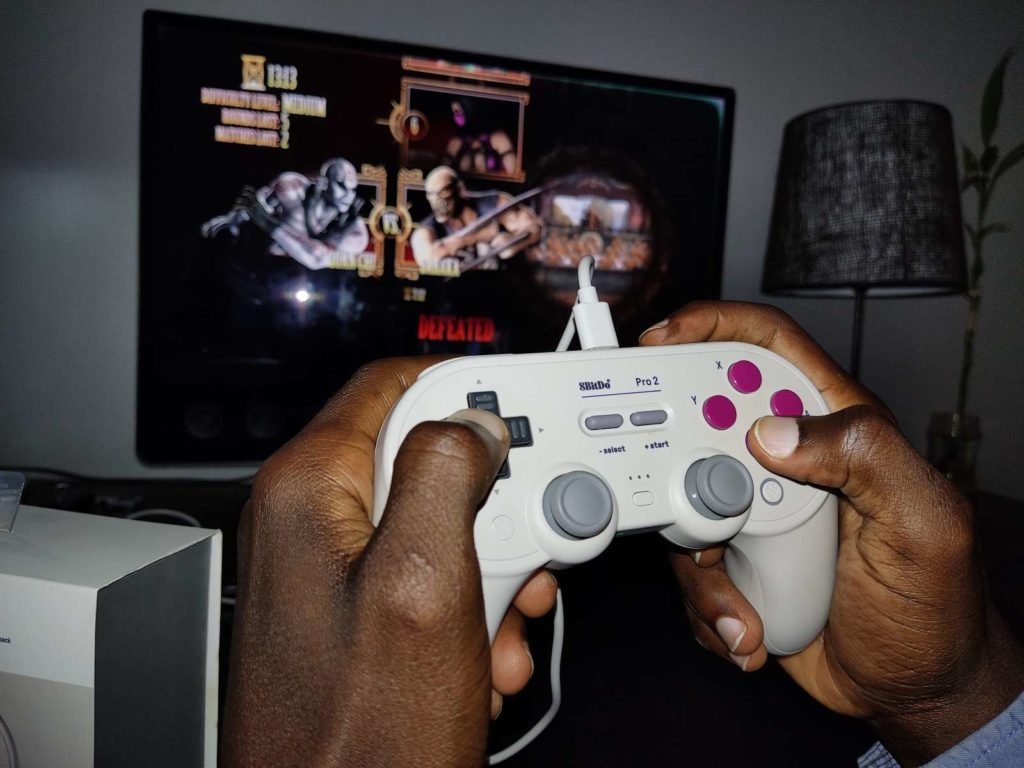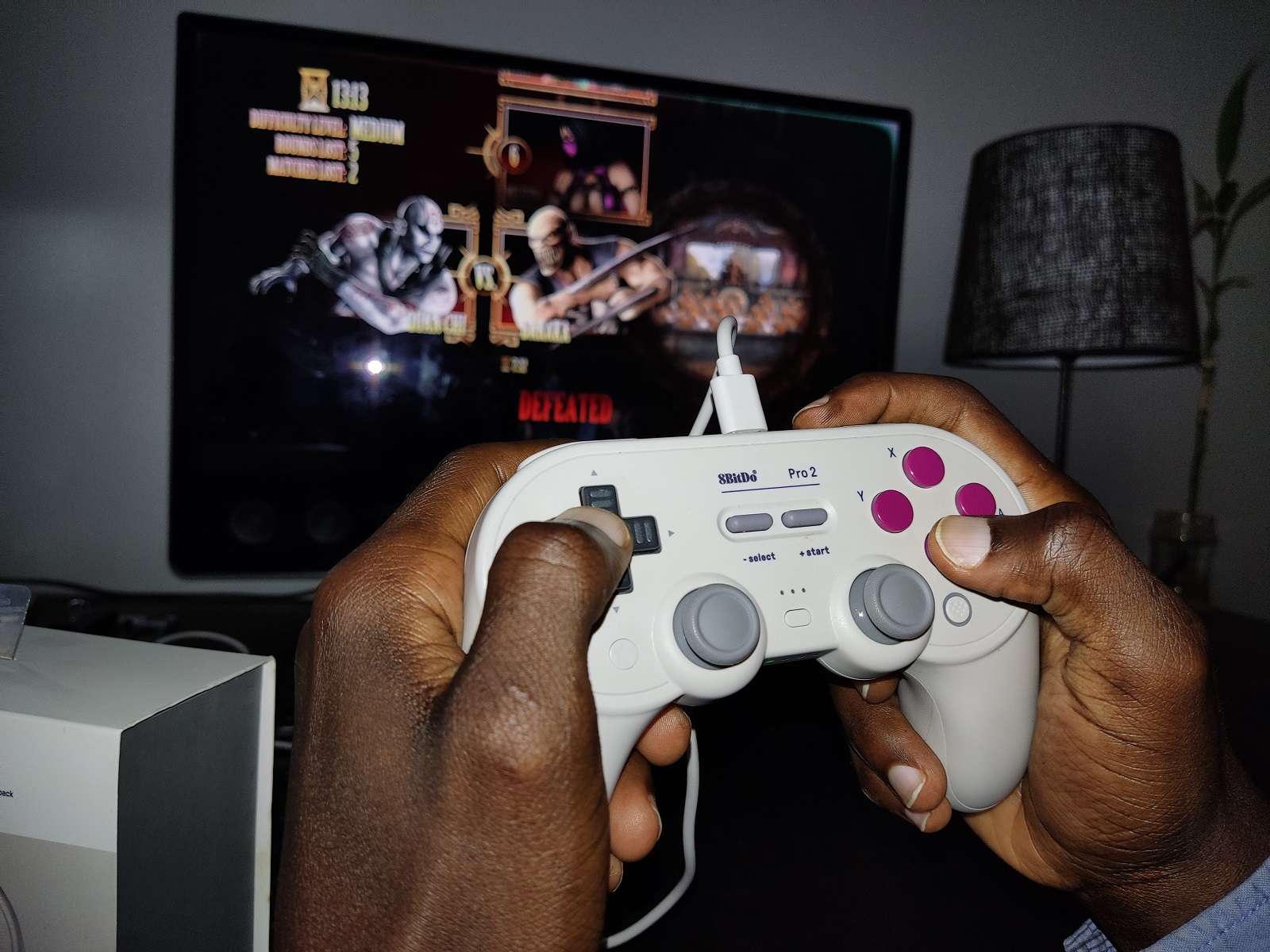 Being a jack of all trades, the 8BitDo Pro 2 does a lot but in so doing, might not specialize in certain features when compared to some of the competition.
For instance, on the Nintendo Switch, the controller doesn't have HD Rumble or NFC, and won't wake the console from sleep like the Nintendo Switch Pro or Joy-Cons. It does support motion controls though. OEM controllers don't have to please everyone so they have an easy time of it.
If you are one for mobile gaming, you can buy a smartphone clip so you don't have to prop it somewhere like an amateur as you play your favorite games. Unfortunately, I didn't order it as of writing this review but that didn't stop me from enjoying myself. My only hang-up with playing mobile games is how hot my smartphone gets with the kind of heavy games I love to play.
Battery run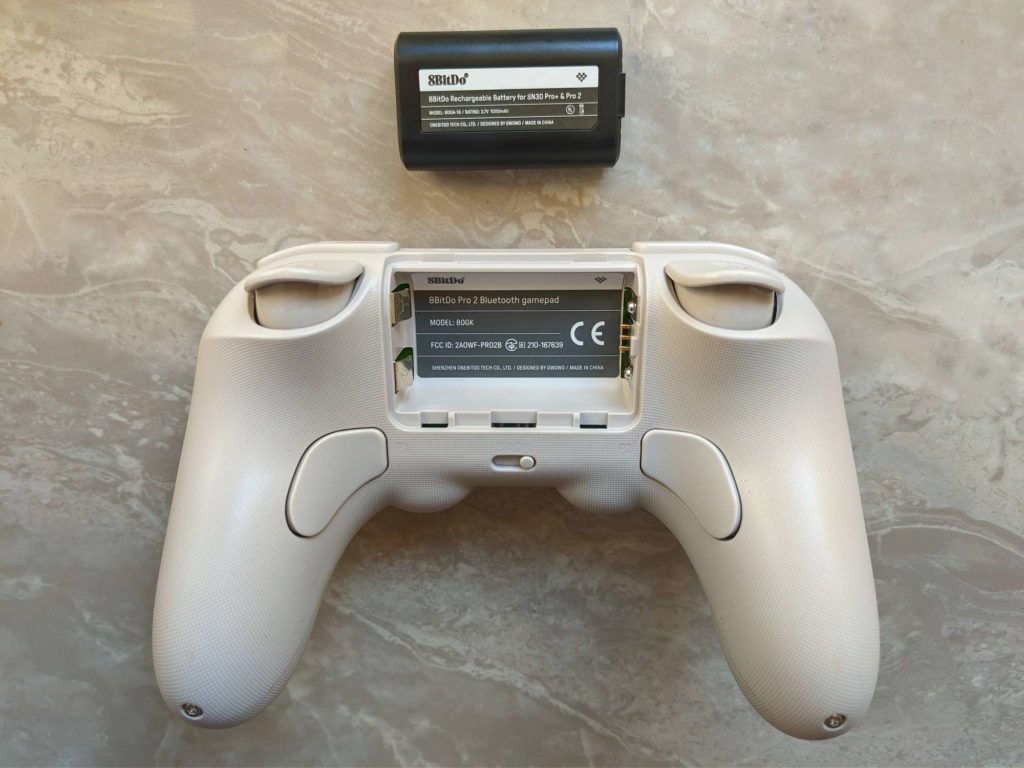 8BitDo promises up to 20hrs of battery life on a full charge with its 1000mAh battery pack. Charging time is four hours but you can top it up here and there with no problem. I have to say that I haven't yet put that to the test. On PC, I am most comfortable plugging in the USB-C to Type-A cable that comes with.
As far as I can tell, it doesn't appear like you can buy replacement battery packs from 8BitDo yet. On the plus side, you can replace the battery pack with two regular AA batteries if need be. Not that it's something you need to worry about anytime soon. The battery pack should be good for a few years yet.
Advertisement - Continue reading below
8BitDo Pro 2: Final Verdict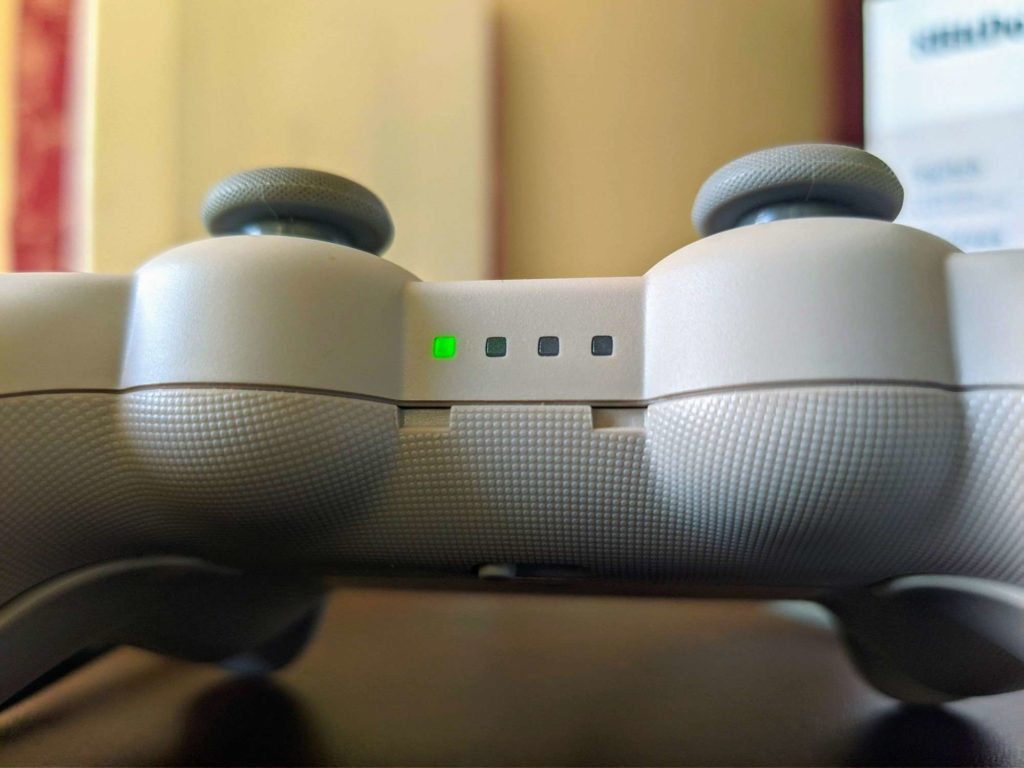 By all accounts, the 8BitDo Pro 2 is the SN30 Pro+ with a few more tricks. Who says you can't teach an old dog new tricks. You get the ability to add and switch profiles at the drop of a hat, two extra buttons at the back, and the input switch for different devices.
The 8BitDo Pro 2 has just the right amount of leg to grip and just the right amount of feedback to the buttons and the triggers that after a while, it just disappears from your conscience. With the Ultimate Software app, you can customize it any number of ways and that's an attractive offer I can't refuse.
As someone who abhors clutter, being able to customize my controller means that I don't need to use different controllers when different playing games. The 8BitDo excels at this.
However, remember when we said earlier that the 8BitDo Pro 2 gives off serious Game Boy vibes? I would say that this controller imitates bits and pieces from other controllers like the PS4, Switch, and SNES for it to be what it is. But even so, it doesn't lose sight of the assignment. As a matter of fact, the 8BitDo Pro 2 is still perfect for SNES and other classic games but also works well enough as a modern controller with excellent ergonomics.
Now, wait till the nostalgia kicks in. Get the 8BitDo Pro 2 gaming console from Amazon for just $49.99.