Summary
The Tecno R7 review is one of the most interesting we've done so far as the R7 isn't your everyday device. The Tecno R7 is Tecno's answer to all the feedback they have been getting about their phones. Famous for its speedy 1.5 Ghz Mediatek Hexacore processor, 2GB of RAM, 16GB ROM at a price that won't break the bank or your wallet, The Tecno R7 is a Dual-SIM phone only 8.4mm thin and very light too (weight not verified). It comes with a 2430mAh battery to power it, a 5200mAh battery bank to keep you juiced up, a smart cover and a 13 month warranty.
The R7 also features a 5.5' IPS HD display, a 13MP back and a 5MP front Camera that take crisp images. Both Cameras have been customized for low light situations too. All these features not forgetting the speed and power make the R7 the perfect replacement for your current smartphone.
Advertisement - Continue reading below
Regardless of the bells and whistles of the R7, it seems a little absurd to sell such a powerful device without the latest Android operating system (Kitkat). Many have also argued against the necessity of 6 cores with a 1.5Ghz clock speed but well that is up for debate. We wrote about our first impressions with the Tecno R7 and If you read that already, you can just continue to the complete Tecno R7 review below.
In the Box:
The R7 comes with a screen protector pre-installed
A 2430mAh battery
A 5200mAh Power Bank + USB Cable
A Smart Cover
One Pair of Earphones
A Travel Charger + USB Cable
A phone Manual
A 13 Month Warranty Card
A Palm Chat promotional flyer
Specifications
Released: March 2014
Available: April 2014 (in Uganda, Kenya, Ghana, Nigeria – Africa)
Colors Available: Black
SIM: Dual SIM
Operating System: Android 4.2 Jelly Bean upgradable to 4.4 Kitkat
Network: GSM/DCS/WCDMA
Band: GSM900/DCS1800MHz/850M /1900M/WCDMA
CPU: 1.5GHz 6-Core Processor MediaTek 6592 Processor
Memory: 16GB ROM, 2GB RAM, Micro SD Slot expandable up to 32GB
Battery Capacity: – 2430mAh, Talk time – Not Verified, Standby time – Not Verified
Data: GPRS, EDGE, 3G, 3.75G
Dimension: 158*78.5*8.4m
Weight: Not Verified
Camera: Front-facing camera: 5.0MP BSI FF, Rear-facing camera: 13.0MP BSI AF Flash Light, Video calling and recording.
Display: 5.5"IPS with a 720*1280 Resolution
Entertainment: FM radio, Voice recording, E-book reader, Built-in games
Connectivity: GPS navigation, WIFI(WLAN), Bluetooth V.3.5, 5 pin Micro USB port, 3.5mm Earphone jack.
Sensors: Gyro -sensor, Light sensor and Proximity sensor.
Common Tools: Torch, Calculator, World clock, Alarm, Memo, Calendar.
Multimedia: Audio format – MWAV/MP3/MIDI/APE/MP2/AMR/FLAC
Ringtone format – MIdI/MP3, Video format – AVI/3GP/MP4/MKV/WEBM
Image format – BMP/JPG/GIF/PNG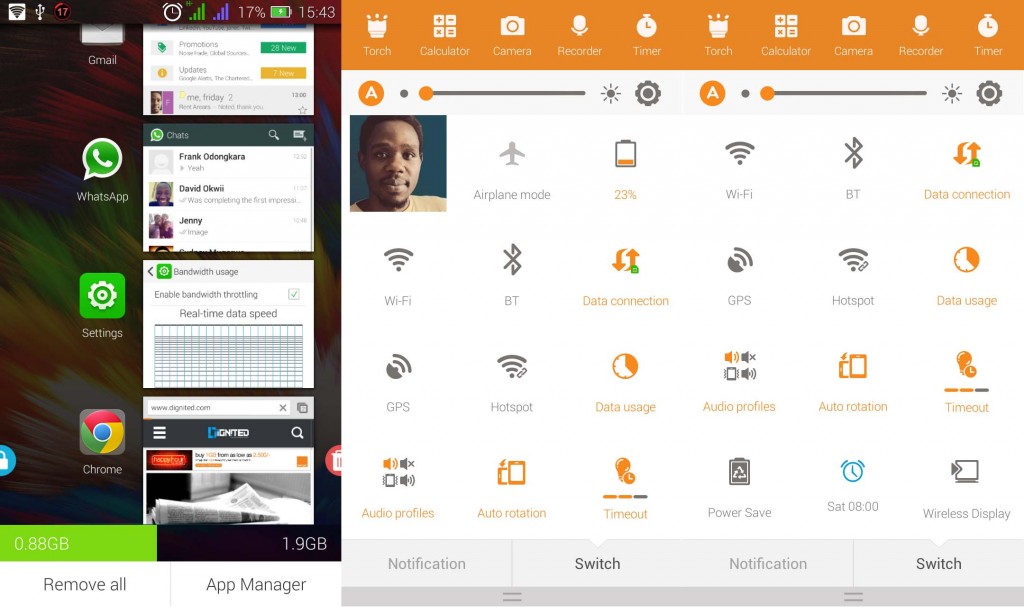 New Interface Tweaks and Features
New UI
Its interesting how Tecno isn't officially touting its new User Interface or lets say owning it but after seeing it first on the H5 then the H7 and F5, we can boldly say that they have their own custom UI. Even though we believe that it can be improved, we love it and I believe its a step in improving the user experience. Tecno has added some quick access buttons to major features like Settings, Music and Radio that you can easily get to by just a few swipes. They have also improved the notifications panel adding a torch, Calculator, Camera, Recorder and Timer. We are doing a complete review of the new UI that will be ready soon.
Answer/Mute Calls and Browse through the Menu with "Air Gesture"
This is a new feature that lets you answer calls or browse the phone menu by just waving your hand over the phone. Operating the phone without actually touching it was very interesting except that it feels like they did not complete the technology. I was hoping that I could also wave my hand to browse through Photos Music and Videos and be able to play them without touching the phone, but I couldn't.
Advertisement - Continue reading below
Apart from the Air gesture, you can also mute calls by flipping the phone upside down or tilt the screen on either side to go from one page to another of the menu. Apparently you can also call contacts displayed on the screen without touching it but we never got to experience this.
Power Saving Mode
Tecno was wise enough to add a power saving mode that helps you preserve battery when you need it the most. When activated, the power saving mode switches off data, dims the screen, closes major background apps and even limits CPU performance to conserve battery.
Wireless Display
We also weren't able to experience this but we believe that this is an equivalent of "MiraCast" where you can share your screen onto another device or display wirelessly.
Security – App Permissions
We also found a new feature in the security settings that informs you about what every app on your phone is trying to access giving you the option of stopping that app from accessing the information or data requested.
USB OTG: Access a USB flash disk from your phone
USB On-The-Go abbreviated USB OTG is a feature that allows USB devices such as digital audio players or mobile phones to act as a host, allowing other USB devices like a USB flash drive, digital camera, mouse, or keyboard to be attached to your phone. What this means is you can actually connect a USB flash drive or other device to your phone like you do on a PC.
Inadvertently Mode: Avoid unintended triggers on your phone
I used to worry much about my phone operating itself when in my pocket. Actually one time I made calls and sent weird text messages to unintended people. Tecno has introduced a feature they are calling Inadvertently Mode that disables the screen from being sensitive to touch when in your pocket its like "Num Lock" on your Keyboard
Over The Air (OTA) Updates finally supported
Tecno recently started supporting OTA updates meaning that you can now update your device to the latest Operating System. We have had reports of people who have actually had updates even though not to Kit Kat the OS.
Display: 5.5' Screen – Lower resolution but its IPS with Corning Gorilla Glass
There is something about a huge bright and colorful display that is just so attractive. Tecno has added 5.5 inches to the R7 screen qualifying it to be a phablet (Intersection between Phone and Tablet). Tecno is continuing the IPS display legacy and this time including Corning Gorilla Glass to make the screen tougher and less prone to scratches.
Advertisement - Continue reading below
Unfortunately this was all at the cost of resolution. The R7 has a 720*1280 Resolution and 320 DPI. We loved the display which was big enough for work and play since we enjoyed processing our documents and spreadsheets not to mention browsing the web among others — the screen was big enough for all we needed to do.
Design: Lovely Design but an all plastic body was a turn off
The R7 is Slim and very light  and as much as this is a good thing, We didn't feel so good about it being so light. It made it feel like it would easily slip out of my hand.
I am actually impressed with Tecno's design trend but what I didn't like is that there seems to be some regression here. From the Tecno Phantom A+ design we look at aspects of functional design — It was slim enough to be aesthetically pleasing but was also functional as the back cover was poly-carbonate that was dust and fingerprint proof. Even with a couple of falls, the Phantom had very few scratches or bumps because of a the Solid design.
The All plastic body makes the R7 look fragile and takes away the would be premium feel for such a powerful device. Here we are looking a fully plastic shiny back cover that is a fingerprint magnet.
Once again Tecno has eliminated the dedicated Camera button that gives quick access to the camera and makes taking selfies easy
Performance: 2GB RAM, 16GB ROM and 6 Cores is more than the power you need
When buying a phone today, depending on one's needs, we all want a phone that is fast and not slow allowing us to install as many apps as we want. With the Tecno Phantom A+, we only went so far and after installing a certain number of apps the phone begins to warn you about low memory and becomes a little unresponsive at times.
It is for this reason that we were looking forward to a Tecno phone with more RAM and ROM. Tecno finally listened to our concerns  and released the R7. This Hexacore mobile beast has enough Memory and RAM to stay fast and fluid.
Advertisement - Continue reading below
That said, our experience with the R7 was actually smooth and fast with a few glitches. As always we installed as many apps as we could since we had enough RAM and ROM to do it.
We also installed games Temple Run, Angry birds among many others that we tested to gauge how the R7 would perform and we had a good gaming experience with no games freezing.
The downside is that 6 cores with a clock speed of 1.5 GHz basically leaves a number of cores asleep. A Quadcore processor with a clock speed of 2.0Ghz would perform better than a Hexacore with with a lower clock speed. Its like a 250 Horsepower vehicle that can go at 250 miles per hour but will not.
Pre-installed Apps
Like all Tecno phones, The R7 comes with a couple of pre-installed Apps. Apart from the normal Google Apps like Gmail, Maps, Google Plus, Hangouts, PlayStore, YouTube, Stock Browser, Email Client, Calendar, Calculator and Recorder.
The Tecno also comes with Facebook, Opera mini, UC browser, Carlcare, Flash share, Palmchat, Gameloft, WhatsApp,  BackUp and restore App, Blackberry's BBM messenger, Du Battery Saver Pro version, a Wallpaper and themes app, Chrome Browser and GO keyboard.
Camera: Better and Faster
We earlier complained about about the lack of image stabilization in the later models of the Tecno including the H7. Even though the R7 doesn't have image stabilization there's something about it that we liked particularly.
it's not only the 13MP back and 5MP front camera that make the R7 wow, Tecno also this time embedded BSI (BackSide Illumination) technology that improves a camera's low light performance. Both the back and front camera have BSI embedded making the new Tecno camera better in comparison to the Tecno Phantom that didn't have this improvement.
The R7 camera settings allow you to manipulate exposure, White balance, ISO and multiple color modes among others. Tecno also added Touch and Voice capture to the R7 that lets you capture an image by touching any part of the screen or by just saying "Capture". Another new feature is the Photo frames that superimposes a frame from which you then can take an image giving the photo a different feel. Another feature the R7 has over the H7 and Phantom is that it can shoot Video with the flash on something so simple yet both the Phantom and H7 couldn't do. so this means that you can shoot Video at night too
Advertisement - Continue reading below
There is also a definite better image quality in the R7 compared to the H7 and the Phantom. The images are more vivid and have a better resolution than before. Another very important feature the R7 camera packs is that it has a faster shutter speed which coupled with the BSI technology make for great pictures in both good and low light situations.
Entertainment: Great sound with Digital Dobly and Movies on IPS display
When it comes to entertainment the R7 has you covered. From the bright and vibrant 5.5' IPS HD Display, the FM Radio to the Dolby Sound and a better Speaker output, the R7 becomes your entertainment hub. The R7 also has 16GB Memory and an 8GB SD Card on board that will allow you put all your Music, Movies and Pictures in one place for your viewing and listening pleasure. The R7 like many Tecno phones will allow you playback Movies and Music in multiple formats
The pre installed games help you get started but if you don't like them, you can have all the games you want installed.
Battery: 2430 mAh Battery with a 5200 mAh Battery Bank
Of course we were happy about the more mAhs added to the battery. The difference is that the bigger screen is also a big battery guzzler and is even worse with 3G turned on.
We love taking batteries to the test to see how far they can go and when we put the R7 battery to the test, this is what we came up with. We were impressed about the fact that the battery charges really fast but like many smartphone batteries it cant hold for so long.
On 3G and with heavy usage, we had about 5 hours of battery. Heavy usage involved a steady stream of calls lasting between 2 to 15 minutes. We were also browsing the web  on 3G most of the time while also tethering a connection to two extra devices. As usual we took music and movie breaks and this time even listened to radio. This we did over a couple of days just to make sure the results were consistent. With 3G turned off we approximate that R7 could actually take you for more than a day or two at maximum. We also used the Battery Saver feature in the process that made 20% battery last for upto 5 more hours.
We were also impressed with the 5200mAh power bank that in comes in handy when the battery is running dry. The Battery Bank delivered one complete charge to the R7 and had some extra power for emergency. However, the one complete charge only happened when we charged the phone without using it. The Power bank also doubles as a torch that Tecno claims lights for a max of 70 hours.
Price & Availability: Now available in Uganda, Nigeria and Kenya
The R7 is now available in Uganda after having been unveiled in Nigeria and Kenya first. It's being sold at major stores although is not yet available around the upcountry stores yet. The Tecno R7 is going for 850,000 Ugx (About $322, 52,500 Naira, 28,500 Kshs) The price may vary a little depending on where you buy it from.
Benchmark Tests
In this review we were particularly interested in Benchmarking the R7 against other popular powerful devices around the globe. We used the AnTutu App for Android and even though it gave a lot of varied results it confirmed a couple of things too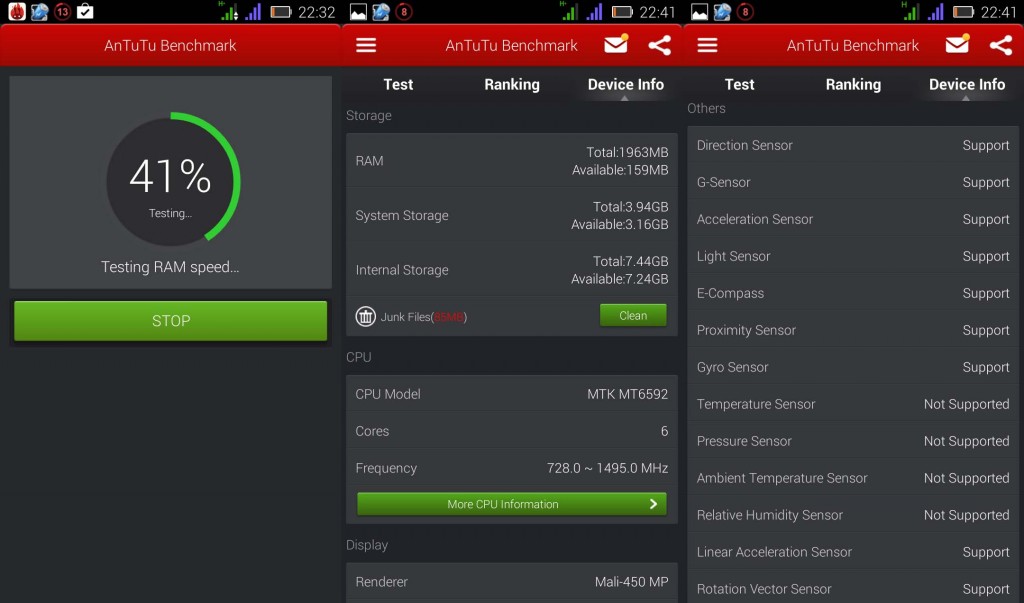 Advertisement - Continue reading below
As you can see from the Tests, the Tecno R7 is rated better than when compared with the Samsung Galaxy Note 2, galaxy S3 and the Redmi with a CPU that supports large apps, multi-tasking and RAM that is excellent for 2D/3D Graphics
What We Liked
More Ringtones
Better Speaker output with Digital Dolby Sound
New UI
Inadvertently Mode that prevents my phone from operating itself in my pocket
Bigger HD IPS display
More RAM and ROM
Better Camera with faster shutter
5200mAh Power Bank
Smart Cover
Fast Charging Battery
Affordable Price and Availability in more African countries
What We Didn't Like
All Plastic Body
Low clock speed for 6 cores
Shipping with no Android kitKat