Google just relegated the 3.5mm headphone jack on its new Pixel 2 device, following the footsteps of Apple's firm stand on the same. In return, to disgruntled fans and any possible disappointments, a pair of devices has been designed to not only let you listen to the music, but also bring out the best of two Google tools – the Assistant and Translate. This pair is the Pixel Buds, two pieces linked together by a cloth cord worn over the neck yet linked to the phone via Bluetooth.
These are Google's first wireless earbuds, built to be used with the new Pixel smartphones, but also made to allow a user swift access to Google Translate for easier conversation with people speaking a different language. They will employ the translation tool to encompass conversations in 40 differing languages.
Advertisement - Continue reading below
Google says the buds have "a unique fabric loop, making them comfortable, secure, and quick to adjust without having to swap out pieces."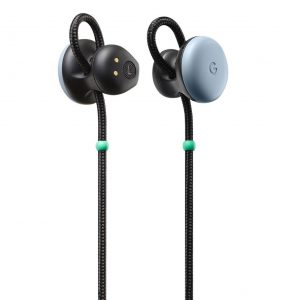 These buds can translate between languages in real time using Google Translate on the Pixel. It's more like a personal translator with you in every locality you go to.
Related: Pilot is a smart language translation earpiece by Waverly Labs
"Say you're in Little Italy, and you want to order your pasta like a pro. All you have to do is hold down on the right earbud and say, "Help me speak Italian." As you talk, your Pixel phone's speaker will play the translation in Italian out loud. When the waiter responds in Italian, you'll hear the translation through your Pixel Buds," stated a blog post on the ear buds.
To pair them with a mobile, you just open the charging case near your Pixel or Android phone running Android 7.0 Nougat and above aligned with Google Assistant, and your phone will automatically detect them and ask you if you want to connect. A tap on the notification completes the pairing.
Advertisement - Continue reading below
The Pixel Buds have in-built controls aligned to the right earpiece.  Access to Google Assistant is just by tapping on the right earbud, and your notifications and messages will be able to read to you through the Buds. Touching and holding it also let's you to ask your Assistant to play music, make a phone call, or get directions, all without having to bring out your phone from the pockets.
They actually have no buttons hanging on the cord. All you need to do, when playing the music, is to just swipe forward or backward to control volume and tap to play or pause your music.
Pixel Buds are said to carry a battery that lasts five hours on a single charge, with the charging case capable of holding up to 24 hours of battery life.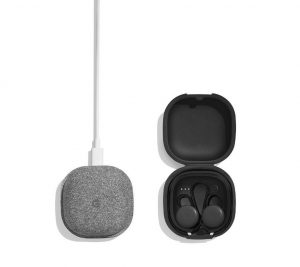 Google's Pixel Buds will be available by November for $159 in blue, white, and black.
Images: Google