Samsung continues to dominate and for the most part, dictate the trajectory of the foldable smartphones in the market today. Over the past few generations, we have seen the company slowly iterating on the tried and tested form factors in form of the Z Fold line and Z Flip line of devices.
Earlier this month, we saw Samsung unveil the new generation of its foldable devices, the Samsung Galaxy Z Fold4 and Samsung Galaxy Z Flip4. These devices go to further solidify Samsung's position as the king of foldable while fixing issues and defects found in previous versions of these devices.
Advertisement - Continue reading below
---
Related:
---
These foldable are a novelty in the tech industry today and many techies, fashionistas and more can't wait to get their hands on these devices. Well, good news for customers in Kenya as there might be a way to get your hands on one of these baddies after all.
Today, Safaricom is allowing customers in Kenya who are interested in getting one of these new generation foldable devices for themselves, a way to pre-order. Through its masoko e-commerce platform, Safaricom hopes that prospective owners of these devices will choose to purchase on their platform instead of importing units from the west.
How to Pre-order Galaxy Z Flip 4 and Z Fold 4 in Kenya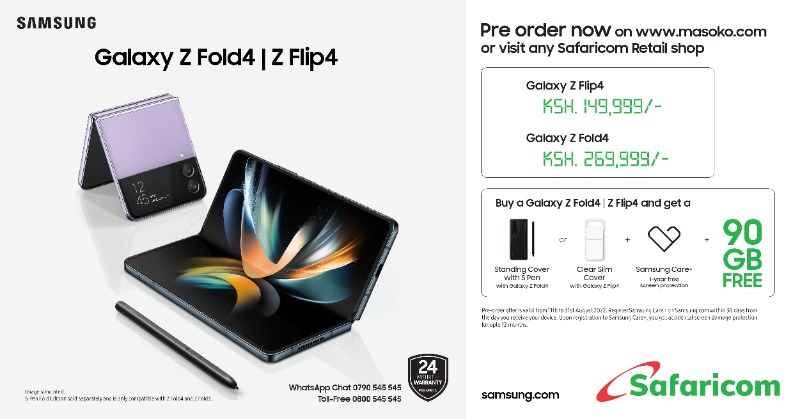 As mentioned, this offers is available through Masoko. All you need to do is visit the platform and check out the official Pre-Order page on the platform. Below are the links.
These are premium devices and as such, will come with a premium price-tag to match. The Galaxy Z Flip4 will run you KES 149,999 while the Galaxy Fold4 will cost you KES 270,000. These will come with a free standing case and a standing clear case depending on the model you go for. You'll also get a year subscription to Samsung Care+ and 90GB of free data.
Advertisement - Continue reading below
The smartphone market has stagnated for the past few years. This, as all OEMs strive to deliver iterative enhancements and improvements to their already existing models. It is refreshing to see Samsung pushing the envelope and running with the foldable form factor.
Here's to hoping we'll see more competition in this space, and perhaps more affordable offers.