Oraimo is slowly but steadily carving out a name for itself as the go-to accessories brand in Africa and the other markets where its products are available in. From quality chargers, cables, power banks to recently, hair trimmers, Bluetooth dongles and so on, Oraimo seems to be trying out everything.
Recently, we saw a device on the brand's official page, the Oraimo SoundView Portable Speaker. Of course, Oraimo has made some of the best budget TWS and Bluetooth speakers so this wasn't anything new. But then this product does have a display. So we had to try it out.
Advertisement - Continue reading below
I have been using the Oraimo SoundView Portable Speaker for the past week and in this period, some things have become apparent. In this post, I will be outlining 5 things that I like about the SoundView.
Alarm Clock Function
A small device like this with such a display serves well as a bedside clock. There are not many devices like these in the market today, let alone in this price point and to have an Alarm function is a solid plus in my book.
In this day, we have our smartphones and these devices do just about everything and we use them as alarm clocks for so long until we forgotten that there once was a product category catering to this niche. It is nice to see a device like this doubling up with the bedside alarm clock function.
Bluetooth, FM Radio, USB and SD Card Support
The audio function on the oraimo SoundView is pretty comprehensive. The device supports almost all the media input options you might need today, save for the 3.5mm aux port.
The SoundView allows you to play media from your device using Bluetooth, has a full-size USB port so you can plug in your USB drive, has an SD Card slow as well for the same function, and has an FM Radio mode for good measure.
Few devices have this much functionality and it is nice to see Oraimo throw everything including the kitchen sink at this device.
Advertisement - Continue reading below
Size
The Oraimo SoundView is a pretty small device. It easily fits in your hand, not that that's where it's supposed to be but you get the idea. It is portable enough so you can throw it in your bag should you want to move with it with no issues.
This also means that for the function it is probably better suited for, being used as a portable Bluetooth speaker, or a bedside clock, alarm, media device, it won't take too much space, and that is always a good thing.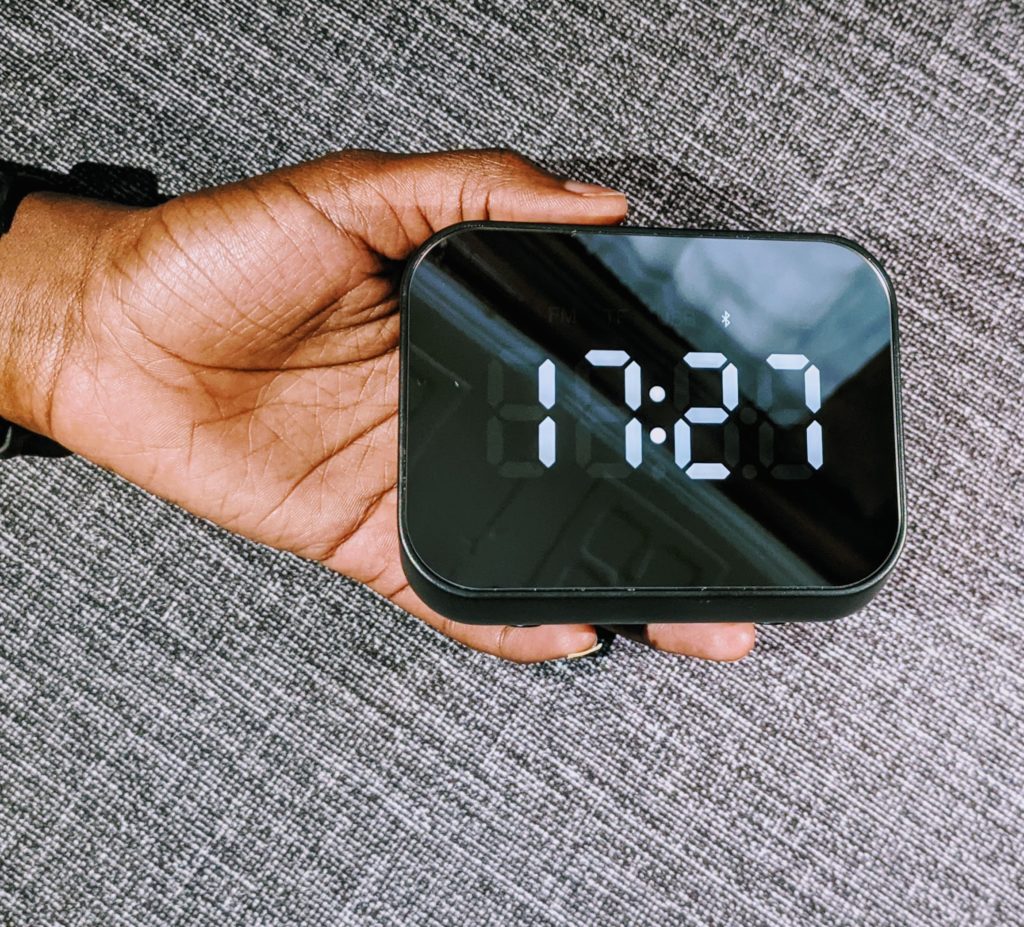 Of course one of the drawbacks for this is that you don't get a deep bass with the built in speaker but then for the functions that this gadget is probably meant for, I doubt that the sound quality is something users will be particularly keen on.
Legible Clock
The clock is not glaringly bright and you can easily and clearly see the time displayed on the face during the day.
At night, it does a good job of not illuminating the room but still remains visible. It is really nice to see oraimo deliver in both scenarios with little tweaking needed, or even available on the brightness level of the display.
USB-C
The Oraimo SoundView charges via USB-C. This means that you can charge it up using your phone's charger, or your laptop charger should it be Type C. This brings SoundView at par with almost all new products being launched in 2022.
We'd thought that Oraimo would cheap out and pack the antiquated micro USB port that some TECNO, Infinix and iTel phones still ship with. Oh how we wish to see that port be dead and gone.
Price
There's not much you can get yourself today for under $10. For that price, you get a solid beside the clock, a Bluetooth speaker that can play your tracks from USB, SD Card, can play FM Radio, charges via USB-C, and doubles up as an alarm clock.
Advertisement - Continue reading below
Admittedly, it is a simple device with little in terms of bells and whistles but for what it can do, it does it well. Plus it is an Oraimo product which means that quality is certainly guaranteed and you also get 365 days warranty should your gadget fail.
In Kenya, the Oraimo SoundView is available in select outlets for KES 1,150 or thereabout. In Uganda, this should cost you UGX 61,000 while in Nigeria, this goes for ₦ 10,000. There are frequent discounts that you can get on these products so be on the lookout for them.