We wrote an article sometime back in 2019 on how you can get verified on Twitter but since then a lot has changed. Twitter continuously changes things and as Dignited, we are committed to keeping you posted on all such changes. In this article, I am going to take you through a step-by-step guide on how you can get verified on Twitter in this day and age.
The blue Verified badge on Twitter lets people know that an account of public interest is authentic. To receive the blue badge, your account must be authentic, notable, and active.
Advertisement - Continue reading below
The Blue Badge
In the event that you've invested any energy in Twitter — or any social media, truly — you're reasonably acquainted with the blue mark of approval. These badges demonstrate confirmed accounts. As per Twitter, a confirmed account is any account of public interest that has been validated by the actual organization. Fundamentally, it's Twitter's approach to telling everybody that you are who you say you are.
Twitter's verification has generally been a train wreck. At the point when the blue mark was presented in 2009, it was basically impossible to apply for verification — Twitter needed to offer it to you supernaturally. Then, in 2016, Twitter carried out a public check program. The organization then shut applications in 2017 and didn't resume them until last year.
Do I qualify to be verified?
To be Verified, your account must be notable, authentic, and active. The six types of notable accounts we currently verify are:
Government
Companies, brands, and non-profit organizations
News organizations and journalists
Entertainment
Sports and esports
Activists, organizers, and other influential individuals
Micro-influencers, thought-provoking leaders, and small enterprises, in particular, should register for verification and obtain a blue badge so that fake handles cannot imitate them.
---
Also Read: Twitter: How to Directly Add New DM Button to Tweets
---
How to Apply: Step-by-step 
Once you've got everything you need depending on your account status. The actual application process isn't too hard. (Though whether you successfully get verified is another matter entirely.) To apply on either Twitter's web or the mobile app:
Advertisement - Continue reading below
Head to Settings and privacy. You can access this by tapping your profile picture in the mobile app or clicking the three-dot button in the left-hand menu on the website.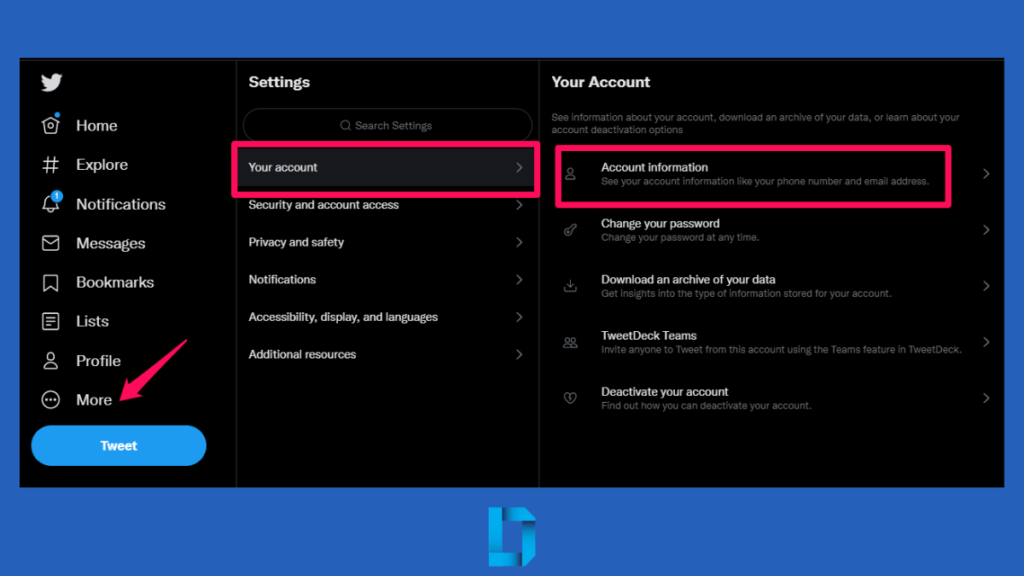 Select Your account and then Account information.
On the website, you'll be prompted to enter your password. You probably won't have to do this on the app.
Select Request Verification and Start request.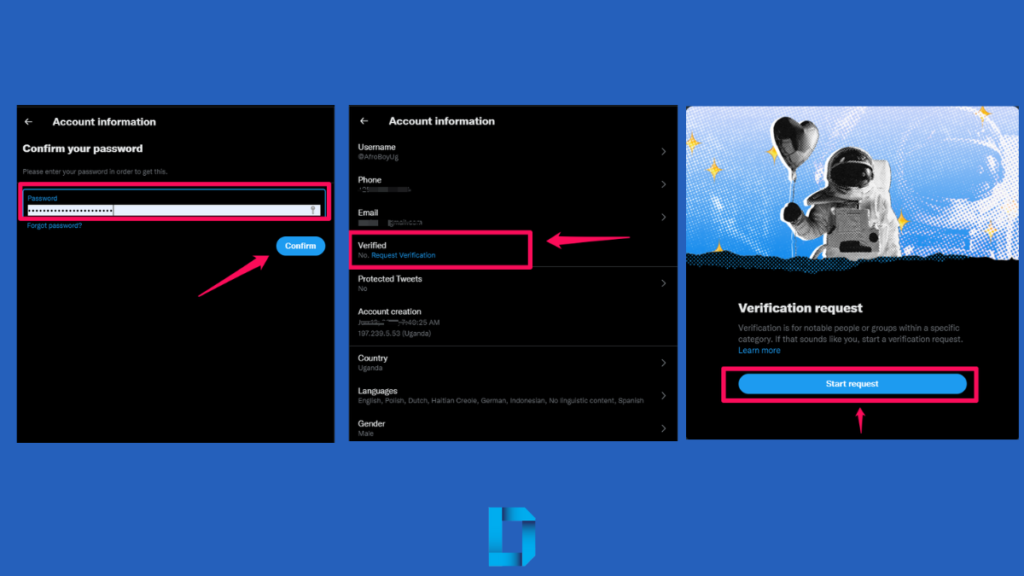 Now you will have to choose the category where you fall; Depending on the category, the process is different and as you will see in my screenshots, I went with News and Freelance Journalist.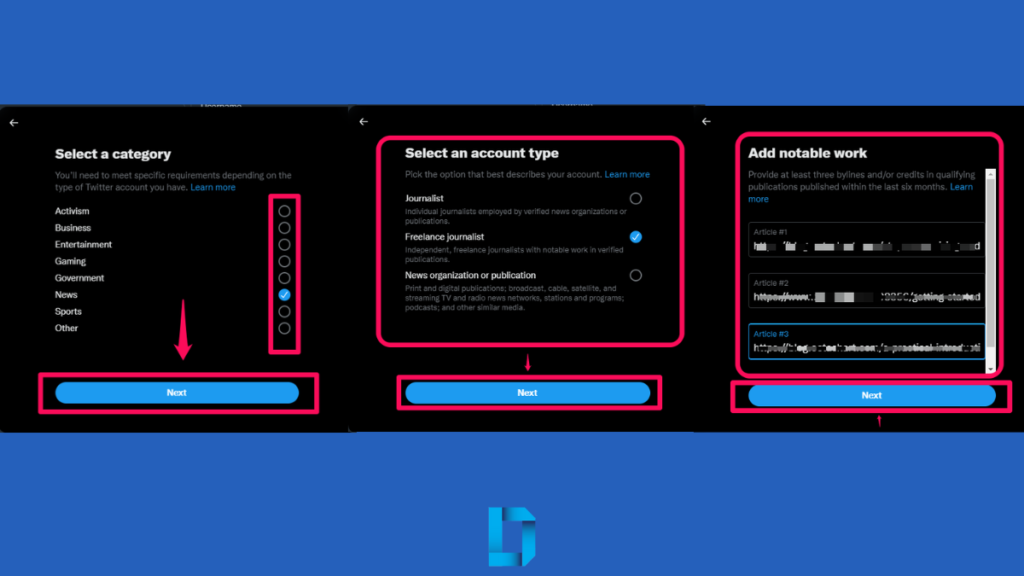 Enter all required fields for authentication and accept all if you are eligible depending on what you chose.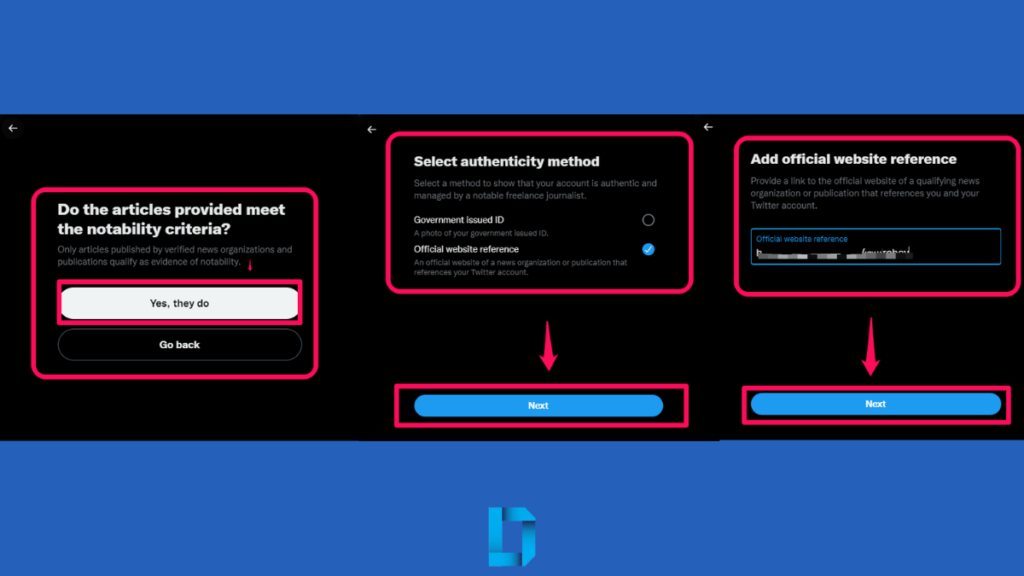 You'll be prompted to submit a photo of your government-issued ID, your official email address, and additional evidence, as mentioned above. Then you will review before you hit the final submit button.
Once you've submitted your application, you'll have to wait for Twitter to review it.
Advertisement - Continue reading below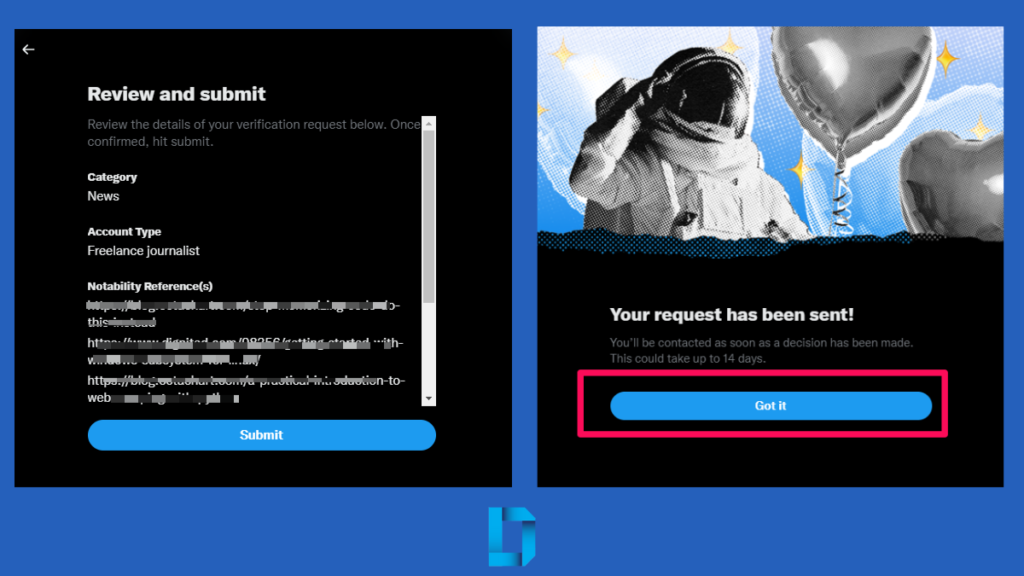 You should be notified via email within 14 days about whether you've been approved but you will also receive an email from them shortly after submitting your application.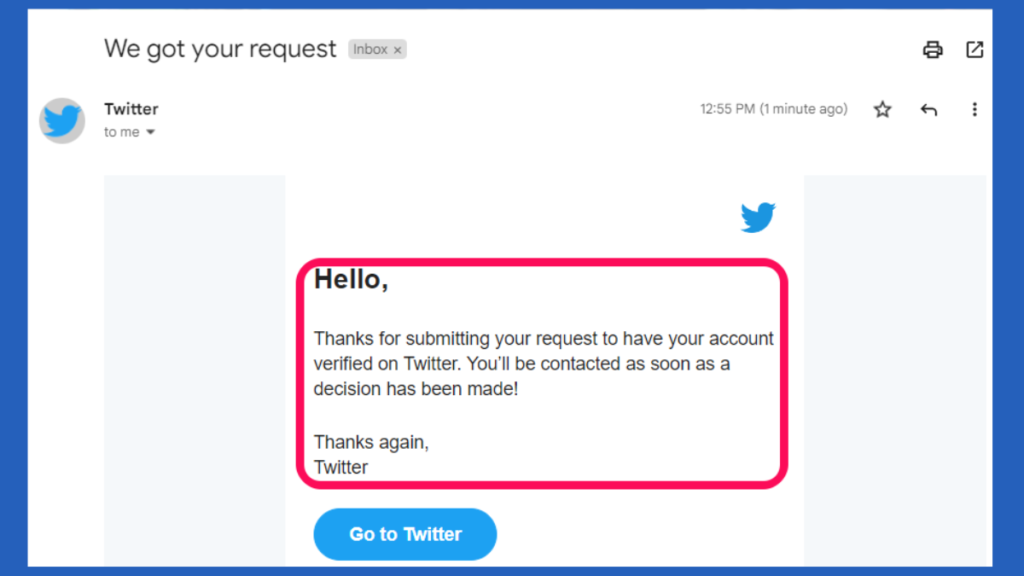 In an event that your application is unsuccessful, you'll have to wait 30 days before you can re-apply again.
Ineligible accounts
Certain accounts are ineligible for the blue badge, regardless of the above criteria, including:
Parody, newsfeed, commentary, and unofficial fan accounts;
Pets and fictional characters, unless directly affiliated with a Verified Company or Brand.
Accounts engaged in severe violations of our Platform manipulation and spam policy, such as follow trains.
Accounts of individuals or groups associated with coordinated harmful activity, or hateful content as defined in Twitter's Ads Policies
Accounts that routinely post content that harasses, shames, or insults any individual or group—especially on the basis of race, ethnicity, national origin, sexual orientation, gender identity, religious affiliation, age, disability, medical/genetic, etc.
Accounts promoting the sale of the Verification badge itself or offering unauthorized assistance with the application process.
---
Also Read: How to turn on Twitter Tips (or Tip Jar)
---
Can Twitter revoke my badge?
In accordance with the Twitter Terms of Service, Twitter may remove the Verified status of an account at any time without notice. Removal of the badge based on repeated violations will be assessed on a case-by-case basis and is not automatic.
Twitter may also remove the blue badge from accounts that are found to be in severe or repeated violation of the Twitter Rules. Any violation of the Twitter Terms of Service or Twitter Rules, manipulation of Twitter processes, or circumvention of enforcement actions may result in loss of the badge or in certain instances, suspension.
Can I request to remove my Verified badge?
It's not currently possible to request that Twitter remove your Verified badge.
Tips to successfully get verified on Twitter
Optimize your profile.
Keep it simple and real.
Do not engage in Twitter-violating activities.
Avoid bots, spam, and follow trains.
Be a public account & engage.
A verified email address or phone number.
Conclusion
Twitter's taken extraordinary steps to make this verification more straightforward, yet you could have to apply on different occasions to be effectively confirmed. Fortunately, there's no restriction to the times you can apply.
Advertisement - Continue reading below
That's it for this article, I hope you get verified on your first try!