Twitter is a social media site, and its primary purpose is to connect people and allow people to share their thoughts with a big audience. Users post Tweets, which may contain photos, videos, links, and text. I love to call it a micro-blogging platform and let's see how to embed a Twitter DM button directly in your tweets.
You can create a Twitter button on your website or Twitter itself to receive messages like mine.
Advertisement - Continue reading below
In order for this to work, make sure that you have your DM option enabled to all at Privacy and safety settings. It's definitely a CTA (Call To Action). You can add it to your tweets as a part of a marketing campaign if you're selling something.
Steps to add the DM button
We need a user ID first. The Twitter ID is a unique value that every account on Twitter has. No two people have the same ID. Although an account can change its @handle, it can never change its Twitter ID.
Let's head over to Tweeter ID Finder here.
For my case it is 3320305690;  This ID is part of your public info and there is no reason to hide it.
See my testing tweet here.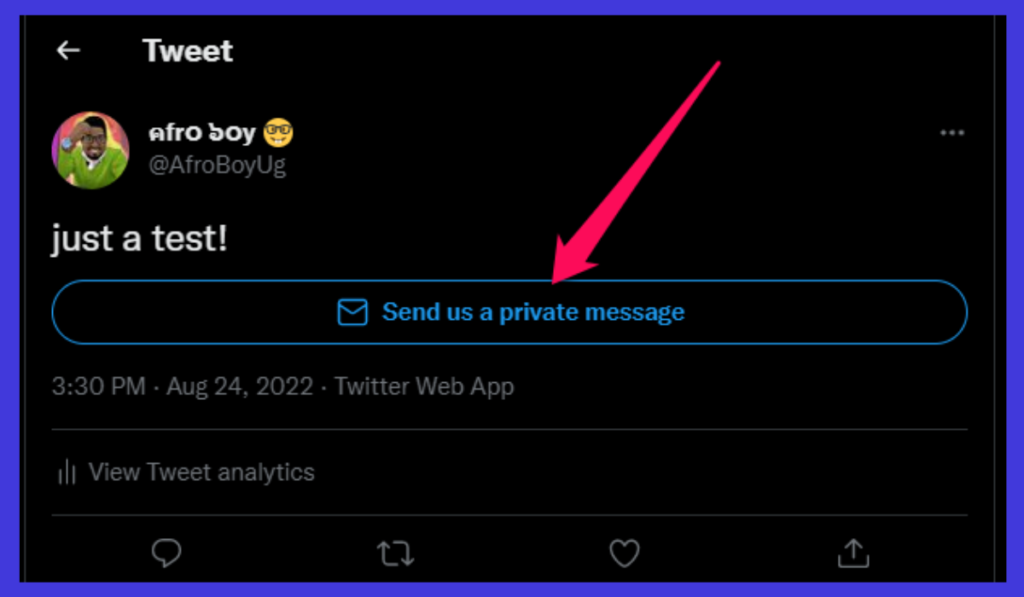 ---
Related
---
Remember
You can start a private conversation or create a group conversation with anyone who follows you.
Anyone you do not follow can send you a Direct Message if:
You have opted in to receive Direct Messages from anyone* or;
You have previously sent that person a Direct Message.
Anyone in a conversation can send Direct Messages to the group. Everyone in a group can see all messages, even if everyone doesn't follow each other.
For more help, check out Twitter Support here.
How to allow anyone to DM you on Twitter
While in your profile: Click on the More icon in the navigation bar. Select Settings and privacy. 
Advertisement - Continue reading below
Under Direct Messages, and next to Receive messages from anyone, check the box to allow anyone to send you Direct Messages.
Conclusion
We just learned a cool trick of embedding a DM Button on tweets. You can also go an extra mine and share that URL with anyone you would want to direct chat with you. It automatically brings them to your message box if you have those privacy settings off.