All of us have become accustomed to being connected, wherever we are, whenever we want. But what if you are in an area with little or no cellphone network coverage? Yes, it is the 21st century, but there are still places where there is no connection. Mountain tops, deep forests, and remote areas are just examples of these places.
All smartphones work by connecting to cell towers and sending data back and forth over the network. In recent years, carriers have built more cell towers to improve the strength and speed of their network service. Now, smartphone manufacturers like Apple are taking it a notch higher to provide the capability for iPhones to connect directly to Satellites.
Advertisement - Continue reading below
Unlike ground-based cell towers, which are fixed in position above a relatively small area, communications satellites soar hundreds of miles above the Earth's surface. You need a clear sky view and expensive equipment to connect to these satellites. Even sending simple text messages is challenging with such limited bandwidth!
---
Related Articles:
---
How does iPhone 14's Emergency Satellite SOS Work?
Apple designed and built special antennas that can connect to satellites' unique frequencies using custom components. But what does that mean for you? It means your iPhone 14 can stay connected to the network even when there's no cell tower nearby. Because satellites fly too high to be seen by the human eye, Apple created a unique user experience that shows you where to point your phone in order for it to connect with—and stay connected with—the satellite.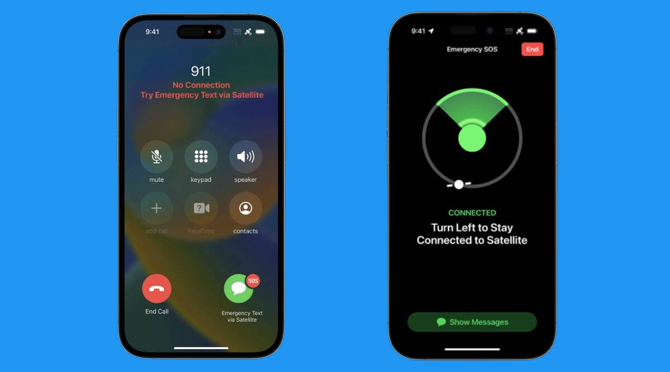 The iPhone 14 will ask you a series of questions to determine what kind of help is needed. Once you have completed the questions and submitted them, your iPhone 14 will send out alerts to emergency responders. The message will include your location and a brief description of what has happened.
You can activate the Emergency SOS feature only when you're outdoors and have a clear sky view. It takes close to 15 seconds to send your message to emergency response teams. If you're under trees or anything that could interfere with satellite signals, it could take as long as 1 minute to send an SMS.
This feature is not yet available outside the US, but Apple plans to launch it in other countries as well. International travellers who visit the U.S. and Canada can use Emergency SOS via satellite, except for those who bought their iPhone 14 in China mainland, Hong Kong, or Macao.
Advertisement - Continue reading below
The only thing more important than your iPhone is your life. The iPhone 14 Emergency SOS feature goes a long way toward making sure you never have to choose between the two. We hope this article has been helpful in your understanding of the new Satellite SOS feature. Please let us know in the comments section if you have any questions.