The launch of the iPhone 14 series of devices created a renewed buzz around the eSIM. This, because Apple is killing the SIM Card as we know it. iPhone 14 devices shipping in the US will not have support for the physical SIM Card.
This is a controversial move but one that we've known was coming for a while. And it is only a matter of time before other OEMs ditch the SIM Card altogether in favor of these embedded SIM Cards. What is not being talked about enough is the iSIM.
Advertisement - Continue reading below
---
Related:
---
We all know about the OG SIM Card, We know about the Mini SIM and Micro SIM and the eSIM. So what is the iSIM? Well, in this post we talk you through all that you need to know about this rendition of the SIM Card.
What is an iSIM?
Well, an Integrated Subscriber Identification Module, iSIM, refers to the functionality of a SIM card as we know it that has been integrated into a device's main processor. In other words, this is a system-on-a-chip (SOC) architecture that integrates SIM functionalities with an existing, onboard processor and cellular modem.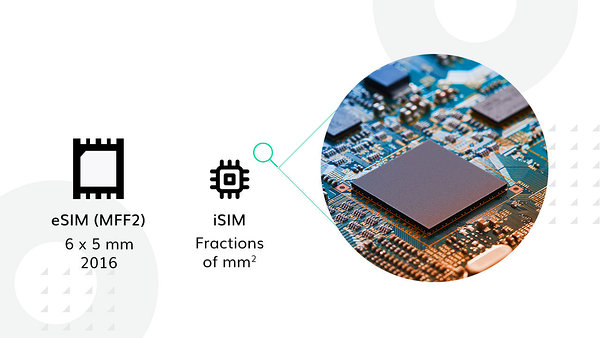 Why do we need iSIM when we have eSIM?
Well here's the thing. eSIM is essentially a version of the SIM Card as we know it today. This means that in eSIM enabled devices, there is still a SIM Chip, one that is programmable with your carrier details, that's what you do when setting it up. These eSIM chips still require additional components for their functioning.
With iSIM however, this changes as the SIM Chip is built into the processor itself and ceases to be a standalone components. This means they take up a lot less space and less complexity.
Advertisement - Continue reading below
What does this iSIM bring to the table?
Innovation for the sake of it is a great way to advance technology but often times, it is good to know how useful a piece of innovation will be to the existing state of affairs.
Now, the iSIM promises to take the SIM card beyond mobile phones. With the form factor that they adopt, they could be integrated into laptops, smartwatches, VR/AR devices and so on. Perhaps one of the most exciting propositions is the support for SIM Cards coming to iOT devices.
---
Related:
---
Use cases aside, this new tech promises some drastic improvements over existing alternatives. Since the iSIM brings CPU-integrated cellular modules, they come in at 98% smaller than an eSIM. They are also 50% cheaper to make due to fewer components.
They also have simplified designs which would help in streamlining the manufacturing processes. They also use up to 70% less power, meaning your future phone's battery could last longer.
When will we see iSIM devices?
At the moment, there are no publicly available devices that support iSIM. That said, chip maker Qualcomm in partnership with a bunch of carriers all across the globe including Vodafone have been undertaking concept demonstration to assess the efficacy of this new tech and its feasibility on existing infrastructure.
Conclusion
Innovation like this breaks new ground and opens possibilities, some that we can't even imagine right now. Such is encouraged and we can't wait to see how the industry pivots once these iSIMs go mainstream. In the meantime, we hope that carriers will also pick up the pace and at least fast-track the adoption of eSIM so users can harness the benefits they offer.
Advertisement - Continue reading below